Hello crafty friends!!  It's that time of the month again … time for a NEW challenge at Paper Sweeties!  Before we share the new inspiration board, let's congratulate last month's challenge winner … the votes are in and I'm thrilled to announce our latest winner:  Lisa Bzibziak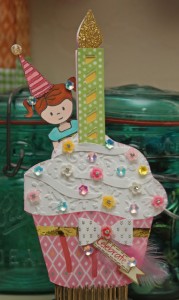 I love everything about this oh-so-sweet cupcake shaped card Lisa created for our birthday celebration challenge — especially the sparkly sequins!  Lisa created this yummy card using Emma, Emma Sweet Cuts, Jelly Bean Time and Cupcake Sprinkles Sequins from the Paper Sweeties boutique!  Contact us, Lisa, to claim your gift certificate for a $20 shopping spree and get the challenge details for your Guest Designer spot with Paper Sweeties next month!
Paper Sweeties hosts monthly challenges here on the blog! Each 1st of the month we will have a brand new inspiration board to help spark your creativity!  It's as easy as 1-2-3 to create, share and win:
1. CREATE a NEW project based on the current inspiration board using ANY of your favorite crafty supplies — receive an EXTRA VOTE if you use something from Paper Sweeties such as a stamp, die or embellishment!  If you don't have any stamps from Paper Sweeties yet, we have some complimentary digital images for you to try out!  Use this month's board as a starting point for your project — be inspired by one or more of the colors, shapes, theme — ANYTHING GOES!
2. POST a DIRECT LINK to your project in our link gallery below — please link to your project post (not your entire blog) so we can easily find your creation. You do not need to have a blog to enter — you can use any of our online galleries to upload your project:  Flickr, Pinterest, Facebook or Splitcoast Stampers (keyword papersweeties)!
3. LINK back to this blog post so your readers can easily find us!
Our challenge will run for the entire month. You can play along as many times as you wish and combine with as many other challenges as you want! The challenges will end at 12 pm EST on the last day of each month. The winner will be revealed on the 1st of each month!
Paper Sweeties Inspiration #35:
HOW will YOU be inspired this month — colors, theme, shapes, patterns?  I was inspired by the colors, theme, apple and pencils in this fun photo (CLICK on the photos for close up views):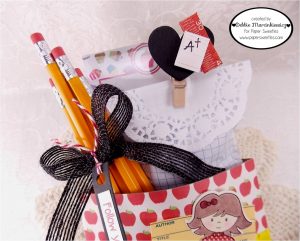 I had so much FUN creating this sweet little pocket gift!  I covered a cardstock CD cover with pretty patterned papers and then had fun filling the pocket with lots of goodies!  After inserting some little baubles into the tiny paper bag and wrapping a pretty white paper doilie over the top, I sealed it with a cute little chalkboard wooden heart on a clothespin and then added a tiny washi tape ruler and a handmade report card!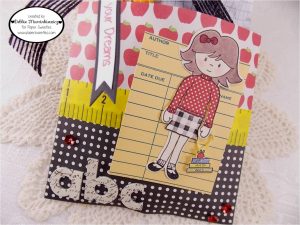 I dressed Miss Abigail up for her first day back to school – complete with her little stack of books and an apple for her teacher!  Her sweater was stamped on patterned paper, skirt on cardstock and then the outfit was paper pieced to little Abigail.  She was adhered to a library card and then added to the pocket!  I created a fun tag that was added to the bundle of pencils using baker's twine, added chipboard A, B, C's and a couple of Strawberry Sequins for pops of sparkle!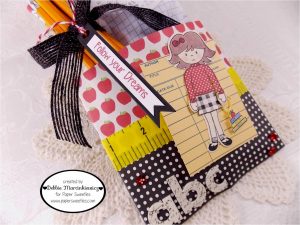 I love everything about this fun little project and since I don't have any of my own kids going 'back to school' presently, I gave it to my bestie's daughter who is beginning her senior year in college … I hope she likes it!!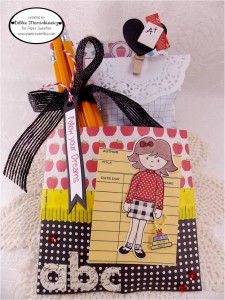 Supplies used from the Paper Sweeties boutique:



  Please visit our talented Design Team Contributors' blogs to be inspired by their AMAZING projects:
Debbie Marcinkiewicz – Paper Sweeties <– you are here!
Subscribe to our newsletter to stay up-to-date with everything new and exciting at Paper Sweeties!
Join our brand new Facebook Inspiration and Creativity Group!
Like our Facebook Fan Page – $20 gift certificate given out to one lucky fan each time we reach 100 new 'likes' … next prize at the 2,300 level!
Follow us on Pinterest for loads of inspiration and ideas!
Contact us to pin YOUR Paper Sweeties projects to our Customer Gallery Board!
Be inspired by videos and tutorials on our Paper Sweeties You Tube Channel!
I cannot wait to see how YOU will be inspired by this month's challenge!
Inspired by these challenges: Sparkle & Shine #13 – tags; Pink & Main #1 – ATG; The Shabby Tea Room #258 – ABC – 123