Hi crafty friends!  I had a bit of time on Sunday to create 'just because', so I decided to hop in and make a little something pretty in pink to share for today's new challenge at The Shabby Tea Room #247 – 'Pop of Pink'!  It's been a while since I had some time to join the Shabby Girls, so making this card brought me back to my lil 'ol shabby happy place!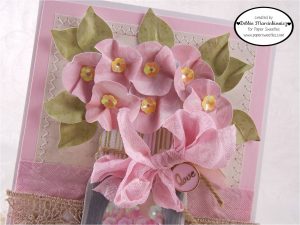 The sponsor in the Tea Room for the next two week is Dies R Us, so I decided to make a card with 100% dies … no stamping … and lots of yummy embellies!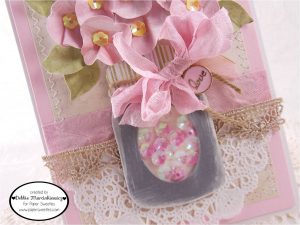 The mason jar is one of my favorite dies from Stampin' Up!  and the adorable little pink 'love' charm is a gift I received from my crafty friend, Jill!  Everything else is from the Paper Sweeties boutique:
Die supply list:  Party Time Sweet Cuts
Embellishment supply list:  Cotton Candy Seam Binding, Cookie Dough Sequins, Frosting Sequins, Cotton Candy Sequins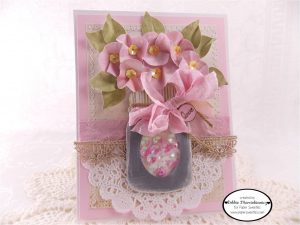 After I die cut the flower shapes using the Party Time Sweet Cuts set, I crinkled them to create shape and then added a Cookie Dough Sequin to each center.  The leaves were die cut and then pinched in the centers to add texture.  I inked the edges of the mason jar with cream paint to create a time-worn look and then die cut the center of the jar using an oval shape so I could create a SHAKER CARD with pretty sequins inside!
Please be sure to visit the Tea Room to be inspired by the rest of the Shabby Girls projects!
This card also goes along perfectly with the March Inspiration Challenge at Paper Sweeties, so I'm linking up there too!
Thanks for popping by today!  Hugs – xoxo
Inspired by these challenges too:  Color Throwdown #331 – color palette; Fusion – bow ties & other things/colors; 7 Kids College Fund #120 – ATG; Simon Says Stamp – ATG; Tuesday Throwdown #233 – ATG; City Crafter Challenge Blog #250 – use your scraps/tiny piece of acetate, pieces of patterned paper  for flowers; Cupcake Inspirations #300 – sparkle; Mojo Monday #387 – sketch; PIO #58 – adhesive backed embellishments; 613 Avenue Create #113 – ATG