The new challenge is up over at The Ribbon Reel and it's a beauty - 'Shabby Christmas' #66!  We're asked to create a shabby card this month using pink, baby blue, cream/white and ribbon!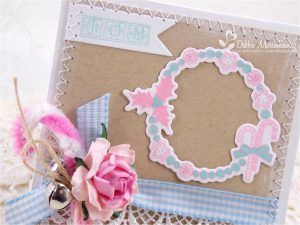 I love to create shabby cards - piled high with bits and bobs of treasures from my craft room!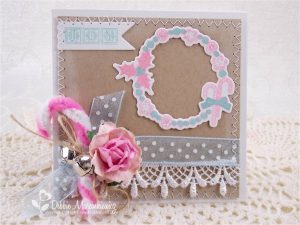 Here are the goodies I used from The Ribbon Reel Shop:
Blue and White Polka Dot Organza Ribbon
Blue and White Small Check Gingham
Light/Dark Pink Hybrid Tea Rose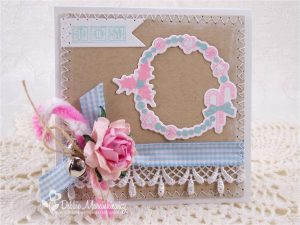 And these goodies from Paper Sweeties:
Make the Season Bright Sweet Cuts
Pink & White Chenille Candy Cane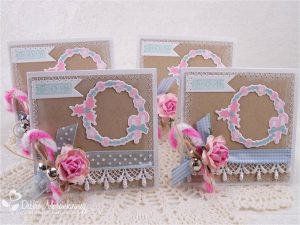 *NEW* December stamps & dies LIVE in the Paper Sweeties shop today!
I hosted a holiday tea party at my house on Sunday for my bunco girlfriends and made one of these cards for each of them!  I placed one at each of their place settings on the table so they found them as they sat down at the table for tea!  I love the untraditional holiday color palette ... so pretty with those pops of pink and blue!


Paper Sweeties is sponsoring this week's challenge at The Ribbon Reel - whooo hooo!  Please be sure to stop by The Ribbon Reel challenge blog to be inspired by the rest of the teamies lovely projects for our Shabby Christmas challenge, and then I hope you'll have time this month to play along for your chance to win some goodness from The Ribbon Reel Shop!
Inspired by these current challenges:  Festive Friday – color/pink-white-silver theme; Really Reasonable Ribbons #85 – bingo/lace, text, bling Cupcake Inspiration #239 – winter fun; Paper Issues - Christmas; Pile it On #48 – P is for – polka dots; Ribbon Girl - Christmas; Simon Says Stamp – anything; Word Art Wednesday #108 – anything; Top Tip Tuesday #115 – kraft-y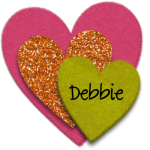 Hello crafty friends!  I have a special little post today ... I'm here to share a little happy mail I recently received from Corinna, owner of the Ribbon Carousel!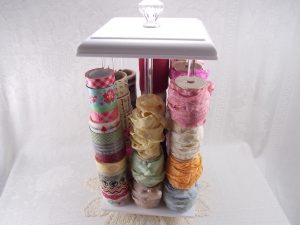 Corinna invited me to guest design for the Ribbon Carousel during the month of October, so I've been sharing some of the autumn and Halloween projects I've been creating all month long!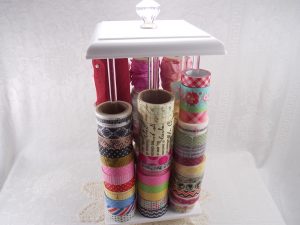 As a thank you, Corinna graciously sent me one of these awesome Ribbon Carousels!  How did she 'know' I was a ribbon-aholic???  I filled it up lickity-split with some of my very favorite spooled treasures!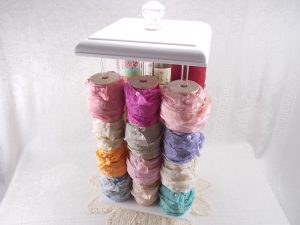 It holds 15 delicious colors of tea-stained seam binding from Paper Sweeties (I had been looking for a way to house all the seam binding that I keep close for daily use on all my crafty projects!) along with yummy washi tapes ...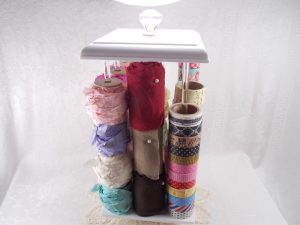 ... and some of my favorite autumn colored tulle - Kraft, chocolate and cherry!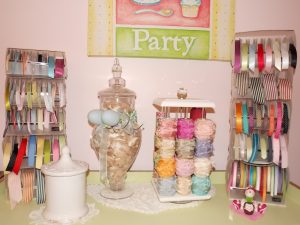 It immediately found a place of honor on the top shelf in my stamp room ... and my new Ribbon Carousel is very happy living with its new friends to the left and right -- more and more spools of eye candy ribbon!  Thanks, Corinna -- LOVE it to pieces 🙂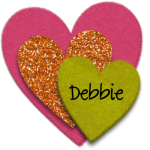 Hello crafty friends!  I'm popping in today to share a little something I whipped up for this week's challenge at The Shabby Tea Room #168 – 'Shabby Sunshine'!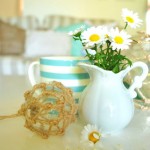 We're to be inspired by the photo and include AQUA, YELLOW, WHITE/CREAM AND TWINE in our creations this week!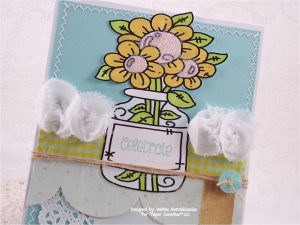 I created my card this week using the Flower Jar image from Bugaboo Stamps.  I stamped the sentiment on the jar label using the Beautiful stamp set from Paper Sweeties and then added some natural twine, a button, a pretty paper doilie, a snipett of die cut patterned paper, a strip of yellow gingham washi tape, a pennant and some fabric flowers from Tim Holtz.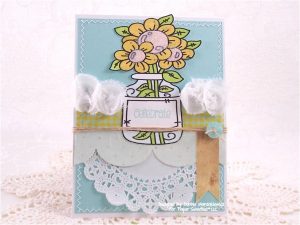 Please be sure to make a visit to The Shabby Tea Room to check out the beautiful inspiration from the rest of the Shabby Girls and then I hope you have time this week to join our 'Shabby Sunshine' challenge for a chance to win some goodness from Bugaboo Stamps!
Hugs!