Hello crafty friends!  I'm popping in today to share a little something I whipped up for this week's challenge at The Shabby Tea Room #168 – 'Shabby Sunshine'!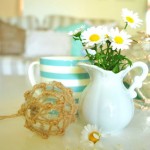 We're to be inspired by the photo and include AQUA, YELLOW, WHITE/CREAM AND TWINE in our creations this week!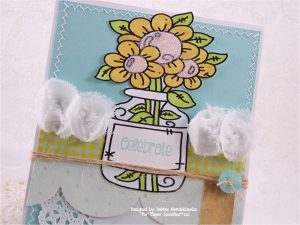 I created my card this week using the Flower Jar image from Bugaboo Stamps.  I stamped the sentiment on the jar label using the Beautiful stamp set from Paper Sweeties and then added some natural twine, a button, a pretty paper doilie, a snipett of die cut patterned paper, a strip of yellow gingham washi tape, a pennant and some fabric flowers from Tim Holtz.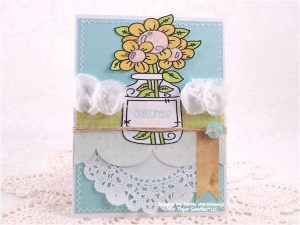 Please be sure to make a visit to The Shabby Tea Room to check out the beautiful inspiration from the rest of the Shabby Girls and then I hope you have time this week to join our 'Shabby Sunshine' challenge for a chance to win some goodness from Bugaboo Stamps!
Hugs!