9/11
Today is a day of remembrance and a time to thank all of those who have served our country. Past, present and future, the words 'thank you' don't seem to be 'enough'. Many people have given so much of themselves and work tirelessly to preserve our freedom and protect our country.
Today on 9/11 we take a moment to remember those who lost their lives that tragic day and the families they left behind. We take another moment to honor all of the individuals who helped that day and who are serving, or who have served our country. Today we remember.
In honor of all these individuals and their families My Time Made Easy ™ LLC and Paper Sweeties has organized a Designers' Blog Hop with *NEW* products & projects to inspire you to create gifts for our Troops or that special someone!
Please see what all the following designers have made using the *NEW* products available today in both shops:
Debbie Marcinkiewicz – owner Paper Sweeties
Additional designers:
———————————————–
Now you are probably excited to see what was released in honor of this special occasion!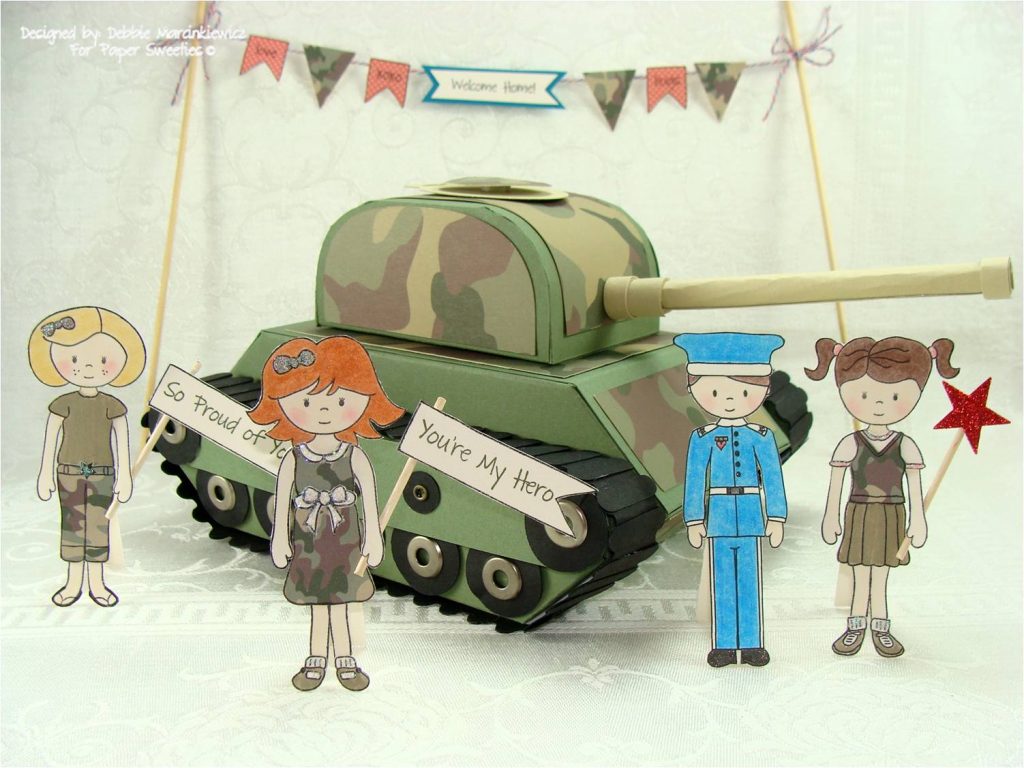 *NEW* at Paper Sweeties in September and available for a 'special pre-release' on 9/11 is an adorable boy doll stamp named 'Jake'!  Jake measures approximately 3 ½" tall and is the perfect companion for the Sweeties girl stamps – Abigail, Emma and Sophie!  Jake has several outfits available this month – one of which is the cutest soldier 'dress' uniform complete with a medal of honor, hat and six heartfelt sentiments!  Jake was designed at the request of a good friend who is very involved with the Operation Write Home organization because she has a brother serving overseas in the armed forces!  Jake is inspired by Debbie's brother-in-law, John, who is an ex-marine (25 years), current police officer and served in the Dessert Storm Gulf War.  Each Sweeties stamp set retails for $10.  Paper Sweeties full September release launches 9/15.
 Jake with his Tough Tank!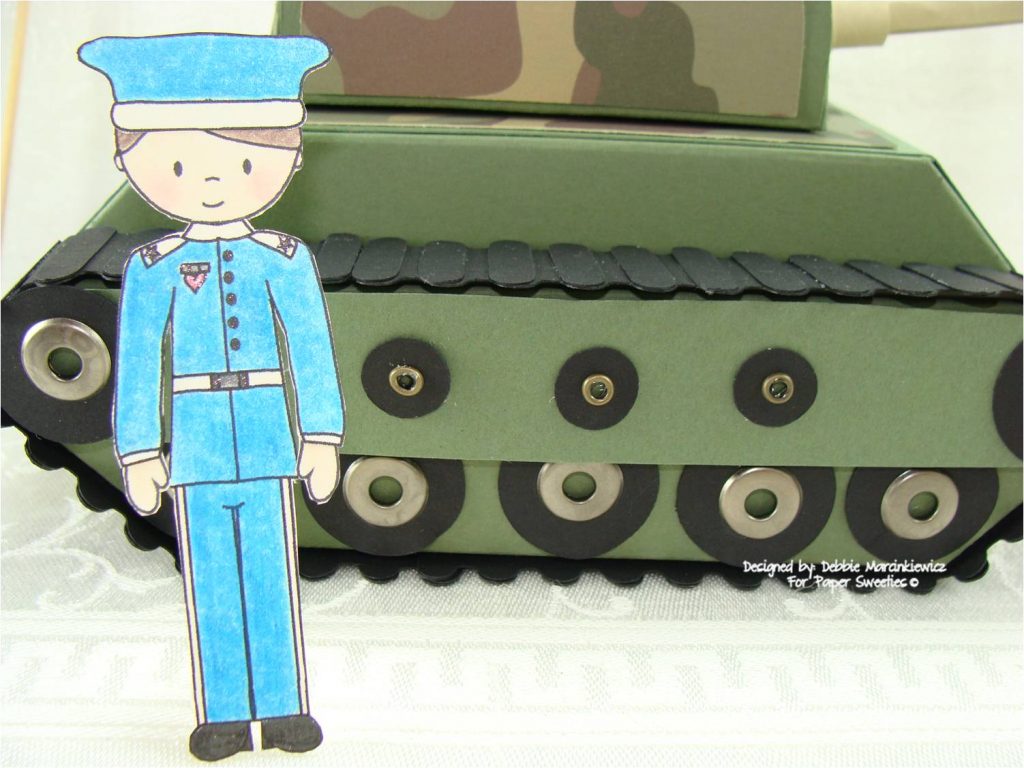 Jake and You're My Hero stamp sets – released 9/11!
Abigail, You Are Special and Banner Wishes stamp sets!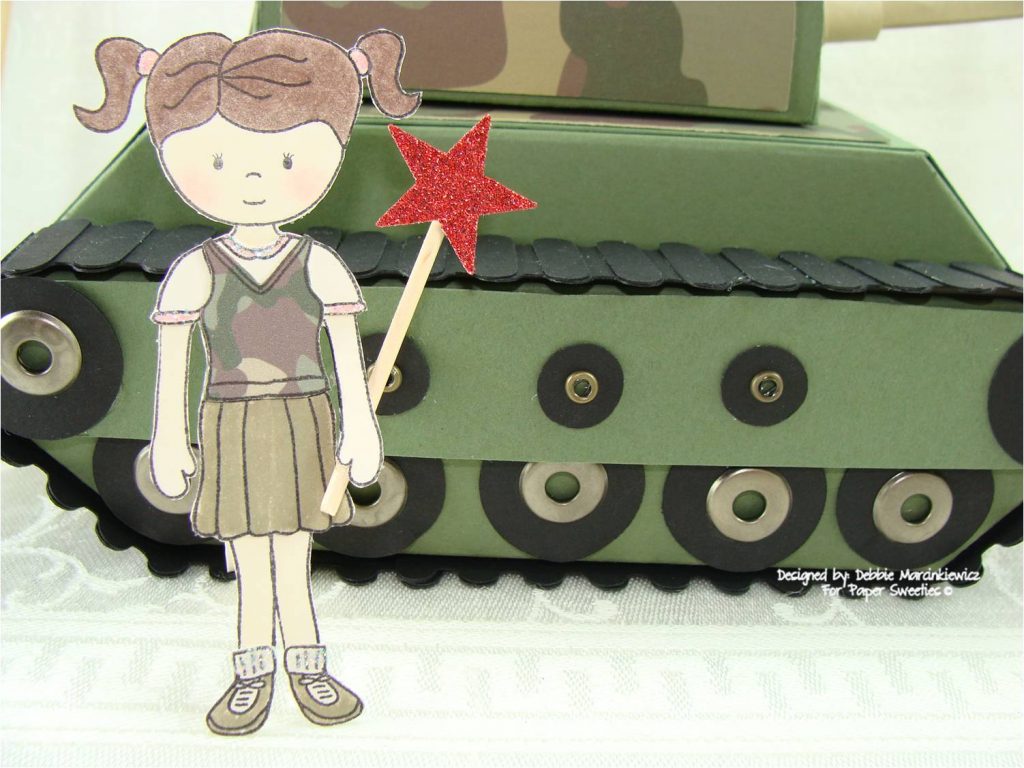 Emma with *NEW* outfit – 'Rah-Rah' — available 9/15!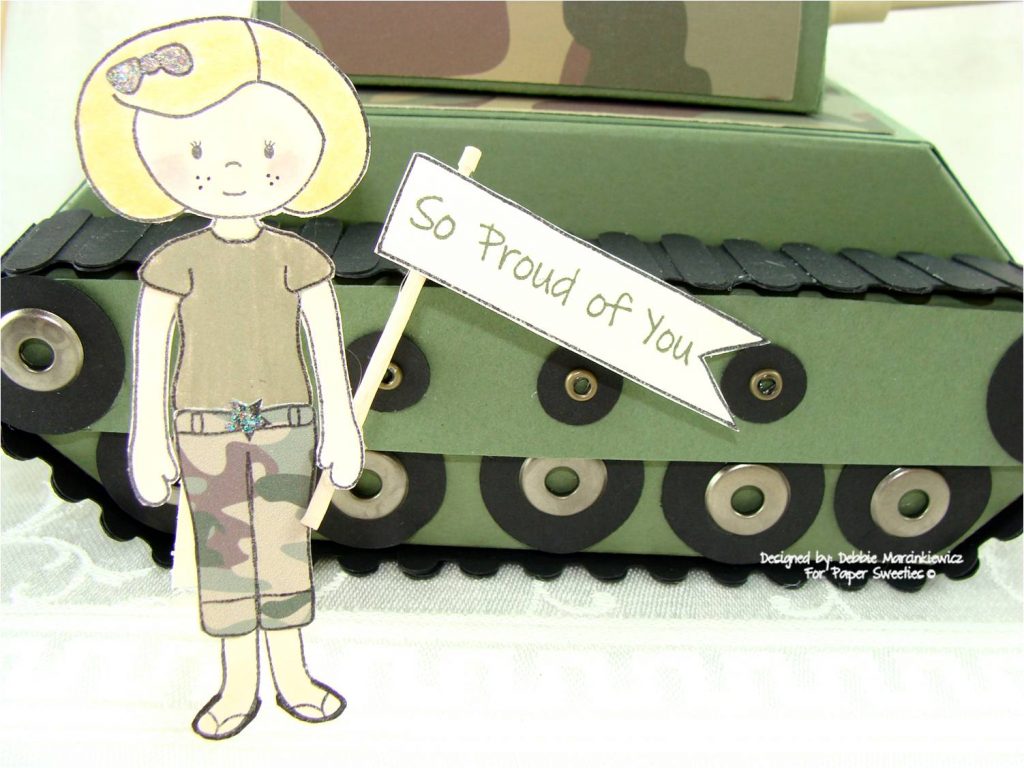 Sophie, Mahalo! and Banner Wishes stamp sets!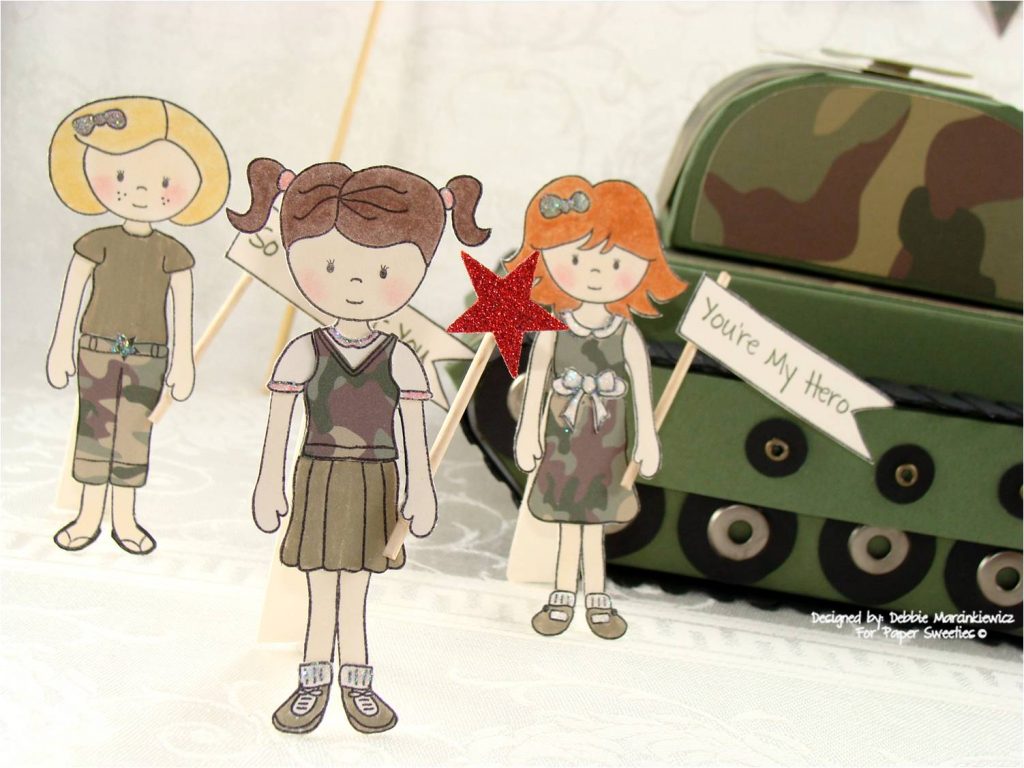 To make the Sweeties' outfits in camo, I printed a piece of camo patterned paper from the *NEW* My Time Made Easy – Made in the USA package and stamped the images directly onto the paper — then cut out and adhered to the dolls!  Easy peesy … and so much fun!  Just like when you were a little girl playing with your paper dolls for hours creating make believe stories and whimsical fun!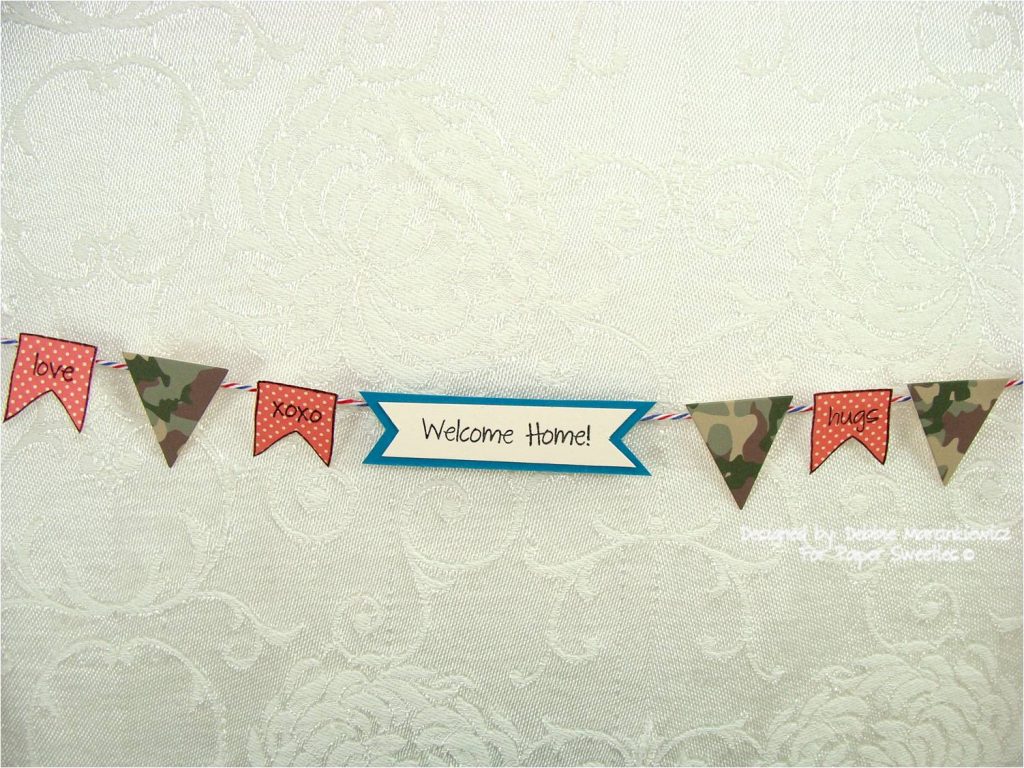 Banner Wishes stamp set!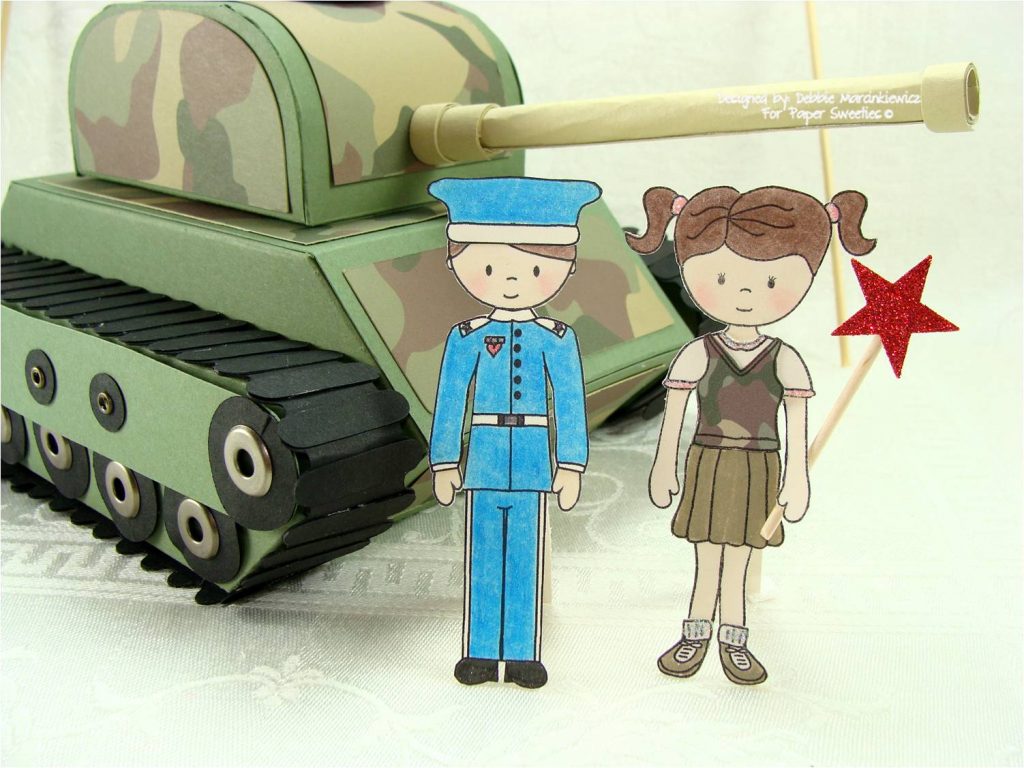 What a cute couple Jake and Emma make!!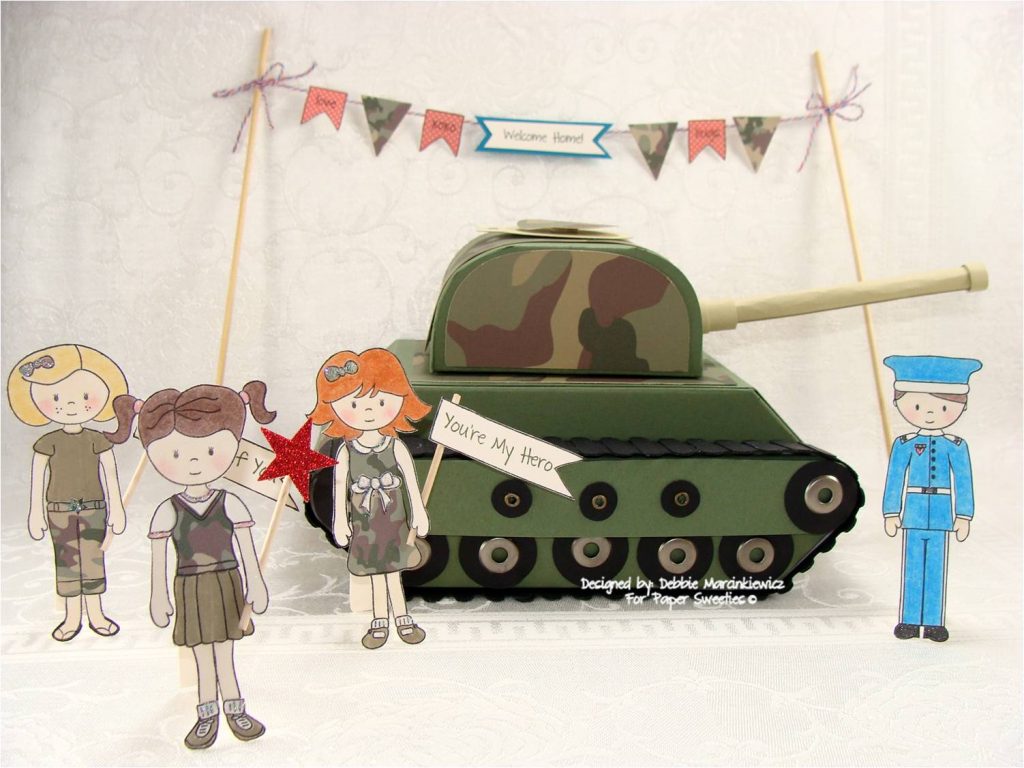 All of Jake's Sweeties' friends came out to welcome him home and let him know how much his service to our country is appreciated!!  This was such a FUN set to create … I know you'll enjoy making one of your own too!!  What a great centerpiece for a birthday party or welcome home celebration!!
~~~~~~~~~~~~~~~~~~~~
*NEW* at My Time Made Easy ™ LLC is an amazing package collection called Made in the USA!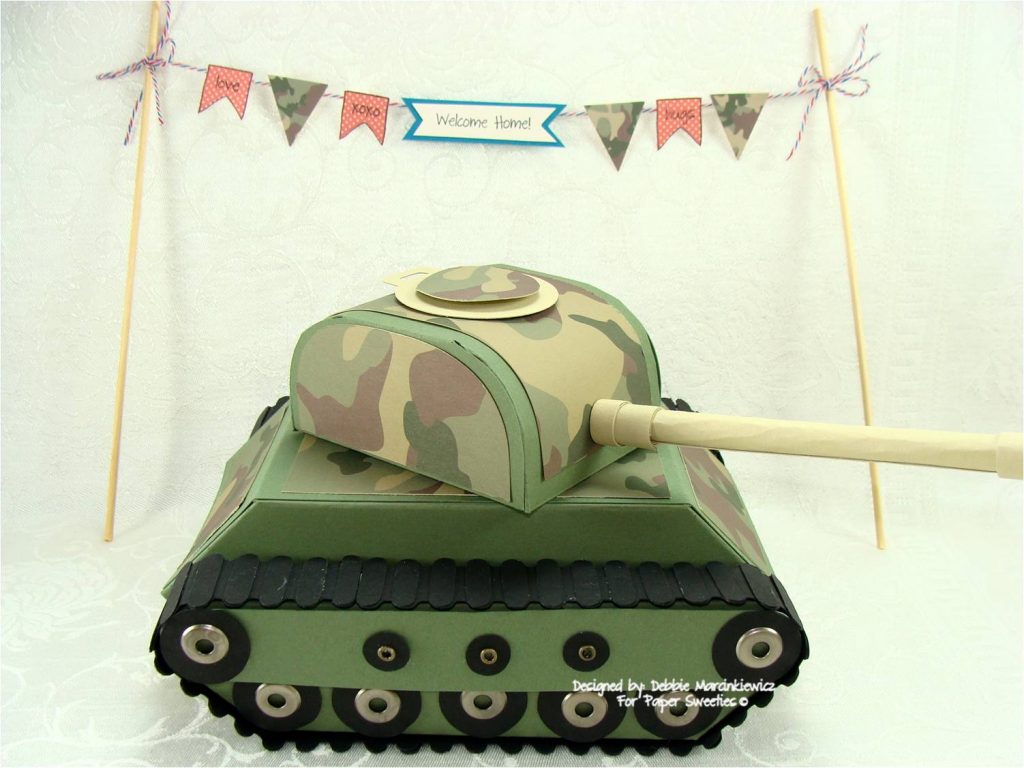 Made in the USA Package $10
As mentioned above, this collection was created in honor of those who have, or who are currently serving our country! This package includes everything you need to create your own amazing gift package! Contents in this collection are the Tough Tank Template, a sheet of Camouflage Digital Paper, and an additional three sheets of patterned paper in red polka dots, yellow stars, and blue stripes, as well as a Set of 31 Digital Images called Made in the USA.
Made in the USA Digital Stamp Set: includes a Military Forces tag that can be customized, a saluting soldier silhouette, a Dog Tag, circle flag tag, alphabet for you to create your own tag, as well as a Made in the U.S.A. sentiment.
Tough Tank Pretty Packaging Template
This was designed at the request of, and in the honor of Lauren's brother, Craig, who served many years in the U.S. Army! He wanted a realistic version of the "real deal" to honor his time spent serving our country!   Note: The top of the tank rotates 360 degrees, and comes off the tank, so you can package all sorts of gift items inside the tank.
Now you too can easily re-create this Tough Tank to create your own customized gift package. The perfect container to package up gifts for any of our Troops, maybe for sending a special care package, a great gift option for someone who served, or is serving in the military, or maybe that special child in your life who enjoys playing with Army men, and things of similar nature. Makes an excellent party favor or centerpiece too and when partnered together with Paper Sweeties Jake and his adorable uniform outfit … you've got everything you need to create the perfect gift, card, party favor or decoration!
THANK YOU for joining us for this special commemoration blog hop!  
 We hope you enjoyed peeking at our projects as much as we all enjoyed creating them … and we hope you're inspired to go make a couple of these fun projects for yourself too!