Hello sweeties!! I'm so happy you stopped by the blog today!
The votes are in and I'm thrilled to announce the winner of the Paper Sweeties February Inspiration Challenge #28 – 'Sweetheart': Pam Sparks!
Pam was inspired by the colors from our February inspiration board … along with the heart shapes … to create this absolutely darling winter-theme card!  It's not only sweet as can be on the outside, but …
… equally yummy on the inside too!
  Contact us, Pam, to claim your gift certificate for a shopping spree and get the challenge details for your Guest Designer spot next month!
Paper Sweeties hosts monthly challenges here on the blog! Each month on the 1st we will have a brand new inspiration board to help spark your creativity. You can enter as many times as you wish throughout the month — the more times you enter, the more chances you'll have to win!
It's as easy as 1-2-3 to create, share and win:
1. CREATE a NEW project based on the current inspiration board using any of your favorite crafty supplies — receive an EXTRA VOTE if you use something from Paper Sweeties such as a stamp, die or embellishment!  If you don't have any stamps from Paper Sweeties yet, we have some complimentary digital images for you to try out!  Use this month's board as a starting point for your project — be inspired by one or more of the colors, shapes, theme — anything goes!
2. POST a DIRECT LINK to your project in our link gallery below — please link to your project post (not your entire blog) so we can easily find your creation. You do not need to have a blog to enter — you can use any of our online galleries to upload your project:  Flickr, Pinterest, Facebook or Splitcoast Stampers (keyword papersweeties)!
3. LINK back to this blog post so your readers can easily find us!
Our challenge will run for the entire month. You can play along as many times as you wish and combine with as many other challenges as you want! The challenges will end at 12 pm EST on the last day of each month. The new challenge and winner will be revealed on the 1st of each month!
Paper Sweeties Inspiration #29 – 'Waiting For Spring'
HOW will YOU be inspired this month??  CLICK on the photos for enlarged views …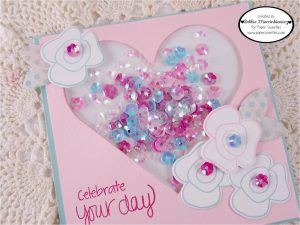 I was inspired by the yummy pink, blue and white color palette from the inspiration photo this week along with the beautiful flowers!  I had fun creating a shaker card using lots of yummy sequins from the boutique!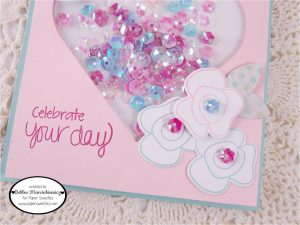 Stamp supply list:  So Sweet of You, Pretty Posies
Die supply list:  Pretty Posies Sweet Cuts
Embellishments materials list: Robin Egg Sequins, Raspberry Sequins, Frosting Sequins, Cotton Candy Sequins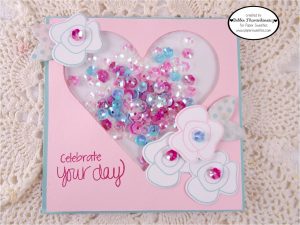 Please be sure to continue to hop along and be inspired by the rest of the Design Team projects today:
Cheryl Lea – WELCOME TO THE TEAM!
Debbie Marcinkiewicz – Paper Sweeties <– you are here!
Jinny Newlin *special Guest Designer*
Kathy Schweinfurth – WELCOME TO THE TEAM!
March Guest Designer:  Donna Baes
Subscribe to our newsletter to stay up-to-date with everything new and exciting at Paper Sweeties!
Like our Facebook Fan Page – $10 gift certificate given out to one lucky fan each time we reach 100 new 'likes' … next prize at the 2,100 level!
Follow us on Pinterest for loads of inspiration and ideas!  Contact us to pin YOUR Paper Sweeties projects to our Customer Gallery Board!
Be inspired by videos and tutorials on our Paper Sweeties  You Tube Channel!
Shop us LIVE March 13th and 14th at The Enchanted Cottage!  Contact the store directly to reserve your spot for the Friday evening card class taught by yours truly — the above card is one of the ones that will be offered in my class!

And for some more exciting news … Paper Sweeties is partnering with Cupcake Inspirations during the first week of March to help them celebrate their 300th challenge — whoo hooo!
Please visit their blog to check out the beautiful inspiration boards they are offering this week for us all to get crafty with … here is today's 'Sparkle' board … and Paper Sweeties will be offering a prize on March 5th!
I cannot wait to see how you will be inspired by this month's challenge!  GOOD LUCK to all those that enter!
Inspired by these challenges too:  Color Throwdown #331 – color palette; JUGS #282 – photo inspiration/polka dots, flowers, white; Fusion – bow ties & other things/colors; 7 Kids College Fund #120 – ATG; Simon Says Stamp – ATG; Tuesday Throwdown #233 – ATG; City Crafter Challenge Blog #250 – use your scraps/tiny piece of acetate, pieces of patterned paper, snipetts of white cardstock for flowers; The Shabby Tea Room #246 – mason jar love/colors; Uniko Studio #18 – birthday