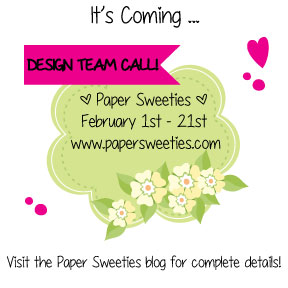 Paper Sweeties is hosting the *FIRST EVER* DESIGN TEAM CALL!  We're looking for designers that love to work with stamps, dies and fun embellishments!  If you enjoy creating handmade from the heart treasures out of paper and glue, then this call is for YOU!  We are searching for TWO talented designers to join our creative team!!
Here are the details of the call – feel free to contact us if you have any questions before you apply.  GOOD LUCK … we cannot wait to see your beautiful creations!
WHAT:
* We are looking for designers that enjoy to create and share their creativity on their blogs and social media sites such as Pinterest, Facebook, Flickr, Splitcoast Stampers.  You MUST be an active blogger with a good following and willing to share your work as much as possible to help promote our products!
* This term will run for one year with option to stay on longer!  Term begins March 1, 2015.
* You must be able to take bright and professional quality photos to showcase our products!
* You will be required to create a minimum of five projects each month using our products!  From time to time you may be invited to join in designer blog hops with other companies.
* This is a company design position, so we are searching for individuals who possess these qualities: fun and friendly personality, can do attitude, professionalism, team spirit, creativity and ability to think outside of the box, attention to detail, responsible, dependable, ability to work with set schedule and produce projects on time each month!
* You will receive all the new stamps and dies produced each month to use in your designs.  From time to time you will receive complimentary embellishments.  You will be eligible to purchase anything additional from the Paper Sweeties boutique at a 50% discount during the lifetime of your design tenure!
* This call is open to designers living in the United States and Canada.  Call ends 2/21/15 at 11:59 pm EST.
HOW:
* Please create a project that best showcases your design style so we can get a good feel for you and your creativity!  We are looking for all design styles, so show us what you got!
* You may enter as many times as you wish.  Please submit a new application for each project you are interested in sharing!
* Please be sure to take bright, professional quality photos against clean backgrounds so your beautiful work shines through without distractions!
* You do not have to use Paper Sweeties stamps, dies or embellishments on your application project, but if you do that is certainly a bonus for us to be able to see how you would use our goodies when designing!  If you are new to Paper Sweeties and would like to give our products a try specifically for this call, please feel free to use this coupon code to purchase something that catches your eye at a 10% discount:  DTCALL (coupon expires 2/16/15 and cannot be combined with other discounts or used on sale items).  You can also visit our Try Us For Free section to select a complimentary image for your design!
* When applying, please put 'DT Call' in the subject line and include your full name, address, phone number, e-mail address, blog address, a short introduction about yourself and your design history along with photos of your project!  Send applications to debbie at paper sweeties dot com.  Applications accepted 2/1 through 2/21/15.
* Help us spread the word about this call … share us with your crafty friends!
THANK YOU … we cannot wait to see what you will create!