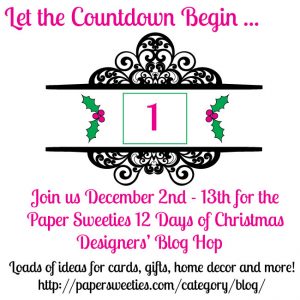 Welcome to Day #1 of the Paper Sweeties 12 Days of Christmas Designers' Blog Hop!  The teamies and I thought this would be a fun way to share ideas and inspiration with you over the next 12 days – showcasing our brand new stamp and die sets released on December 1st – early this month to accommodate for the holiday!  Each of the next 12 days one designer from the team will be sharing several projects to help spark your creativity!  Before we get started, let's meet the newest products NOW AVAILABLE in the boutique: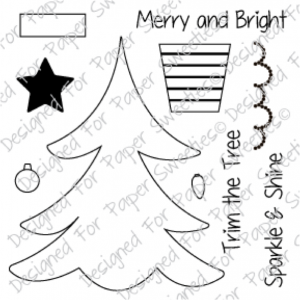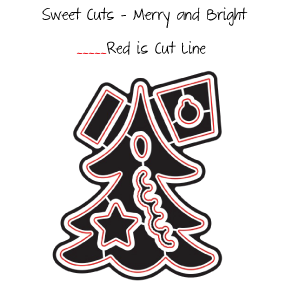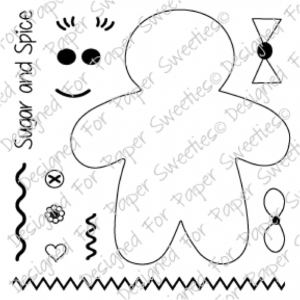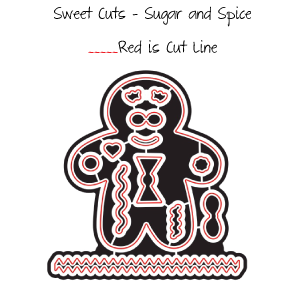 Adorable, right???  The tree was created by popular demand … I got many, many requests for a Paper Sweeties tree!  This set can be used year round – super cute decorated for spring, Easter, birthday, Halloween and more!  And … who doesn't love a gingerbread man (or lady)???  Okay, without further ado, let's get onto my project shares for today!  Grab a cup of something yummy, sit back and enjoy!!!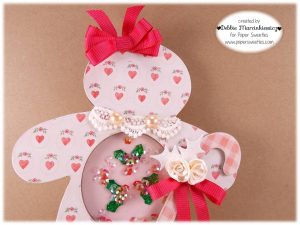 Instead of showing you ways to use our new sets on cards, I decided to focus my projects on gifts you can make and give this holiday season!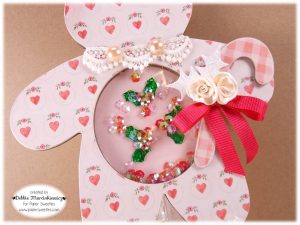 I L-O-V-E giving handmade from the heart treasures to my family and friends all year long, but especially during the holidays!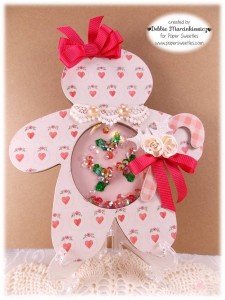 This sweet shaker gingerbread lady is so cute – a little shabby with lots of added baubles and bling!  Our Sweet Chips kits have been an INCREDIBLE HIT — the first two shipments sold out almost immediately — our third shipment arrived today, so ALL six kits are NOW BACK IN STOCK —  grab some before they sell out again!  Recreate using these goodies from the paper Sweeties boutique:

Next, I have another gingerbread-themed gift set to share!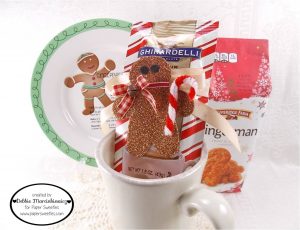 I purchased a pack of gold glitter foam shapes from the Dollar Store and used them to die cut the gingerbread man from our Sugar and Spice Sweet Cuts set!  There were 10 shapes in one pack for $1 – what a deal!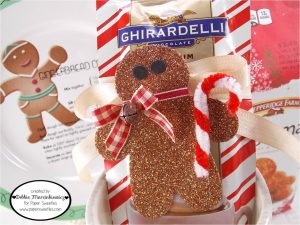 I die cut his eyes from black cardstock, tied a red ribbon around his neck, added a gingham ribbon bow, a Rusty Bell and put a Chenille Candy Cane in his little hand!  He is adorning a package of Ghirardelli Peppermint Hot Cocoa – YUM!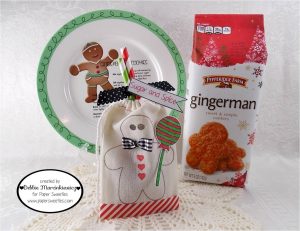 To go along with the hot cocoa, I created a gift bag to hold some Pepperidge Farm Gingerman Cookies!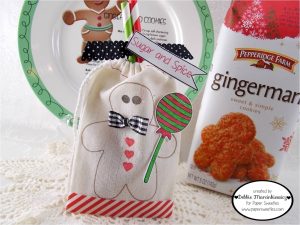 I stamped the gingerbread man onto a muslin bag using the Sugar and Spice stamp set, added some washi tape on the bottom and embellished with a stamped lollipop from the Let's Party stamp set along with bits and bobs of little treasures!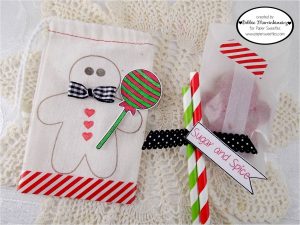 I added the cookies inside a glassine bag and folded the flap over securing with more washi tape.  Two sweet Paper Straws were included for sipping the hot cocoa – wrapped with polka dot ribbon and topped off with a 'sweet' sentiment tag stamped using the Sugar and Spice set!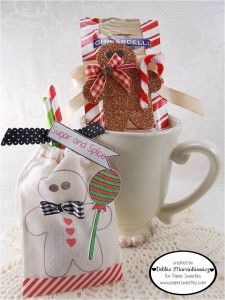 These would make perfect teacher, hostess, secret santa/co-worker gifts and wonderful stocking stuffers!  I'm going to make a bunch to give to my friends this holiday season!  Recreate using these goodies from the Paper Sweeties boutique:  
Next, I have a homespun little charmer to share created using the Sweet Chips – Tree!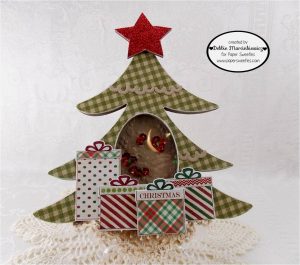 I created a shaker card — embossed the kraft cardstock back layer and added Strawberry Sequins inside!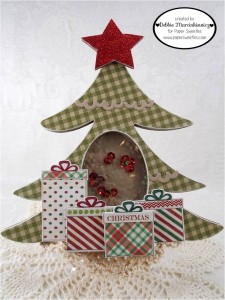 I created garlands to decorate my tree using kraft cardstock and the Merry and Bright Sweet Cuts die set!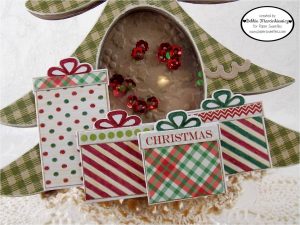 The presents were created using the Let's Party stamp and coordinating Sweet Cuts die sets – some were colored with glitter markers and some were paper pieced with papers!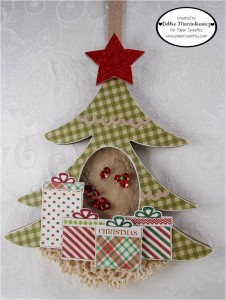 I added a crocheted doilie to the bottom for the tree skirt and a snipett of twill tape ribbon to the top so that this adorable shaker tree could be hung — cute on a door knob or even hung on the tree!  Recreate using these goodies from the Paper Sweeties boutique:

The next projects I am sharing are oh-so-sweet!  I recently saw a version of them shared on Facebook and knew immediately I wanted to give these little cuties a try!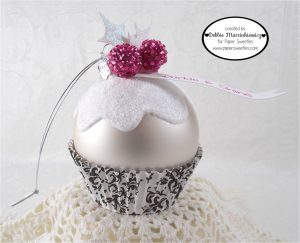 These are so quick and easy … another project that you can make ahead and share with family and friends during the holiday season!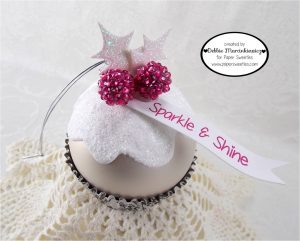 All you need is some cute cupcake liners, a package of white glass ornaments, some white puffy paint, glitter, baubles to decorate your 'cupcakes' and any stamps and dies you'd like to use to embellish!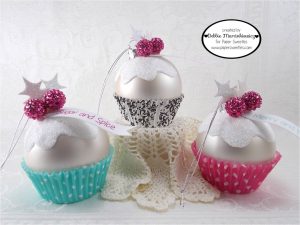 The most difficult part of this project is waiting for the puffy paint to dry — it takes a long time!  I let mine dry for several hours, and then while it was still tacky, I sprinkled glitter onto the paint for some sparkle and shine!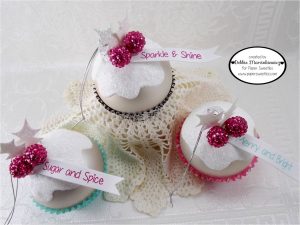 I used the Merry and Bright & Sugar and Spice stamp sets to stamp the sentiment tags.  The leaves were die cut using the Holly Days Sweet Cuts set.  The 'berries' are glass beads used for jewelry making.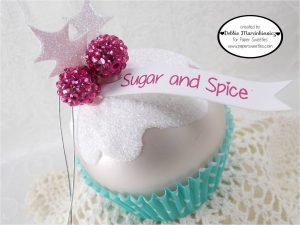 I will be adding these adorable little handmade cupcakes to my white candy theme tree – perfect!  Again, these make wonderful gifts for the holidays – great for teachers, co-workers, friends, hostess gifts … wouldn't these looks adorable as table favors at a holiday tea party???  Note to self!!!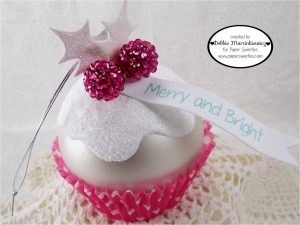 Recreate using these goodies from the Paper Sweeties boutique:
The final project I created to share today is another Sweet Chips kit turned into a shaker – LOVE!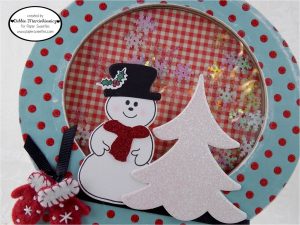 The Sweet Chips – Snow Globe is so much FUN to decorate!  I turned my project into a shaker by adding some Snowflake Sequins!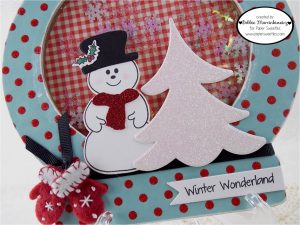 I love the little scene created with the snowman, tree … and how cute are those tiny felt mittens (old Stampin' Up! from my stash)!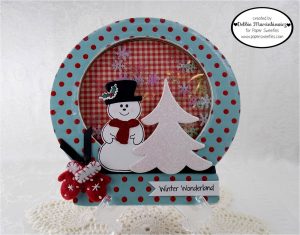 The Sweet Chips kits are quite addictive … I've decorated all six we currently carry and can't wait to make some more!  You could turn the globe upside down and make it a fish bowl!  Or leave 'as is' and turn it into a gumball machine!  So many possibilities and so much fun to create with!  Recreate using these goodies from the Paper Sweeties boutique:


Thanks for stopping by today to have a peek at my gift ideas!  I hope I inspired you to make one or two or more of these sweet projects — a couple for gifts and maybe one or two for YOU!
Speaking of gifts, how about some for all of our fabulous followers?  Leave me a comment on this blog post letting me know which of the projects I shared was your favorite!  At the end of our 12 Days of Christmas Blog Hop, I'll choose one winner from all the comments to win a shopping spree at Paper Sweeties!  The more comments, the larger the prize … I'll add $10 to the gift certificate prize for each 10 comments, so if we get 100 comments, someone will win a $100 shopping spree!  ONE comment per person, please!  SHARE this blog post with your crafty friends … the more comments we receive, the larger the prize will be!
Edited:  and the WINNER is: 
Be sure to come back tomorrow to continue on the blog hop … you won't want to miss a single second of the fun and festivities!  There 'may be' MORE prizes along the way, so be sure to bookmark and follow our blog to keep up to date with all the exciting things we have planned for the 12 Days of Christmas Designers' Blog Hop at Paper Sweeties!
Sharing with these challenges:  House of Cards – December; Really Reasonable Ribbons #130 – silver/gold; Dies 'R Us #38 – Christmas;  613 Avenue Create #152 – ATG; Cupcake Inspirations #338 – cupcake ornament; JUGS #321 – photo inspiration/ornaments/pink; Fussy & Fancy #153 – words; Cut it Up #85 – make it sparkle with dies & sequins; Fusion – blue Christmas; Simon Says Stamp Wednesday – Let it Snow; The Shabby Tea Room #264 – O' Christmas Tree; The Card Concept #45 – Let it Snow; Pink & Main #4 – Christmas