Hello crafty friends!!  It's that time of the month again … time for a NEW challenge at Paper Sweeties!  Before we share the new inspiration board, let's congratulate last month's challenge winner … the votes are in and I'm thrilled to announce our latest winner:  Jen Carter!
  Contact us, Jen, to claim your $20 gift certificate for a shopping spree and get the challenge details for your Guest Designer spot next month!
Paper Sweeties hosts monthly challenges here on the blog! Each 1st of the month we will have a brand new inspiration board to help spark your creativity!  It's as easy as 1-2-3 to create, share and win:
1. CREATE a NEW project based on the current inspiration board using any of your favorite crafty supplies — receive an EXTRA VOTE if you use something from Paper Sweeties such as a stamp, die or embellishment!  If you don't have any stamps from Paper Sweeties yet, we have some complimentary digital images for you to try out!  Use this month's board as a starting point for your project — be inspired by one or more of the colors, shapes, theme — anything goes!
2. POST a DIRECT LINK to your project in our link gallery below — please link to your project post (not your entire blog) so we can easily find your creation. You do not need to have a blog to enter — you can use any of our online galleries to upload your project:  Flickr, Pinterest, Facebook or Splitcoast Stampers (keyword papersweeties)!
3. LINK back to this blog post so your readers can easily find us!
Our challenge will run for the entire month. You can play along as many times as you wish and combine with as many other challenges as you want! The challenges will end at 12 pm EST on the last day of each month. The winner will be revealed on the 1st of each month!
Paper Sweeties Inspiration #33 – 'Red, White & Blue'
HOW will YOU be inspired this month — colors, theme, shapes??  Here is how I was inspired to create this month (CLICK on the photos for close up views):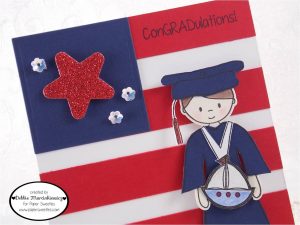 I created this little sweetie for my oldest son who just graduated from grad school!  He got his Master's Degree in Bio-Medical Engineering from Drexel University in PA … and I'm a proud mama!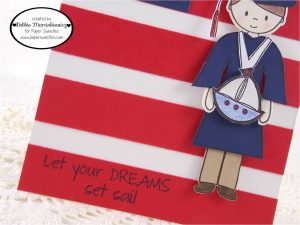 I stamped Jake on buttercream cardstock, die cut him using the Jake Sweet Cuts die and colored his hair with Prismacolor pencils and Gamsol.  I stamped the cap and gown onto navy cardstock using the ConGRADulations stamp set and stamped the pants and shoes using the Happy Fall Ya'll stamp set.  I created a 'flag' background using red and navy cardstock strips and a square and then stamped the sentiments using the ConGRADulations and Surf's Up stamp sets — and the cute little sail boat is from the Surf's Up set too!  To finish things off, I added 3 Marshmallow Sequins for a little sparkle and a red glitter star die cut using the Be Happy Sweet Cuts die!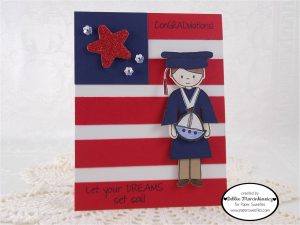 Supplies used from the Paper Sweeties boutique:
  Please visit our talented Design Team Contributors' blogs to be inspired by their amazing projects:
Debbie Marcinkiewicz – Paper Sweeties <– you are here!
Subscribe to our newsletter to stay up-to-date with everything new and exciting at Paper Sweeties!
Like our Facebook Fan Page – $20 gift certificate given out to one lucky fan each time we reach 100 new 'likes' … next prize at the 2,200 level!
Follow us on Pinterest for loads of inspiration and ideas!  Contact us to pin YOUR Paper Sweeties projects to our Customer Gallery Board!
Be inspired by videos and tutorials on our Paper Sweeties You Tube Channel!
I cannot wait to see how you will be inspired by this month's challenge!
Inspired by these challenges: Pile it On #75 – flag colors; 7 Kids Challenge Blog #129 – ATG w/ twist of stars & stripes;  Simon Says – dots/spots; Tuesday Throwdown #251 – stars; 613 Avenue Create #130 – ATG; JUGS #299 – inspo photo; Repeat Impressions – red, white & blue