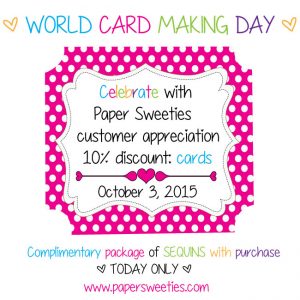 Hello again crafty friends!  I hope you enjoyed the cutie pie ghostie treat pocket I shared this morning for WORLD CARD MAKING DAY – 2015!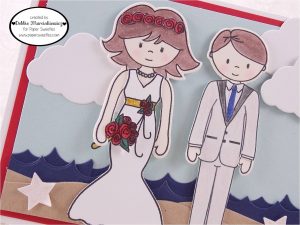 I have another little something sweet I recently created for my bestie's son's wedding.  Our kids went to high school together and now are all in different phases of grad school … and getting married!  Garrett and Mallery had a beach wedding this past August and I loved creating this card especially for them!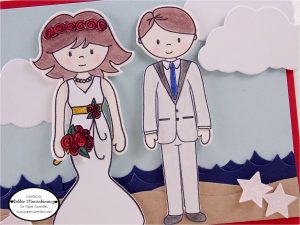 I used Abigail, Abigail Sweet Cuts and Faith Hope Love to create the Mallery bride!  Garrett Groom was created using Jake, Jake Sweet Cuts … and a formal outfit that will be released after the holidays!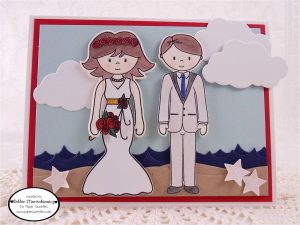 The sand was die cut using the Thanks Snow Much Sweet Cuts set.  The clouds and water were die cut using the Let's go to the Beach Sweet Cuts set.  The starfish were stamped using The Beach stamp set and then punched using a star punch!
I hope you're all having a chance to get inky today!  Share with us on the Paper Sweeties Facebook Inspiration Group — we LOVE seeing what you create with goodies from the boutique!
I'll be back later with another little something to share — until then, happy crafting my friends!