Hello crafty friends!  I'm so glad you popped by today for a little peek on what I've been up to!!  I'm sharing a card I made to help say 'goodbye' to the Paper Crafts and Scrapbooking magazine along with all the wonderful staff that have worked tirelessly over the years to bring us one of the best publications to find inspiration and spark our creativity!  I know I'm not alone with feeling a little lost without my favorite printed craft magazines — it's a new world we are living in these days!  (Click on photos for larger views).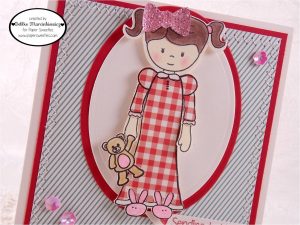 So, I set to work to create something unique, sweet, heartfelt and FUN!  I pulled out my very favorite little girl stamp from Paper Sweeties, Miss Emma!  I stamped her on vanilla cardstock and then die cut her using the Emma Sweet Cuts die.  I colored her hair with Prismacolor Pencils and Gamsol and then added a sparkly bow embellishment I received a while back from a my dear crafty friend, Jill!  Next I stamped a nightgown outfit onto fun gingham patterned paper using the I Love You stamp set — and then stamped Emma's little teddy bear too!  The nightgown and teddy bear were paper pieced to little Miss Emma – super CUTE!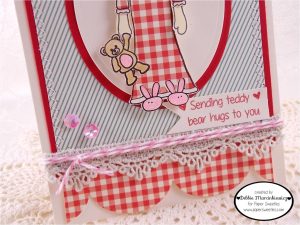 I colored the little bunny slippers with a pink glitter marker and added Cotton Candy Sequins and Cotton Candy Baker's Twine to the base of the card to carry the pink through my design!  A banner was stamped using one of the sentiments from the I Love You stamp set.  I'm sending 'teddy bear hugs' to all the Paper Crafts and Scrapbooking staff along with all the talented designers that have graced the pages of this magazine over the years — sharing their amazing work and talents with us all!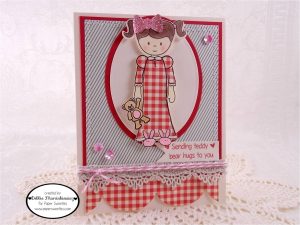 I was honored to have been published in the Paper Crafts magazine several time over the years … a couple of my more recent projects were as follows:
Paper Crafts Handmade Cards – October 2013 – 'Joy' page 28 (using Fancy Monograms)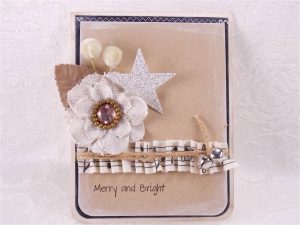 Paper Crafts Holiday Cards – September 2013 – 'Merry and Bright' page 40 (using Sending Holiday Cheer)
For more inspiration, continue on the hop:
You're arrived here on the hop from Joni Andaya's blog.
Your next stop is Lisa Johnson's blog.
If you get lost along the way or want to start at the beginning, go here:
And so, a FOND FAREWELL to everyone who worked throughout the years to bring us this wonderful publication and to all the talented designers who shared their lovely work to help spark our creativity!  Thank goodness we still have blogland so I can continue to enjoy everyone's pretty little paper projects!  Thank you for stopping by my blog today and allowing me to share a little piece of what I love to do with you!
Teddy bear hugs – xoxo
Inspired by these challenges:  613 Avenue Create #100 – ATG; Just us Girls #269 – ATG; Fussy & Fancy #128 – Happy Holidays;   Catered Crop – ATG;  7 Kids College Fund #113 – ATG; Tuesday Throwdown #223 – bling it on; Paper Sweeties #26 – photo inspiration (gingham)