Hello crafty friends!  Welcome to my blog today!  I'm here to share a little something I cooked up for this week's challenge at The Shabby Tea Room #189 – 'Fall Florals'.  We are asked to be inspired by this lovely photo and include fall flowers on our project!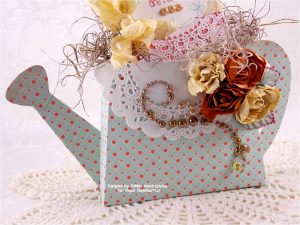 Creations by AR is our wonderful host this week in the Tea Room and I got to create with Adela's beautiful Garden Can Set – swoon!  I cut the watering can out of pretty patterned paper and assembled.  Then I had fun decoration the can with a white paper doilie, pretty paper flowers in yummy autumn colors and a little rhinestone and pearl BLING!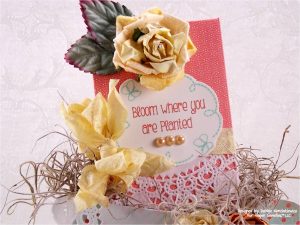 I stuffed the inside of the can with Spanish moss I picked on vacation down in Florida a while back, and then cut the coordinating seed packet from the set out of some more patterned paper.  I decorated the seed packet with another flower and doilie and then wrapped a length of Primrose Cookie Dough seam binding around the seed packet and tied it into a pretty bow.  Next, I stamped a pretty frame and sentiment to adhere to the middle of the seed packet using the Smile and Make Today Beautiful stamp sets from Paper Sweeties!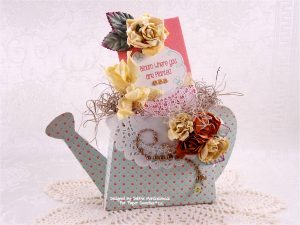 You won't want to miss a single peek of the amazing inspiration by the rest of the teamies over in the Tea Room, so hop on over for a little look!  I hope you're inspired to create something fun with fall flowers this week for a chance to win an amazing prize package from Creations by AR!