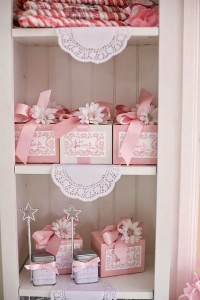 Hello crafty girls!  This week at The Shabby Tea Room, we are asked to create a gift or gift packaging!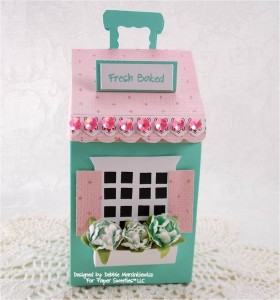 The Tea Room sponsor this week is Creations by AR and I got to create with the oh-so adorable Simply Scrumptious Shop!   SO cute!  I created the roof using patterned paper and added some Bubblegum Sequins for a bit of sparkle!  The flower box is filled with pretty paper blooms and the sign is stamped using the Stand Add-on: Fresh Baked stamp set!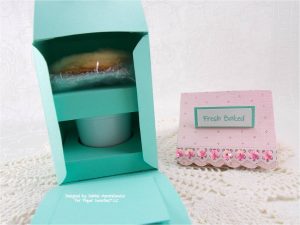 I filled the inside of the Simply Scrumptious Shop with a Raspberry Iced Tea K-Cup and a homemade sugar cookie!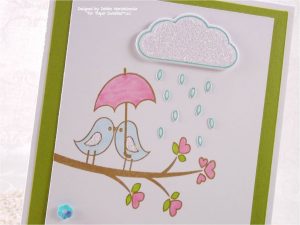 The coordinating card was stamped using the Showering You With Love and Splish Splash stamp sets … the cloud and raindrops were die cut using the Showering You With Love Sweet Cuts set!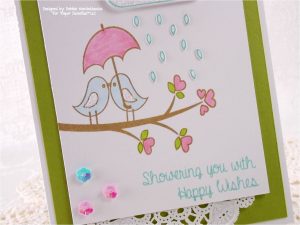 I added a couple of Robin Egg and Bubblegum Sequins to the lower left corner for a pop of bling!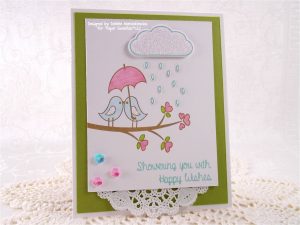 I added glitter to the cloud and wings on the sweet birds and a white paper doilie under the white cardstock layer.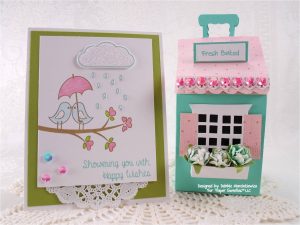 Please be sure to visit The Shabby Tea Room to check out the lovely inspiration created by the rest of the Shabby Girls this week, and then I hope you'll have time to play along with the 'Pretty Packaging' challenge this week for a chance to win an awesome prize package from Creations by AR!
Thanks for stopping by today!  Hugs – xoxo
Inspired by these challenges:  Color Throwdown #296 – caribbean, kiwi, pink, rose; The Cutting Edge #1 – inspired by 'clouds'; Paper Sweeties June inspiration # 20 – colors; Word Art Wednesday #136 – anything goes; 7 Kids College Fund #111 – anything goes; City Crafter Challenge Blog #215 – birds