Oh my goodness … we have such a FUN challenge to share with you this week at The Shabby Tea Room!  I know you'll want to jump right in a play along with our 'Tic Tac Toe' challenge — choose three elements in a row to create something sweet!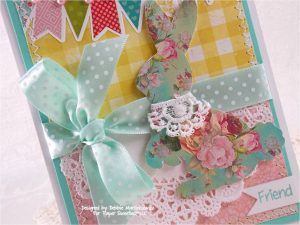 The Tea Room challenge is sponsored this week by Digital Papers by Janet Etsy and I got to create with the beautiful Bunnies Label file – LOVE!!  I added lots of yummy embellies to this card and managed to design using two rows – pearls, ribbon and polka dots + pennants, ribbon and vintage trims!  FUN, FUN, FUN!!!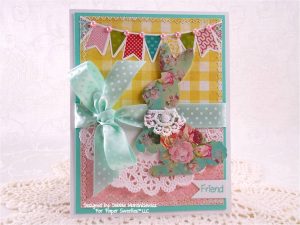 I love the sweet floral bunny shape, delicious satin polka dotted ribbon and fun banner with pearls, don't you?  The 'friend' sentiment was stamped using the Wagon Add-on: bloom and grow set from Paper Sweeties!
Be sure to visit The Shabby Tea Room challenge blog to check out the a-mazing inspiration projects created by the rest of the Shabby Girls this week … and then I hope you'll have time to play along with this oh-so-fun Tic Tac Toe challenge for a chance to win some goodness from Janet's amazing Etsy shop!
Thanks for stopping by today!  Hugs – xoxo
Inspired by these challenges:  April House of Cards #2 – classic/elegant + sketch; Paper Sweeties April Inspiration #18 – flowers/colors; JUGS #238 – photo inspiration/colors; Fussy & Fancy #112 – pearls & lace; Fusion – colors; 7 Kids College Fund – anything; Word Art Wednesday #129 – anything; colourQ #238 – inspiration colors; PINspirational #104 – photo inspiration