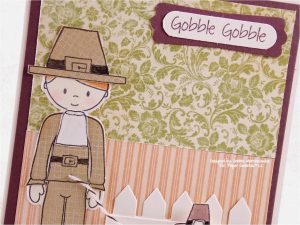 Happy Thanksgiving to all my family & friends who live in the US!  To everyone else outside the US — I'm thankful for the blessings of you too!  I so enjoy this amazing paper crafting community we all share and am truly thankful to have met and made connections with so many wonderful people whose path I would never have crossed had it not been for blog land!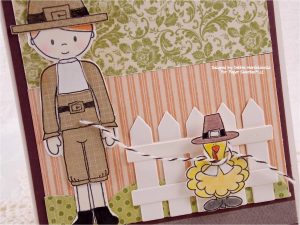 I am most thankful today to be surrounded by my family today — my supportive and loving husband and our two amazing sons!  They are home from college vising us for a couple days over the Thanksgiving holiday, so I am treasuring each and ever second with them … Sunday will be here all too soon and they will be heading back to school for the final push to end the term before winter break.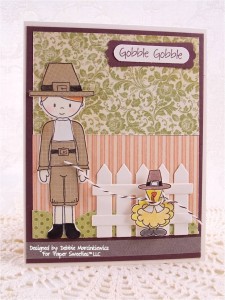 So, in honor of Thanksgiving, I whipped up this sweet little card the other day to share with Linda and the girls over at Catered Crop for this week's Animal House Recipe Swap!  The gift bags I created for last week's Thankful challenge earned a shout out (below), so I was invited to tag along for this week's designer's quick fire spotlight!  I used the Jake and Gobble Gobble stamp sets along with the Jake Sweet Cuts die to create this fun and festive card!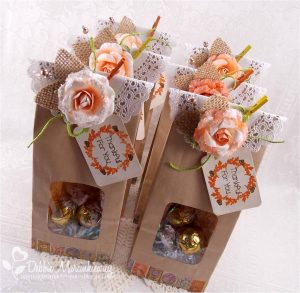 And .. just for giggles, I'm sharing a couple more of the fall things I recently created in honor of this wonderful holiday and treasured time of the year: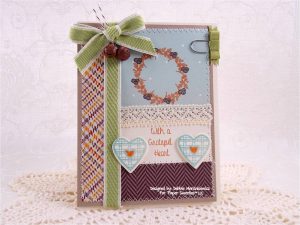 Season of Love, Homespun Holidays, Homespun Holidays Sweet Cuts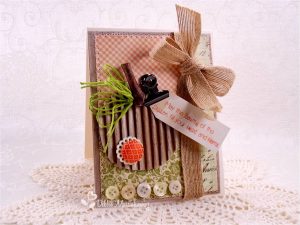 Give Thanks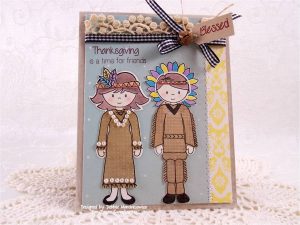 Abigail, Jake, Give Thanks, Autumn Blessings, Abigail Sweet Cuts, Jake Sweet Cuts
SALE … SALE … SALE … SALE … SALE … SALE — ALERT!
Shop Small with Paper Sweeties on Saturday, November 30th and save 30% on your order of $50 or more!  Use coupon code:  shopsmall2013 to redeem your savings!  Sale begins at 12 am EST and ends at 11:59 pm EST.  Enjoy your shopping spree!
Happy turkey day, ya'll!  I wish you all a fabulous day surrounded by your favorite family & friends … enjoy 🙂