Hello sweeties and welcome to The Shabby Tea Room #208 – 'Pretty Polka Dots'!  This week we are asked to create a card or project inspired by this adorable photo and include POLKA DOTS … yum!
I picked up a few adorable things at the recent Stamp Scrap Art Tour show in Columbia, SC that I attended with Paper Sweeties, and I couldn't wait to give my new goodies a try!  This sweet box was a kit — easy peesy, cut, fold, glue — done!  I used a variety of goodies from the Paper Sweeties boutique to embellish my sweet treat box …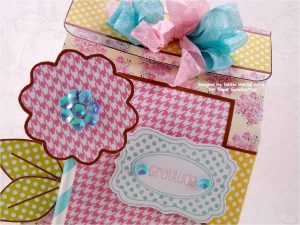 I had fun decorating my box!  I added a pretty bow using Robin Egg and Bubblegum seam binding.  Next I stamped the label and sentiment using the Beautiful stamp set — one of my all-time favs!  Finally I created the coordinating flower from the kit and added a Robin Egg Paper Straw for the flower stem and some Robin Egg Iridescent Sequins to add a bit of BLING and SPARKLE!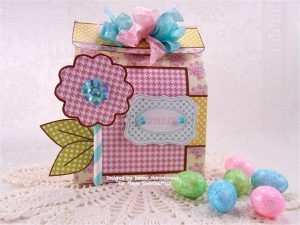 Please be sure to visit The Shabby Tea Room to be inspired by the rest of the Shabby Girls' gorgeous projects this week … and then I hope you'll have time to play along for a chance to win a shopping spree to Paper Sweeties!
And, you can double dip this week too!  The current March challenge hosted at Paper Sweeties includes polka dots too, so share your project over there for ANOTHER chance to win some goodies!!
Thanks for stopping by today … hugs – xoxox
Inspired by these challenges:  CASE Study #180 – inspired by flowers; 7 Kids College Fund #94 – anything goes;  The Card Concept #4 – floral theme; Word Art Wednesday #121 – anything goes; Tuesday Throwdown #184 – anything goes; Pile it On #9 – sweet/soft; Mojo Monday #335 – sketch; Cupcake Inspiration #250 – pink/white/green + flowers; Paper Sweeties #17 – Polka Dot Love