Hello crafty friends!  I'm popping in today to share a little something I made for the new challenge up today at The Shabby Tea Room #209 – 'Spring is Near'!  We are to create a card/project inspired by the photo using baby blue and include flowers and a bird!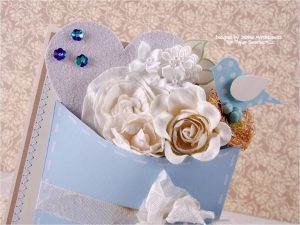 The Tea Room sponsor this week is The Cutting Cafe and I got to create with the lovely Pocket Card file!  I cut the pocket using a few pieces of Bashful Blue cardstock, adhered the edges together and filled the inside with crumpled paper to create a 3-D effect.  I used a chalk marker to create faux stitching around the edges of the pocket.  I cut one of the heart shapes from the Pocket Card file using white glitter chipboard and inserted it inside the pocket.  A couple of Grape Sequins were added for a little pop of color in the left corner of the heart.  I filled the pocket with white paper and satin blooms, a cute little nest with eggs and a bird punched from baby blue polka dotted pattern paper.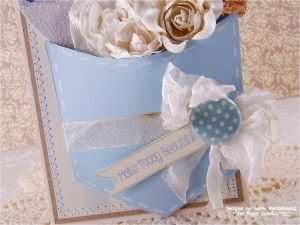 I tied some Frosting Seam Binding around the middle of my pocket before adhering it to the base of the card.  To finish things off, I added a baby blue polka dotted piece of Flair and a sentiment tag I stamped using the Banner Wishes and Make Today Beautiful stamp sets from Paper Sweeties!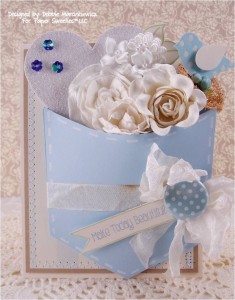 Please be sure to visit The Shabby Tea Room to check out the lovely projects created this week by the rest of the Shabby Girls … and to get a sneak peek of some new talent joining the Tea Room team beginning next week too!  I hope you'll have time to play along this week with our 'Spring is Near' challenge for a chance to win some goodness from The Cutting Cafe!
Thanks for stopping by today!  Hugs – xoxo
Inspired by these challenges:   Paper Sweeties March Inspiration #17 – polka dot love; CASE Study #181 – inspiration with flowers; Simon Says – Tag It; Word Art Wednesday #122 – anything; 7 Kids College Fund #94 – anything; Mojo Monday #336 – sketch; House of Cards – March #1 shabby/button