Hello crafty friends!  Welcome to a very special blog post … today I am joining some friends of mine from the Gallery Idol 2012 contest top 20 finalists group to help congratulate 'one of our own' Erin Schreiner, who is expecting a very special delivery later on this month!
We all got together and decided to throw Erin a virtual baby shower in the form of a blog hop to show her just how excited we are for her new little, precious bundle of joy to arrive!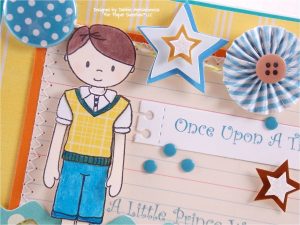 A little birdie told me that Erin is expecting a baby boy and plans to decorate his nursery in shades of yellow and gray!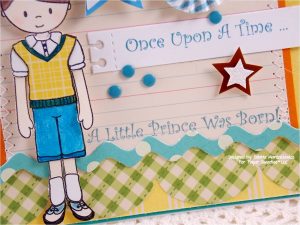 So, I pulled out my sweet little Jake stamp and Jake Sweet Cuts die and set to work creating a masculine baby card … something I don't have occasion to do very often as my friends are out of the baby years and our college-aged children have not yet started to have babies of their own … but that will be right around the corner, so this card gave me some good practice for when the time comes!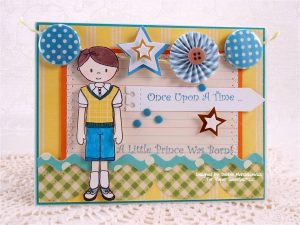 I dressed Jake in an outfit from the Hippity Hoppity stamp set!  I stamped the shirt and shorts onto white cardstock and then colored with Prismacolor Pencils and Gamsol.  The little yellow vest was stamped onto pattern paper and then paper pieced on top of the white shirt.  White knee socks and saddle shoes complete his outfit … this is how I used to dress my two sons when they were toddlers!!   Last, I created the sentiment using the Once Upon a Time stamp set!  I created a sweet banner using store-bought stickers, yellow baker's twine and flair from Bossy Joscie!
There are 19 stops along the way for today's designers hop – jam packed with eye candy created by the rest of the Gallery Idol 2012 girls!  You won't want to miss a single stop along the way, so be sure to hop on over and leave the girls a little love along the way!  Your next stop is Elena's blog, but if you get lost along the way, you can hop back to the beginning and start over at Aga's blog!  Happy hopping 🙂
Debbie Marcinkiewicz  <– You Are Here!
CONGRATULATIONS, Erin!  I look forward to hearing the news about the arrival of your sweet little bouncing baby boy!  Hugs – xoxox
The November inspiration board is up for this month's challenge — visit the blog HERE to check out the amazing projects created by the Sweeties Teamies based on this colorful and fun inspiration photo and then play along for a chance to win some goodness from the Paper Sweeties boutique!
And one last bit of fun news, Paper Sweeties is hosting a three-day sale on the November 2012 Bundle!  Beginning today and running through 11:59 pm EST on Friday, November 8th, receive 30% off of the eight sets included in this money-saving bundle!  Save a whopping $24 off of the regular retail price … WHILE SUPPLIES LAST!
Inspiration found at these awesome challenges:  Ribbon Girl November Challenge – stripes; Word Art Wednesday #105 – anything goes; There She Goes #232 – dots & stripes; colourQ #214 – safron, durango, blue, espresso, white; Ribbon Carousel #87 – holidays/celebrations; Runway Inspired #47 – stripes/white; City Crafter Challenge Blog #184 – photo inspiration/blue, white, circles; Retro Sketches #88 – sketch (turned sideways)