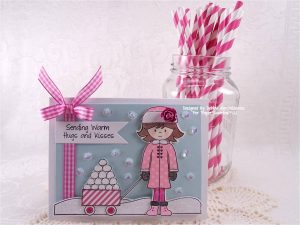 Believe it or not, we live in the part of the southeast that is expecting a rare winter storm that will deliver some snowflakes too!  We don't usually get snow during the winter, so the area is already shutting down in preparation for the storm!  We picked up some essential groceries last night and are hunkered in for the duration of the storm!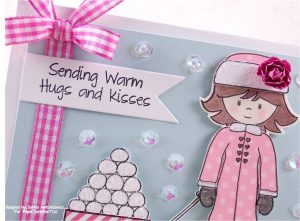 So, in honor of this wintery event, I decided to create something totally fun and snowflake-y!!!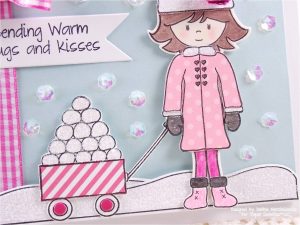 I had so much fun paper piecing this little sweetie pie!  I dressed Abigail in her adorable little winter coat from the Let It Snow stamp set – complete with a fur collar, hat, mittens, snow boots and leggins!  Abigail was cut out using the coordinating Sweet Cuts die – easy peesy!  I stamped one of the sentiments from this set onto a die cut banner and adhered it to my card after adding some pretty hot pink gingham ribbon and a bow.  I stamped the snow drifts from the Thanks Snow Much set and die cut them with the coordinating Sweet Cuts die, glittered and adhered to the base of my card using dimensionals in between to create depth.  Next I stamped the Sweeties Wagon onto white cardstock and then stamped it again onto hot pink striped paper and paper pieced it together.  The snowballs were stamped using the Wagon Add-on 3 stamp set – perfect for Abigail's walk in the snow!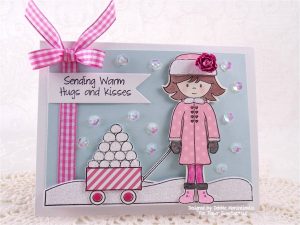 The final touches were the addition of some Frosting iridescent flower-shaped sequins to mimic snowflakes and glitter over all the white cardstock pieces to really make them pop!  The Raspberry Paper Straws are a fun addition to this little card and would be super cute added to a cupcake and given to a special friend to brighten their day!
I was inspired by these little goodies in my pantry today also … have to make them up to enjoy with a mug of hot cocoa tonight by the fireplace while I watch the snowflakes fall in my little neck of the woods!  I hope you're all having a warm and snuggly day … enjoy!
Hugs – xoxo!
Inspired by these current challenges: Cupcake Inspirations #245 – snowflakes;  CASE Study #175 – inspiration w/ sequins; JUGS #225 – photo inspiration; Really Reasonable Ribbons #87 – love/ribbons; Word Art Wednesday #116 – anything; 7 Kids College Fund #91 – anything; Paper Sweeties #15 – photo inspiration/snow; Festive Friday #23 – photo inspiration/snow; ABC Challenge – D is for Dazzle; Craft a Scene – create your own theme/winter; Kaboodle Doodles #208 – Baby it's Cold Outside; Cure For the Monday Blues #2 – inspiration photo