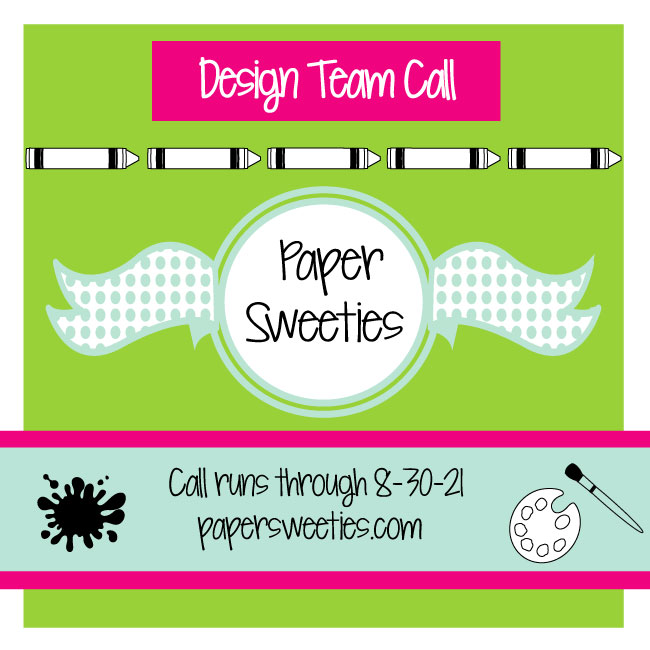 Paper Sweeties is hosting a DESIGN TEAM CALL!  We're looking for designers that love to work with stamps, dies and fun embellishments!  If you enjoy creating handmade from the heart treasures out of paper and glue, then this call is for YOU!  We are searching for ONE talented designer to join our creative team beginning September 1st!!
Here are the details of the call – feel free to contact us if you have any questions before you apply.  GOOD LUCK … we cannot wait to see your beautiful creations!
WHAT:
* We are looking for designers that enjoy to create and share their creativity on their blogs and social media sites such as Pinterest, Facebook, Instagram and YouTube.  You MUST be an active blogger with a good following and willing to share your work as much as possible to help promote our products!  Bonus points if you routinely create process videos!
* You must be able to take bright and professional quality photos to showcase our products!
* You will be required to create a minimum of three projects each month using our products!  From time to time you may be invited to join in designer blog hops with other companies.
* This is a company design position, so we are searching for individuals who possess these qualities: fun and friendly personality, can do attitude, professionalism, team spirit, creativity and ability to think outside of the box, attention to detail, responsible, dependable, ability to work with set schedule and produce projects on time each month!
* You will receive all the new stamps and dies produced each month to use in your designs.  From time to time you will receive complimentary embellishments.  You will be eligible to purchase additional stamps, dies & embellishments from the Paper Sweeties boutique at a 50% discount during the lifetime of your design tenure!
* This call is open to designers living in the United States.  Call ends 8/30/21 at 11:59 pm EST.
HOW:
* Please create a project that best showcases your design style so we can get a good feel for you and your creativity!  We are looking for all design styles, so show us what you got!
* You may enter as many times as you wish.  Please submit a new application for each project you are interested in sharing!
* We would love for you to share a short process video of how you would create for Paper Sweeties – this is optional.
* Please be sure to take bright, professional quality photos against clean backgrounds so your beautiful work shines through without distractions!
* You do not have to use Paper Sweeties stamps, dies or embellishments on your application project, but if you do that is certainly a bonus for us to be able to see how you would use our goodies when designing!
* When applying, please put 'DT Call' in the subject line of your e-mail and include your full name, address, phone number, e-mail address, blog address, links to all social media platforms, a short introduction about yourself and your design history along with photos of your project!  Send applications to debbie at paper sweeties dot com.  Applications accepted through 8/30/21.
* Help us spread the word about this call … share us with your crafty friends!
THANK YOU … we cannot wait to see what you will create!
**********
In honor of our 9th anniversary and to show our appreciation to our loyal customers, we have a ton of specials, sales, giveaways, contest and MORE going on all month long!
To help you plan your life in style, we have put ALL PLANNER STAMPS & COORDINATING DIES on sale at 50% off – WOW – no coupon needed!  This is one sale you'll surely want to take advantage of and stock up … while supplies last!
Are you SOCIAL???  CLICK on the links on our home page to follow us!
Subscribe to our monthly newsletter to keep up to date with everything new at Paper Sweeties and to receive subscriber only coupons, discounts and specials!  Sign up on sidebar —>
Be sure to bookmark our blog and follow us on social media to stay up to date with news, specials and new releases here at Paper Sweeties!  Hugs – xoxo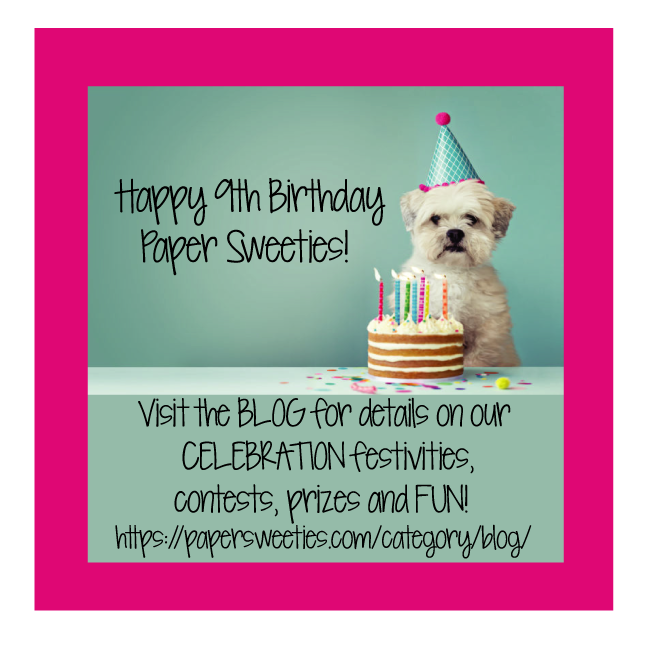 1.  WIN A $50 SHOPPING SPREE AT PAPER SWEETIES! Visit our blog (here) and bookmark our site so you can find us quickly and keep up to date on all posts!  We will be sharing a 'hidden letter' each day that we blog throughout the month.  Read all of our August blog posts and find the hidden letter in each post.  After you have retrieved all the hidden letters, unscramble them to reveal the secret word.  Once you have solved the puzzle and figured out what the secret word is, contact us with your answer.  The FIRST person to contact us with the CORRECT secret word will WIN A $50 SHOPPING SPREE at Paper Sweeties … but NOTE, you cannot submit your guess until we announce that the final 'hidden letter' has been shared!  Today's 'hidden letter is:  'S'
2.  RECEIVE 25% OFF YOUR ENTIRE FULL-PRICE STAMP/DIE SET PURCHASE of $50+! Use coupon code: BIRTHDAY to receive 25% off your entire FULL-PRICE STAMP/DIE SET purchase (on-line or in person)!  Coupons cannot be stacked or combined with other offers or discounts.  Coupon can be applied to any full-price stamp and/or die set purchase.  Coupon expires 11:59 pm EST 8/30/21.
3.  EARN A $50 SHOPPING SPREE AT PAPER SWEETIES! Purchase a minimum of $50 (product total must be at least $50 AFTER any coupons have been redeemed) during the month of August either through our e-commerce shop or in person from our She Shed during our August Day Crops.  For EACH $50 you spend in August, your name will be added to a basket and one name will be drawn on September 1st to be the winner of a $50 shopping spree at Paper Sweeties!
4. EARN A FREE STAMP SET! All Paper Sweeties DOLLS and DOLL OUTFITS are BUY 3 GET 1 FREE during the month of August!  Please leave us a comment on your order form to let us know the name of the FREE doll or outfit stamp set you'd like as your prize!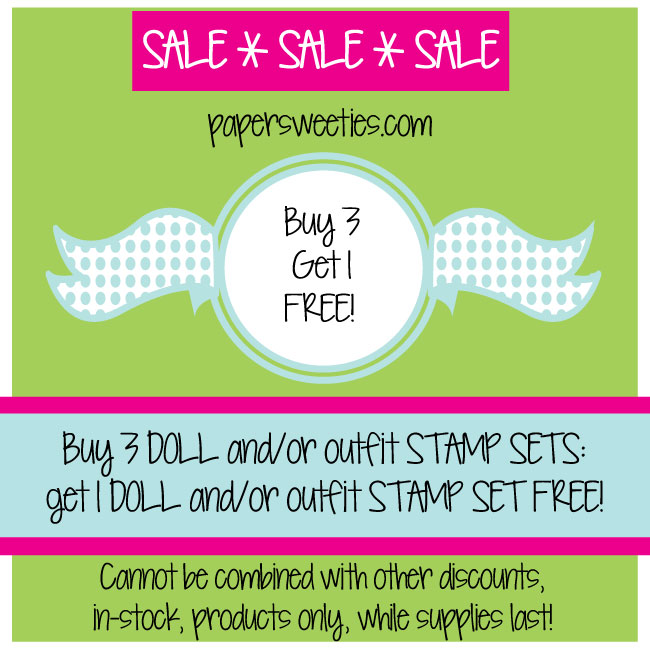 5.  Receive 50% off our SALE and/or RETIRING SOON CATEGORIES! As always, save BIG on clearance products being retired to make room for new goodies coming soon!  ALL Planner sets are included in this half off SALE plus LOADS more fun sets!  NO COUPON NEEDED – WHILE SUPPLIES LAST.