Today's the day we've all been anxiously awaiting — it's the OFFICIAL LAUNCH of the 2016 Plan Your Life Series with Paper Sweeties!  We've been sharing little sneaks and peeks over the past 12 days of things to come, but today is fun because we can share it all with you!
First off, we have an AWESOME calendar/planner package available for instant download –> HERE!
You can purchase the calendar pages one month at a time or save $4 by purchasing the entire 24 page package all at once!  Each month has an 8.5″ x 11″ calendar page as well as a second 8.5″ x 11″ page where you can record notes, a to-do list and keep track of upcoming birthdays!
And, the best news is that the planner pages are pre-marked with all the Paper Sweeties special dates throughout the year … challenge dates, blog post dates, new release dates, stamp show and class dates!  What a great way to keep track of everything in your life along with everything Paper Sweeties too!  Each month has a bright and cheery palette with whimsical images and plenty of space to record the important things in your life!
Next, let's meet the first stamp sets now available for our Planner Series: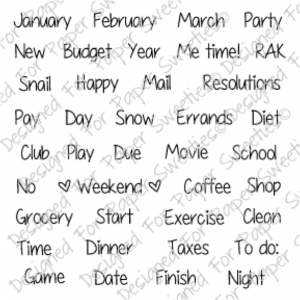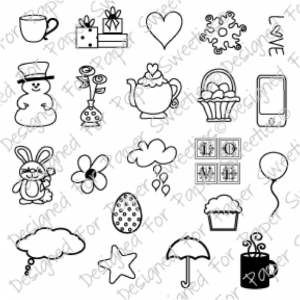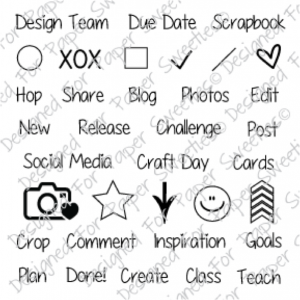 Cute, huh???  You can use these sets not only on planners and calendars, but on tags, cards –anything paper crafty!  And, without further ado, let's get to peeking at my January calendar and planner pages!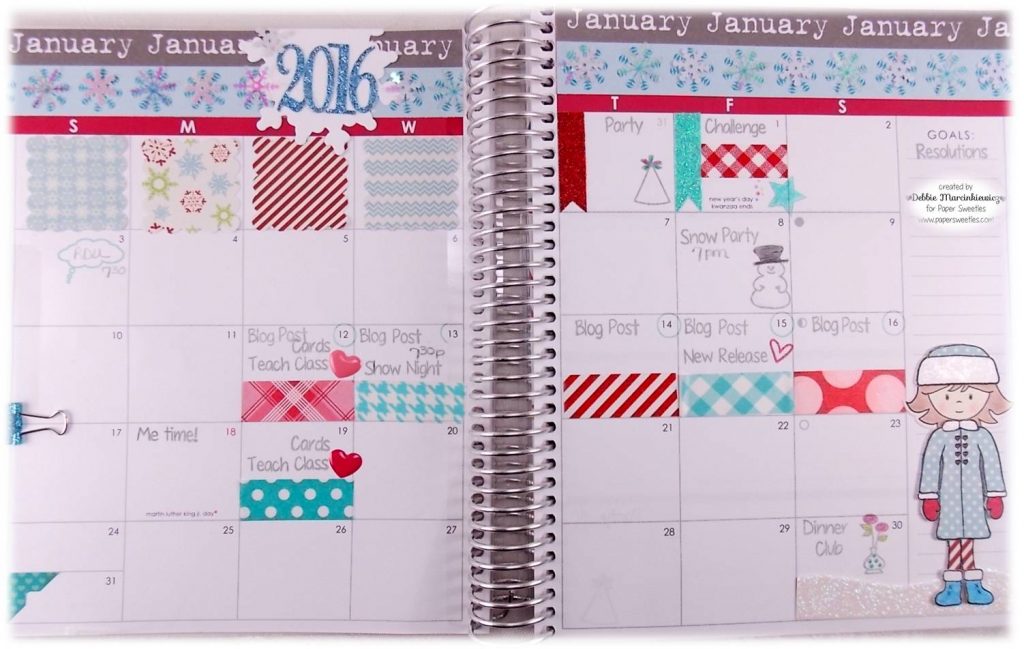 This … was … SO … MUCH … FUN … to … do!  Love the entire month-at-a-glance pages – so colorful and fun to look at again … and again … and again!  I keep my planner close by so I can peek at it throughout the day … and it makes me smile each and every time I flip it open!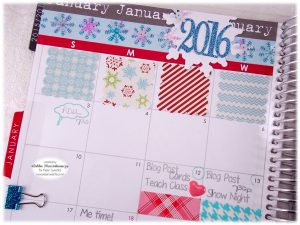 I started decorating at the very top of the page by adding Snowflake Sequins across both headers!  (CLICK on photos for larger views).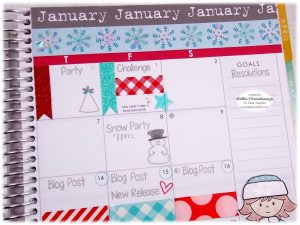 I marked holidays with glitter tape I cut into banner shapes.   I stamped 'challenge' 'blog post' and 'new product release' dates!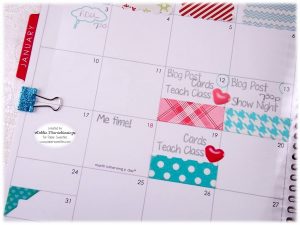 I added mixy-matchy Washi tape strips to the special event days for Paper Sweeties – challenge, blog posts, release and classes!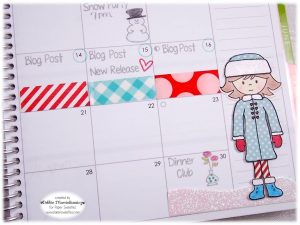 And, how cute is Miss Abigail dressed in her winter best!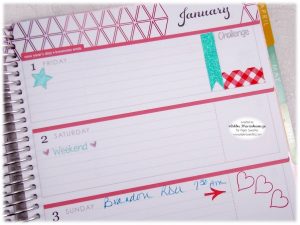 The weekly pages were decorated similar to the month-at-a-glance pages, although I added more detailed information … times of appointments, classes, etc.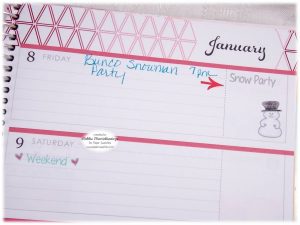 I love how you can coordinate the sentiments with the sweet little icons to highlight special events!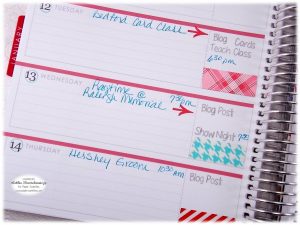 And I LOVE the snipetts of Washi tape marking 'extra special' days for Paper Sweeties!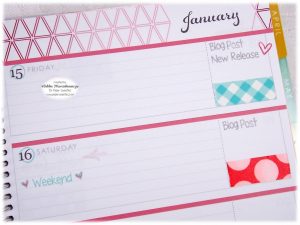 I adore the 'weekend' sentiment with the sweet 'heart brackets'!!!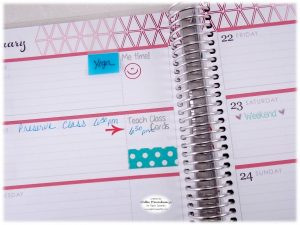 For appointments/events that I'm not 100% sure about, I didn't want to stamp them in only to have them possibly change day or time or cancel … so I found cute little Post It Note flags in happy colors that I can write things on and when I finalize my plans, I can go ahead and stamp them into my book!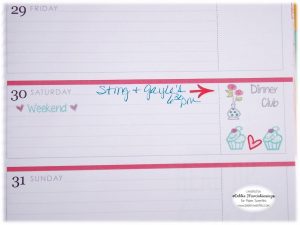 The little images from the Happy Icons, Get Your Craft On and Sweet Treats (releasing on the 15th) sets are perfect for the square boxes in my planner.  I'm addicted and I know you will be too when you start to plan your life in style with Paper Sweeties Planner Series goodies!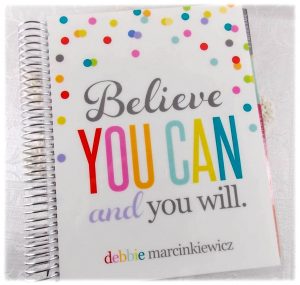 We're giving away a FREE Digital Planner to one lucky person!  Visit –> THIS POST <– to read how you can be eligible to WIN your new planner!
Products used from the Paper Sweeties boutique:
Hop on over to be inspired by the rest of the Planner Teamies' projects today:
Our regular *NEW* Product Release Sneak Peeks begin tomorrow here on the blog … see you then!
Sharing with these challenges just for fun:  Pile it on #99 – 'D'/doll; 613 Avenue Create #158 – ATG; Simon Says Stamp – something new; Card Concept #46 – warm heart; Dies 'R Us #40 – something new; Paper Sweeties #39 – winter/snowflakes/sweet treats