EDITED:  Winner of the $100 gift certificate for the December 2017 challenge:  Tricia!
Welcome all of our fabulous planner, calendar and organizer friends — today's the day we are sharing inspiration and ideas using some FUN Planner sets from Paper Sweeties!   These amazing sets will help you plan your life in style with Paper Sweeties this year!
 You can use our versatile planner stamps not only on planners and calendars, but on tags, cards, invitations, layouts, place cards, save the dates — anything paper crafty!  So, without further ado, let's get to peeking at my January calendar and planner pages (CLICK on photos for larger views):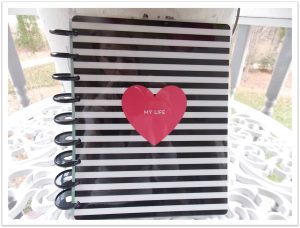 I love, love, LOVE my 2018 MAMBI Create 365 Happy Life 2017 planner!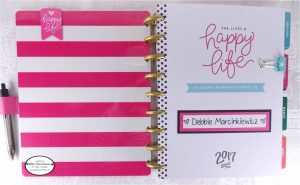 The pages are removable which makes it very easy to stamp and embellish — especially as the year progresses and the calendar gets filled up with lots of bumpy goodies!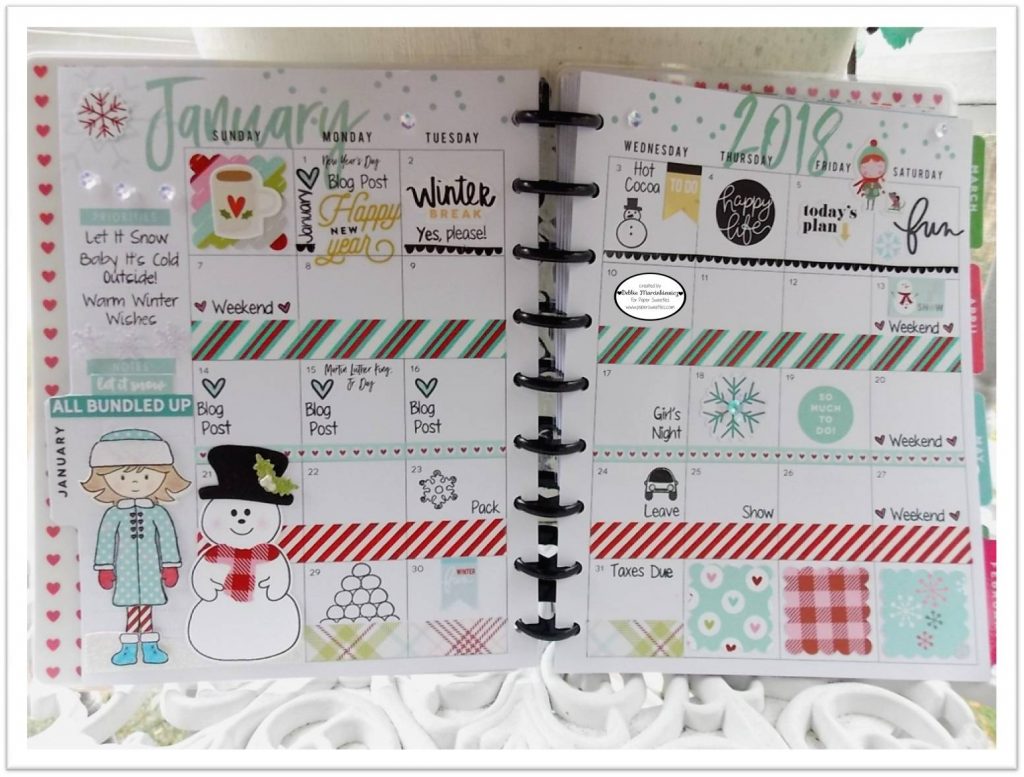 This … was … SO … MUCH … FUN … to … do!  Love the entire month-at-a-glance pages – so colorful and fun to look at again … and again … and again!  I keep my planner close by so I can peek at it throughout the day … and it makes me smile each and every time I flip it open!  I adore the mixy-matchy patterned papers!  (CLICK on the photos for close up pics!)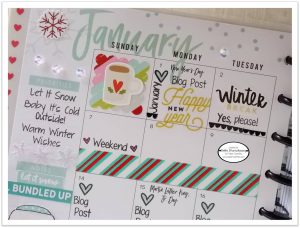 I stamped all the special days throughout the month using a variety of the amazing planner stamps available at Paper Sweeties!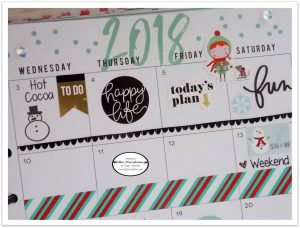 I marked holidays and special days with glitter tape I cut into banner shapes.   I stamped 'blog posts' and 'new product release' dates along with my shows this month!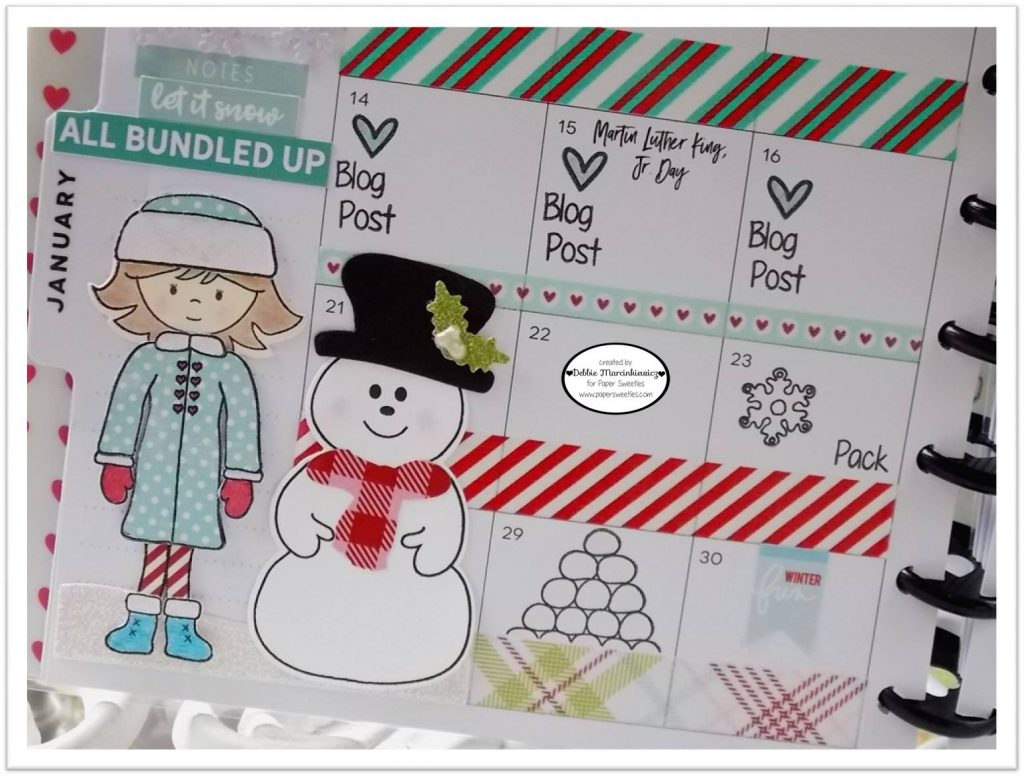 I added adorable mixy-matchy Washi tape throughout the month to decorate and add some fun color!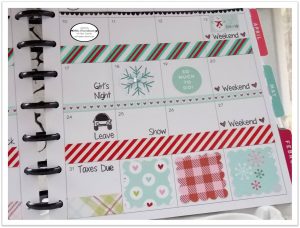 And, how ADORABLE is Abigail dressed in her holiday outfit!  For tips on how to stamp and dress the dolls from Paper Sweeties, please watch Jill Norwood's videos HERE and HERE!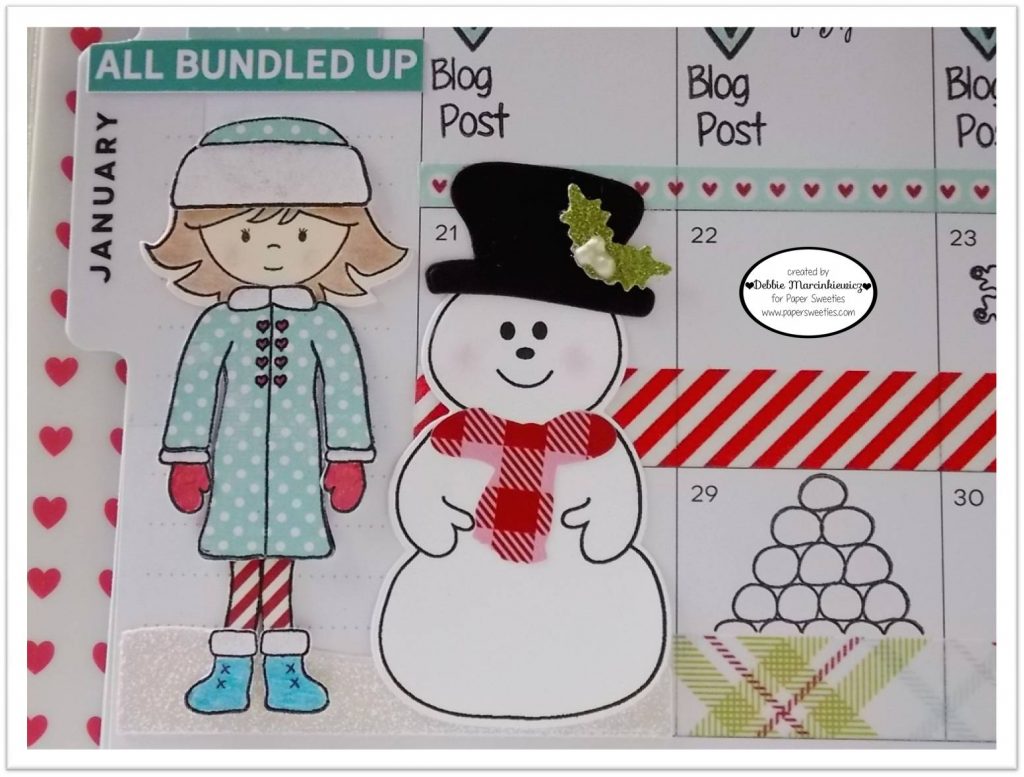 I'm addicted and I know you will be too when you start to plan your life in style with Paper Sweeties Planner Series goodies!
Recreate these planner pages using these goodies from the Paper Sweeties boutique:
Hop on over to be inspired by the rest of the Planner Teamies' projects today:
Are you SOCIAL???  CLICK on the links on the sidebar of this blog —> to follow us!
Subscribe to our monthly newsletter to keep up to date with everything new at Paper Sweeties and to receive subscriber only coupons, discounts and specials!  Sign up on sidebar —>
Hugs – xoxo