Hello crafty friends!  I'm popping in today to share a little something spring-y I created for the latest challenge at The Card Concept!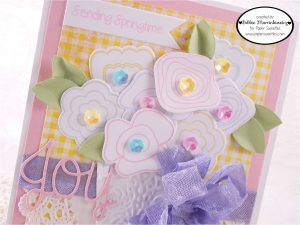 I don't know about y'all, but I am SO ready for spring — we have had a colder than usual winter here in NC, so am looking forward to warmer temps and pretty spring blooms hopefully coming to my little neck of the woods SOON!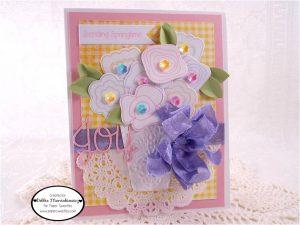 Stamp supply list:  Pretty Posies, Sending Springtime
Die supply list:  Pretty Posies, Garden Time, Joy
Embellishment supply list:  Grape Seam Binding, Robin Egg Sequins, Cookie Dough Sequins, Cotton Candy Sequins
Please be sure to visit The Card Concept challenge blog to be inspired by the other teamies' beautiful projects this week, and then I hope you'll have some time to play along!
Hugs – xoxo
Inspired by these challenges:  Paper Sweeties #29 – waiting for spring; Paper Issues – enamored with;   Fusion – bow ties & other things/colors; 7 Kids College Fund #120 – ATG; Tuesday Throwdown #234 – circles (sequins);  PIO #58 – adhesive backed embellishments; 613 Avenue Create #113 – ATG