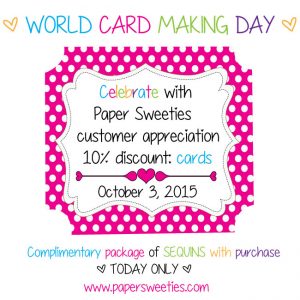 Happy WORLD CARD MAKING DAY – 2015 crafty peeps!  I hope everyone has some time carved out today to get inky and crafty!  I am traveling today through Tuesday — up to Philly to visit my oldest son! I've been so busy traveling for stamp shows and working double time at home to restock, teach and prep for the next show that this girl needed a little break to recharge her batteries!  We are in New York City for the day today sight seeing and going to see Wicked on Broadway — SO EXCITED to see him and the show too!
Before I get to sharing, I have a little fun news to share … CONGRATULATIONS to the winner of the Homemade With Love stamp set from the Coffee Lover's Blog Hop comment contest: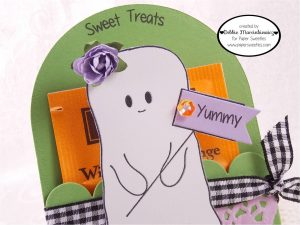 Before I left, I had some time to make a couple of things and I have had time to share yet, so I thought today would be the perfect opportunity to pop in and show you what I made!  I just love this adorable little ghostie … and every Paper Sweeties ghostie should wear a sweet little paper flower in her hair, don't you think??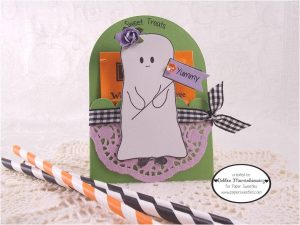 I used the Spooky Wishes, Homegrown and Mason Jar stamp sets along with Creamisicle Sequins to make this fun little treat pocket — orange tea bag inside the pocket — YUM!  I popped a couple of Licorice and Creamsicle Paper Straws in the photo 'just because'.  What would you do with these fun paper straws?  Use the WCMD coupon code to treat yourself to something sweet from the Paper Sweeties boutique today!
I'll be back a little later to share another little something sweet with y'all!  Follow this blog to stay up to date with all the inspiration and fun!  Until then, happy crafting my friends!