Hello sweeties!  Oh my goodness … I can hardly believe that tomorrow is Christmas Eve!  My how time flies when you're having fun … I LOVE the holiday season!   I'm spending today cooking up a storm … a Polish feast for my family to enjoy Christmas Eve night — golumbkis and pierogies along with grilled salmon, macaroni salad and homemade bread!  Christmas Day I'll be cooking a pork roast with all the trimmings.  What are your plans for Christmas Eve and Christmas Day??
This week at The Shabby Tea Room, our challenge is called 'A Few of My Favorite Winter Things' and we are asked to create a card/project using buttons/bells, snowflakes, white and silver – YUM!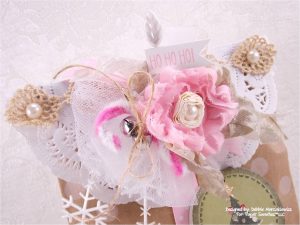 The Tea Room challenge is sponsored this week by The Ribbon Reel and I used these delicious goodies from Keilly's fabulous shop:  Natural Button Twine, Crochet Lace Trim, Snowflake Trim, Pink Fabric Flower, Pink & White Polka Dot Grosgrain Ribbon, White Polka Dot Bitty Bag, Silver Jingle Bells, White Leaf Pin.
And these goodies from Paper Sweeties – Ho Ho Ho, Cake Crumbs seam binding, Vintage Winter White seam binding.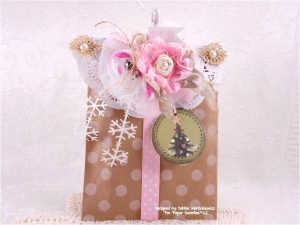 I love making sweet little gift bags to give to family and friends all year long!  I fill them with little bits and bobs of treasures … this one is filled with a handmade little something for a very special friend who lives across the miles.  I wanted to send her something handmade and sweet to show her just how much her friendship means to me!  At this time of year, I especially love to make handmade from the heart little treasures for my family and friends!
I hope you'll have some crafty time throughout the holiday week to join us in the Tea Room for our 'A Few of My Favorite Winter Things' challenge … Keilly has generously donated a $10 gift certificate to her beautiful shop for this week's lucky winner!
Merry Christmas to one and all!
Inspired by these current challenges:  The Shabby Tea Room #198 – white, silver, snowflakes, buttons/bells; Paper Sweeties December challenge – inspired by 'snow'; Paper Issues – happy place; 7 Kids College Fund #89 – anything goes; Simon Says Stamp – bling it on; Word Art Wednesday #111 – anything goes; Ribbon Carousel #88 – anything goes; City Crafter Challenge Blog #190 – jingle bells; Pile it On #48 – P is for pipe cleaners; Tuesday Throwdown #176 – meaning of Christmas; Top Tip Tuesday #116 – snowflakes; Cupcake Inspirations #241 – let it snow