Looking for my Visions of Sugarplums post –> click HERE!
My oh my, how time flies when you're having fun!  Today is the 4th and final day of project shares from the Sweeties Teamies for the December *new* product release … I hope you have enjoyed each day of the blog hops and found some inspiration along the way too!  Before we wrap things up for December and begin creating for the upcoming January release, we have a few more things to share with you today using some of the new goodies in combination with old products too!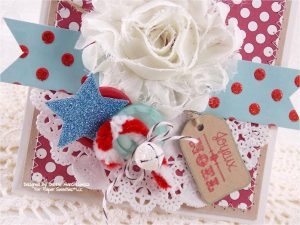 I created this fun card full of yummy polka dots and whimsical embellishments using the Season of Love and Little Wishes stamp sets along with a Red & White Chenille Candy Cane!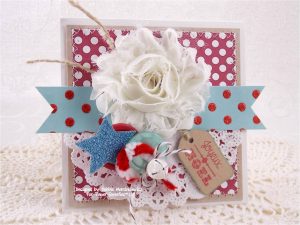 The addition of some baker's twine, a glittered jingle bell, buttons, a paper doilie, a chipboard glittered star and a pretty fabric bloom complete my design!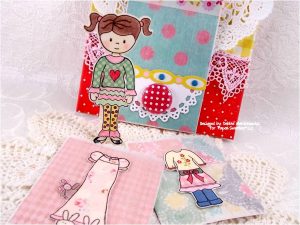 And, I am re-sharing a project I made for last month's Paper Sweeties November Inspiration challenge so I can show you all the sweet little outfit that is included in the Have a Holly Jolly stamp set!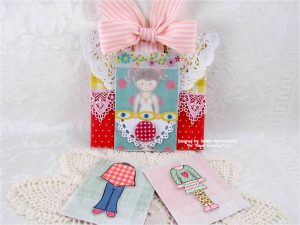 The outfit consists of a sweet top with ruffles at the cuffs and waist.  I stamped my top directly onto patterned paper!  This set also has 10 interchangeable theme icons that you can stamp directly onto the top so you can create 10 different looks … or don't stamp an incon at all — leave the top blank or stamp onto patterned paper.  I colored the ruffles with a pink glitter marker and then adhered the sweet stamped heart onto the top.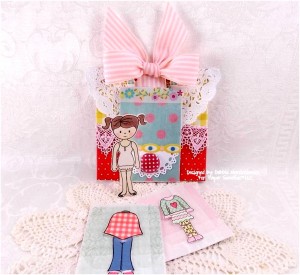 This set also comes with a pair of pants with ruffles at the bottom to coordinate with the top and a pair of ballet shoes!  Pretty polka dots adorn the pants and make them so fun!  You can use this set to dress up the Sweeties girls for the holidays, Valentine's Day, birthdays, celebrations … just about anything … using the interchangeable icons!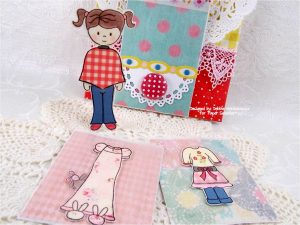 Here I'm showing a couple of the other outfits I inked and stamped to create a little wardrobe for Miss Emma … most everything was stamped directly onto patterned papers to make things quick and easy to cut and assemble!  I cut the doll out using the coordinating Emma Sweet Cuts die!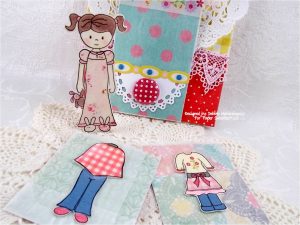 Here you see a few more outfits I created using the Some Bunny Loves You, Live Love Grow and The Splendor of Autumn stamp sets!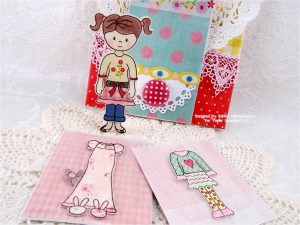 I added some double sided sticky tape onto the back of each outfit after I laminated them and then adhered them onto glassine 'garmet' bags!
Emma was laminated also so the outfits can easily be changed out … so much fun to play dress up!  The entire ensemble was packaged up using a decorated CD envelope from The Kraft Journal and another glassine bag was added to the front to hold Miss Emma!  I adhered it to the pink & white stripe gingham bow so it could easily be slipped off the CD case to revel and outfits contained inside the case.  What a fun gift to make, give and receive!  Any little (or big!) girl will enjoy receiving a handmade from the heart keepsake like this!
A set of a paper doll with outfits will make you mom of the year when you create these for your daughter's next birthday party as favors … or what a fun activity to do with the attendees at your daughter's next party — little girls love playing dress up and pretend!  It's also a great 'take along in the car' gift set that will provide hours of fun for your little girl!  How about stamping a set uncolored and then give as a gift with a pack of markers or crayons and let the little recipient color and decorate the outfits herself!  FUN!
Please be sure to visit the rest of the teamies' blogs to be inspired by their project shares today: