Hello sweeties … welcome to Day #1 of the Sneak Peeks for the Paper Sweeties February *new* Product Release!  So happy you stopped by for a little inspiration today!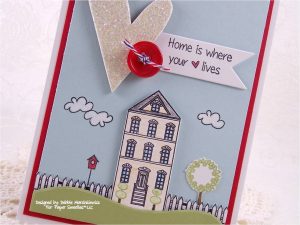 The set I am showcasing today was created in response to a customer request for a stamp set that would be perfect to create fun things for new neighbors, moving/new addresses, sweet treats for neighbors/friends/teachers, etc.  Introducing:  Home Sweet Home
I had a stampy friend who recently moved into a new home, so I took this opportunity to make her a card and send her some well wishes for her new nest!  I stamped the house, fence and tree images and then cut them out.  I die cut some 'grass' using the Thanks Snow Much Sweet Cuts die set and then built a little scene — adding the birdhouse and clouds.  I used dimensionals on the house and grass to create depth.  I stamped the sentiment onto white cardstock and cut it in the shape of a banner and then adhered it onto the card with a pretty glittered chipboard heart, button and a snipett of Apple Pie Baker's Twine!
For more yummy inspiration,  continue on the hop so you don't miss a single minute of today's creativity and fun from the Sweeties Teamies:
Before I wrap things up with this post, I have a little bit more of FUN NEWS!  We will be launching a new little something special here at Paper Sweeties tomorrow … come on back tomorrow to see what it will be!!
  We will be heading out first thing Friday morning to head down to the Stamp Scrap Art Tour Show in Columbia, SC!  We are looking forward to seeing so many of our fans while at the show and can't wait to make new friends too!!
Don't forget that the February inspiration challenge is live and you have this fun board to draw inspiration from … what catches your eye — some of the colors, the theme, the shapes?  Play along for a chance to win a shopping spree at Paper Sweeties along with a Guest Designer invitation to join us for the next challenge!  Some complimentary digital images have been added to the site for you to try out in case you don't own any Paper Sweeties stamps yet!   Ready … set … GO!
Have you seen???  Paper Sweeties was featured this week on Jessica Kephart's Homespun Elegance Blog!  A BIG thank you to Jessica for such a wonderful honor!
See you back here tomorrow for another sneak peek — leading up to our BIG RELEASE PARTY on Saturday the 15th!
Hugs – xoxox
Inspired by these current challenge:   Catered Crop – heart of the matter;  Word Art Wednesday #119 – anything; CASE Study #178 – photo inspiration;  7 Kids College Fund #93 – anything goes;  Mojo Monday #332 – sketch; colorQ #228 – color palette; Tuesday Throwdown #182 – red/blue;  City Crafter Challenge Blog #198 – love