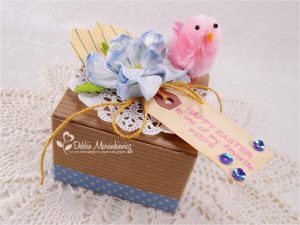 Hello crafty 'peeps'!  Today I am spotlighting some of the awesome packaging options carried at The Kraft Outlet Shop!  I began by wrapping a piece of Blue with White Polka Dot Washi Tape around the bottom of a 3x3x2 Kraft Box.  Next I added a piece of paper doilie and onto that I layered a pretty paper bloom and leaves that I hand cut from a Library Card.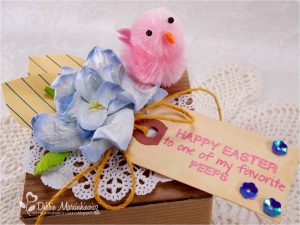 Next, I stamped a Grungy Prim Shipping Tag #2 with a sentiment from the Wagon Add-on: bloom & grow stamp set from Paper Sweeties and then added a couple of Grape Sequins.  I tied the tag onto the box using a snipett of Pastel Hemp Cording.  To finish off the top of this Easter gift box, I added a sweet, fluffy pink 'peep'!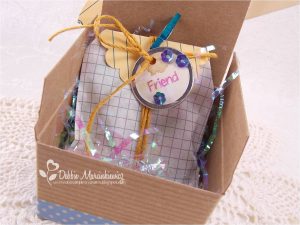 I slipped some goodies inside a Mini Graph Paper Merchandise Bag and then punched a scalloped circle topper using more Library Card paper.  I secured the bag closed with some more Pastel Hemp Cording and then added a Round Metal Edge Grungy Prim Tag onto which I stamped another sentiment from the Wagon Add-on: bloom & grow set and finished this sweet Easter gift off with a couple more Grape Sequins and a pretty Tiny Colored Wooden Clothespin.  I slipped the tiny goodie bag inside the Kraft box and my sweet gift was complete!
Thanks so much for stopping by today!  Hugs – xoxo
Inspired by these current challenges: Really Reasonable Ribbons #92 – flowers or buttons with ribbon; House of Cards April #1 – cute/fun w/sketch; Pile it On #14 – feminine;  Word Art Wednesday #127 – anything goes;  Paper Sweeties #18 – florals, colors, treats;  Paper Issues – Pocket Full of Sunshine; Simon Says – Happy Easter/Sweet Treats; PINspirational #102 – photo inspiration (peeps)