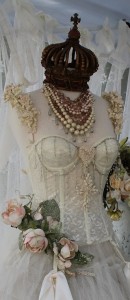 Hello crafty friends!  I'm popping in to share my card for this week's challenge at The Shabby Tea Room #175 – 'Romantic'.  We are to create cards or projects inspired by this lovely photo USING PEARLS, LACE and FLOWERS!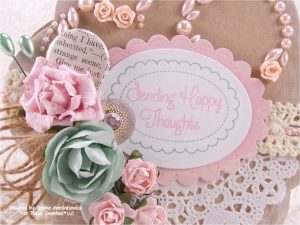 I used the Fanciful Flower Card cut file from My Time Made Easy for the base of my card.  The frame and sentiment was stamped using the Best Wishes and *new* Home Tweet Home stamp sets from Paper Sweeties!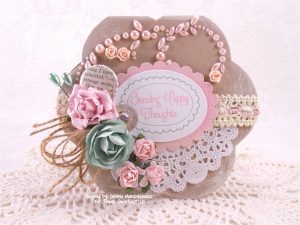 I added some bits and bobs of treasures — paper flowers, lace trim, a paper doilie, pearl flourishes and stick pins, a sparkler, twine, paint and text flair from Joscie!
Please be sure to check out the amazingly beautiful projects created this week by the rest of the Shabby Girls, and then I hope you'll have time to play along for a chance to win an awesome prize package from the My Time Made Easy shop!