Hello crafty friends — welcome to day #2 of the January 2022 *NEW* product release here at Paper Sweeties!  HOW MUCH ARE YOU IN LOVE WITH THIS MONTHS NEW SETS AND OUR 1ST QUARTER 2022 SWEET KIT???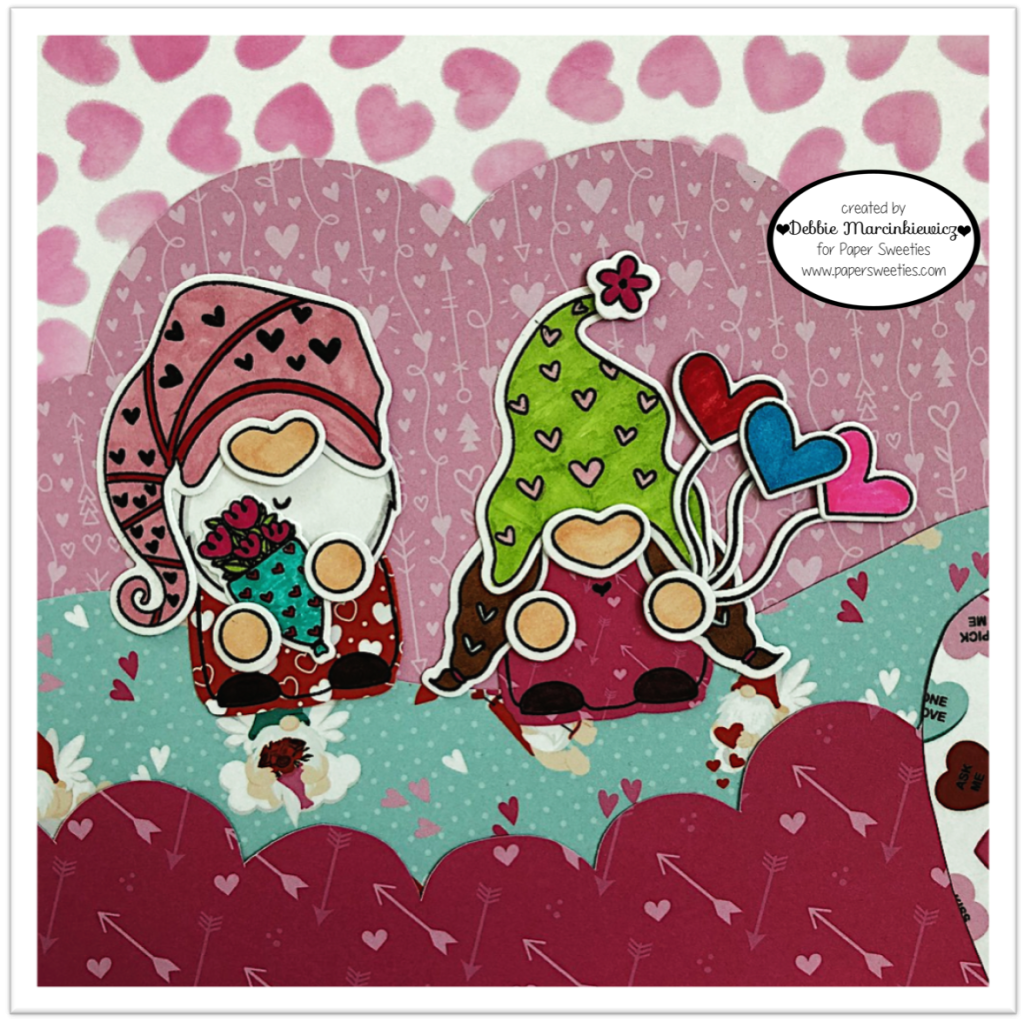 For today's release party project, I am sharing TWO adorable calendars I created using some of the *NEW* products released this month and AVAILABLE TODAY (links in gallery below)!!!  This month's new sets are called:  Gnome Add-on: Winter and Gnome Add-on: Winter Sweet Cuts!!  This is also the release of our 1st Quarter 2022 Sweet Kit (which is only available while supplies last)!  This quarter's Sweet Kit FEATURES Photoplay Paper's A Year With My Gnomies patterned papers as well as their Maker's Series – Decorate Me Calendar!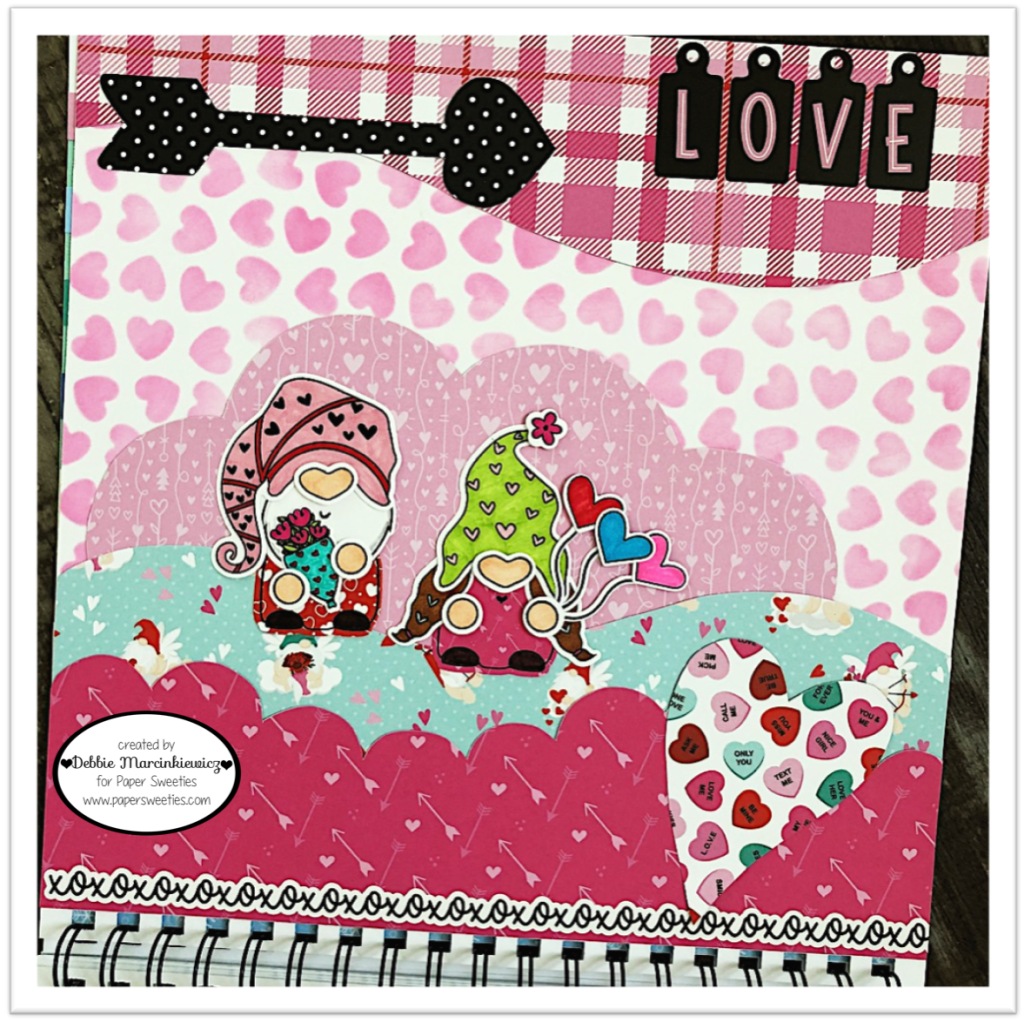 I combined our *new* stamp and die sets along with some *new* goodies from our 1st Quarter Sweet Kit to create this FUN calendar page layout …  CUTE!!  I also used some yummy patterned papers from the Tulla & Norbert's Love Story collection, and created a CUSTOM background using the Scattered Hearts stencil with some Pickled Raspberry Distress Oxide Ink – LOVE!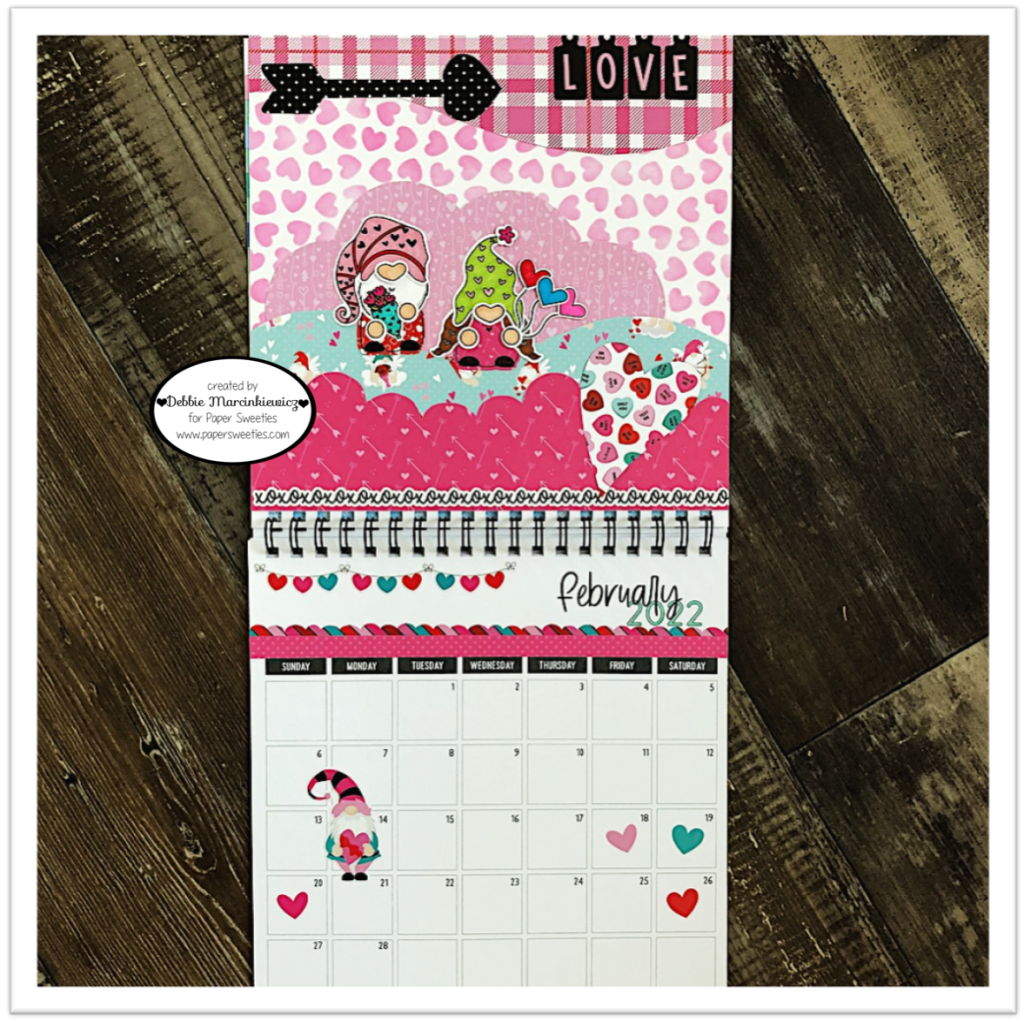 And, after I finished decorating the February layout from the large Maker's Series calendar contained in this quarter's Sweet Kit, I designed a MINI CALENDAR too with additional supplies contained in the kit!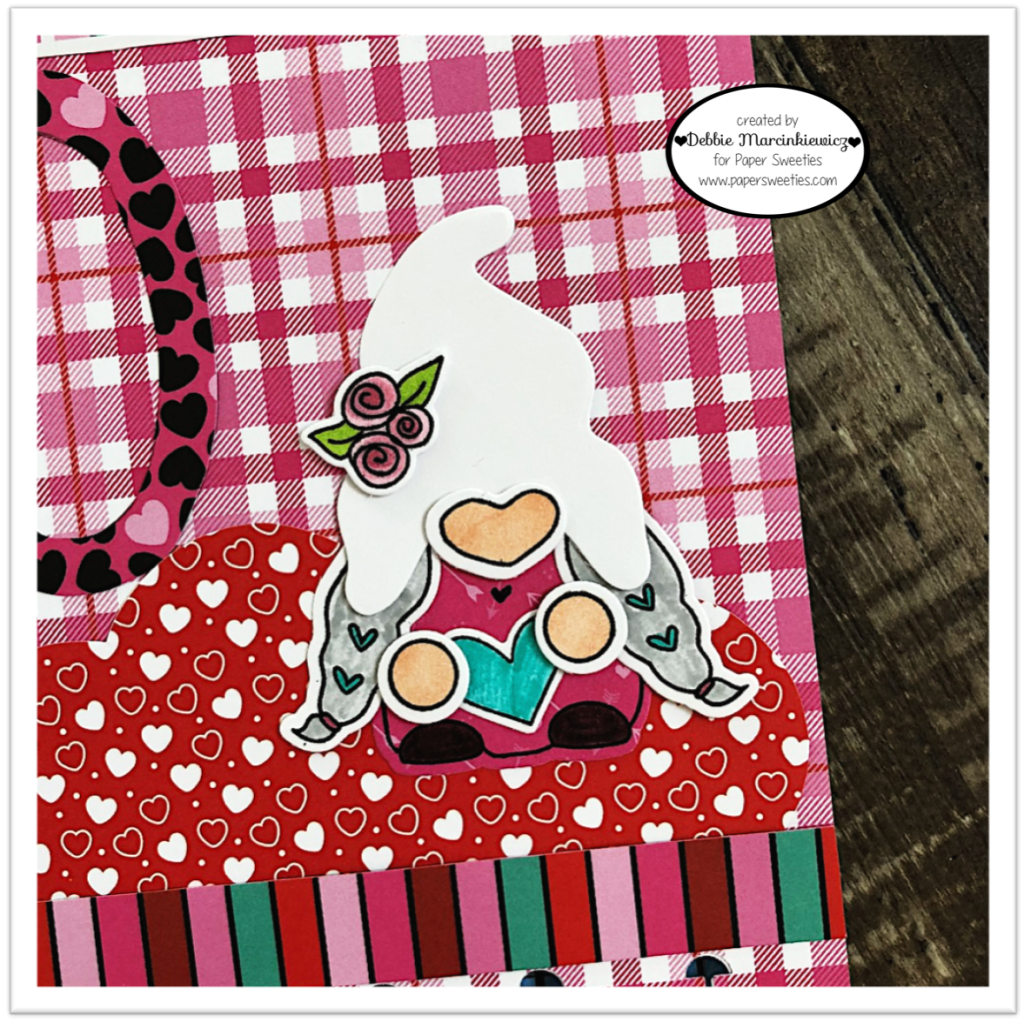 I cut out the pre-printed mini calendar pages and then created spiral punches using my We Are Memory Keepers punch board.  I ordered some white mini MAMBI discs to bind this mini calendar with, but they didn't arrive in time for photos in today's post.  HOW CA-UTE IS THAT SWEET LITTLE GNOME GIRL?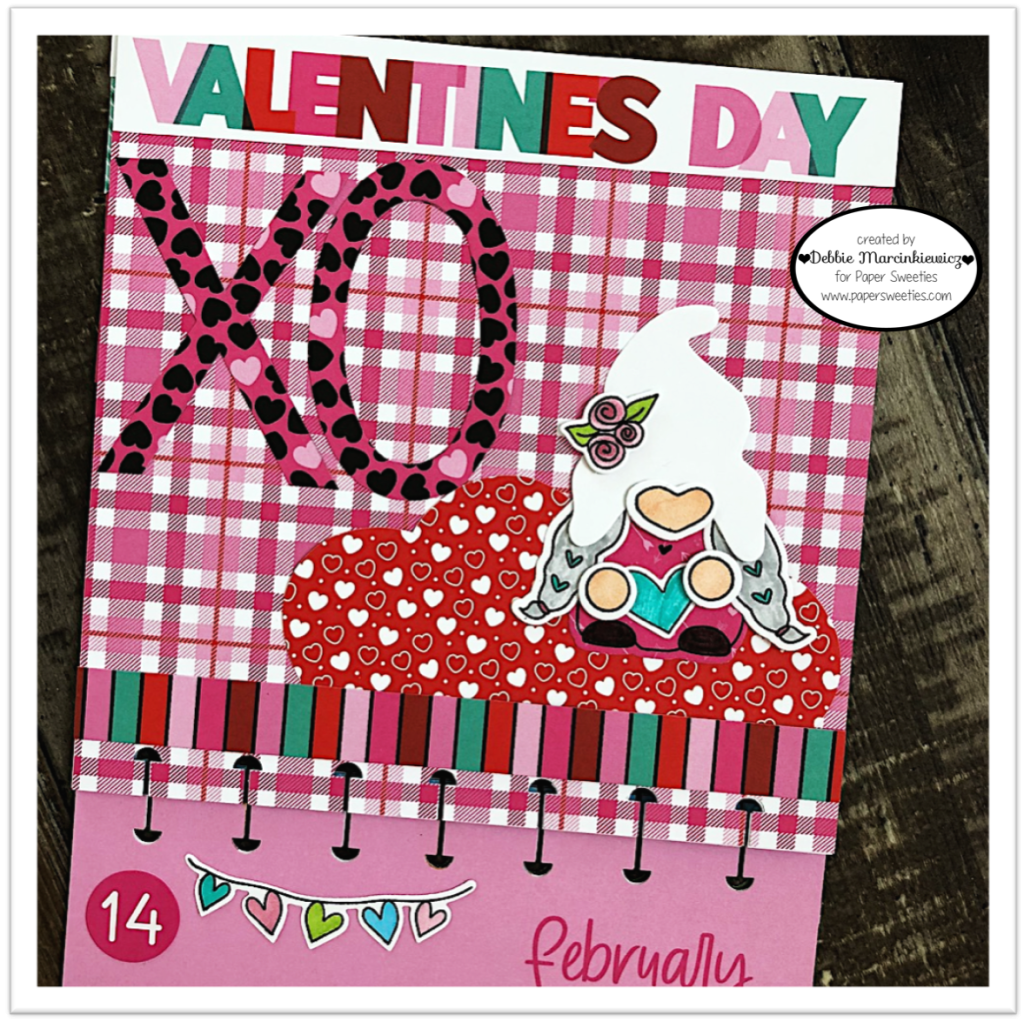 I proceeded to decorate these mini calendar pages using items contained in this quarter's kit.  NOTE:  I had enough supplies to create 2 complete 2022 calendars (large and mini) AND, there are plenty enough supplies still left over in the kit to create a THIRD calendar.  What you could do is print off a blank calendar found on the internet, and then use the remaining supplies in the kit to build a third calendar.  I would even guess that you would still have some supplies left over after creating three complete calendars!
When 2022 is done, my plan is to use the decorated layout pages as bases for scrapbook layouts, so I'll have 24 pages 'completed' for 2023 scrapbooking – WOW!!!
I can't decide which calendar I like better … they BOTH came out so adorable!  I plan to keep the large size at my home and will hang the mini calendar at our tiny beach home – perfect!  Also, if you decide you only need the one large calendar, the left over supplies can be used to create cards, scrapbook layouts, home decor and MORE!  The possibilities are ENDLESS with this fun Sweet Kit!
AND, there is a bonus COUPON contained in our 1st Quarter 2022 Sweet Kit that you can redeem to receive 25% OFF ANY OF OUR CURRENT GNOME THEME STAMPS AND/OR DIES so you can add to OR complete your Paper Sweeties gnome collection – wow!
Recreate using these products from the Paper Sweeties shop and Kiwi Lane:
Also used from Kiwi Lane:  Tiny Sweetheart, Lovestruck ALC, Hugs & Kisses ALC.
**********
 Please continue to hop along and visit our talented Design Team Contributors' blogs to be inspired by their AMAZING projects:
Debbie Marcinkiewicz – Paper Sweeties <- you are here!
***BACK
BY POPULAR DEMAND***

We're kicking off the new year by bringing back our monthly challenges! All you have to do is create a NEW project using stamps and/or dies from PAPER SWEETIES and then share it in the January Challenge Album in our Facebook Fan Group (link below)! Winner will receive a $10 gift certificate to shop at Paper Sweeties.
We'll also host a fan favorite contest. All you have to do is 💕 your favorite submission in the monthly challenge album, and the creator with the most 💕's will also win a $10 GC! BE SURE TO VISIT THE CHALLENGE ALBUM AND LIKE YOUR FAVORITES! 
UPLOAD YOUR PAPER SWEETIES PROJECT HERE:
https://www.facebook.com/media/set/?set=oa.1049050612619438&type=3
**********
Subscribe to our newsletter -> sign up on sidebar!
Are you SOCIAL???  CLICK on the links on the sidebar of this blog —> to follow us!
Follow -> this blog <- to stay up to date with everything new and exciting from Paper Sweeties!
*****NEWS FLASH*****
GOING, GOING … GONE!  We've added A WHOLE BUNCH OF newly discontinued products to our RETIRING SOON category to clear our shelves and make room for new inventory … check it out and get your favorites at up to 50% OFF before they are gone forever!  (Limited quantities … available while supplies last).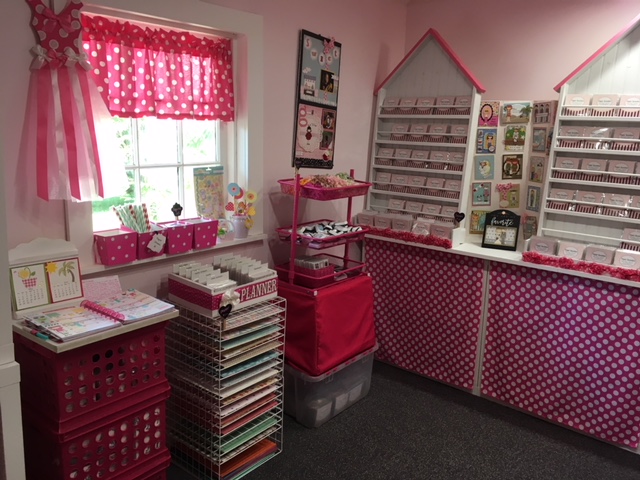 If you're in or near Carthage, NC, stop by to visit the Paper Sweeties 'she shed' located on our property at The Carriage House Bed & Breakfast for some fun retail therapy!  We host several monthly Day Crops – bring any craft you're working on and share the day with other crafters enjoying food, friends and fun together!  Treat yourself to an overnight stay at our beautifully restored, circa 1870 B&B!
Next Day Crop:
Saturday, January 22nd: 10 am – 5 pm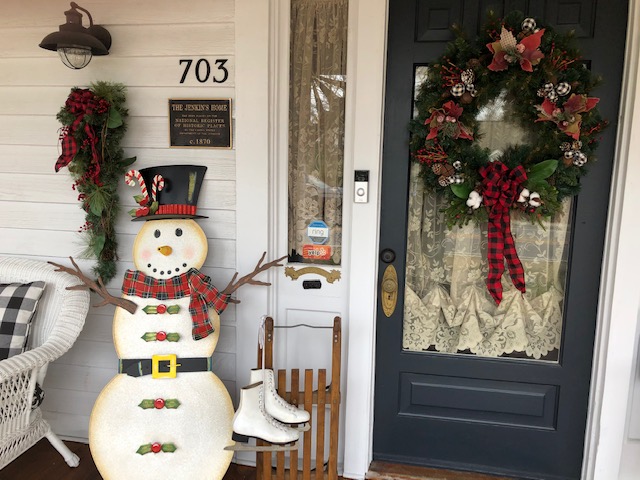 Thank you for allowing the Design Team Contributors and I to help spark your creativity this month — see you again tomorrow for more inspiration projects shared by our creative design team!  Hugs – xoxo