Thanks to everyone who attended this month's *new* stamp release Facebook Event!  I'm popping in to announce the winners of the contests and giveaways:
#1 – Comment on THIS post for a chance to win your favorite set:  sarina_coffinathotmaildotcom
#2 – Attend our Facebook release event and share a Paper Sweeties project to earn a $10 gift certificate:  Lynda Lindley
#3 – Follow us on Pinterest to earn a $10 gift certificate:  Julie Tucker-Wolek
#4 – Comment on any blog post March 13th – 16th:   doodlesinkathotmaildotcom
#5 – Like our Fan Page and share with your FB and blog friends — when we reach 600, one lucky fan will win a $25 gift certificate!  So close — 593 fans to date 🙂
#6 – Pretty Pink Posh giveaway ends soon, visit Paulina's blog for a chance to win a $25 gift certificate!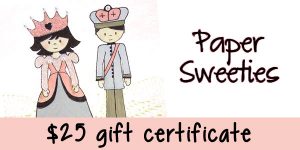 #7 – Paper Sweeties Sketch Inspiration #5 runs though March 31st — link up your projects using your favorite goodies for a chance to win a $20 gift certificate!  Get an extra vote if you use Paper Sweeties stamps 🙂
* Visit our FAQ page to check out our PUBLICATION INCENTIVE PROGRAM!!!
** Contact us to subscribe to our monthly newsletter to receive exclusive discounts and specials!
Winners please contact me to claim your gift certificates!!!
Mark your calendars for August 16th – 17th — hope you can join us at the CKC Event in Charlotte, NC!
THANK YOU for joining us this month … plans are well underway for our April new stamp release — with some very exciting news to share that you won't want to miss!