Hello crafty friends!  I'm excited to share a little fun news with ya'll today … I've been invited to share some projects for the Ribbon Carousel this year!  The crewmates are such a fun group of talented ladies and I am very excited to be joining their team and sharing a little bit of what I love so much with all of you!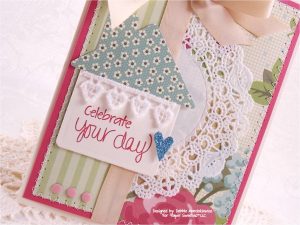 I created a 'celebration' theme card today that would be suitable for a birthday, anniversary or any special occasion … and just for fun, I included a tiny glittered chipboard heart and some heart crochet trim to match the 'love' theme too!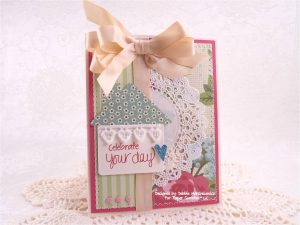 My bow is made from some hem tape that I hand tea stained and the sentiment is stamped using the So Sweet of You set from Paper Sweeties!
Be sure to hop on over to the Ribbon Carousel blog to check out the amazing projects from the rest of the teamies … and then I hope you'll have time this month to create something for our 'love, birthdays or chicken soup' challenge!
Hugs!
Inspired by these current challenges:  Pile it On #2 – celebrations; Cupcake Inspirations #243 – sparkle; Word Art Wednesday #114 – anything; 7 Kids College Fund #90 – anything; Ribbon Carousel #89 – love, birthday, chicken soup; Tuesday Throwdown #178 – stripes; Mojo Monday #328 – sketch