I found so much inspiration in this week's photo at CASE Study, that I made two cards!  The delicious fresh baked dessert — the sweet banner — the yummy cherries … oh my, smitten I tell ya'!  This is one of my favorite color combos too — it feels so warm, homespun and inviting to me!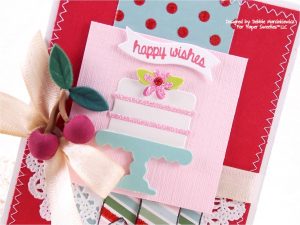 I included a darling sparkly cake sticker from Doodlebug, some hand tea-stained hem tape from my sewing basket and some handmade clay cherries!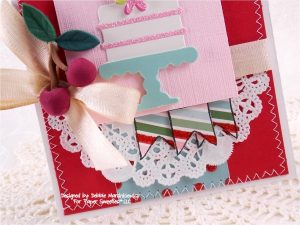 Pretty and sparkly polka dots and stripes … a sweet paper doilie peeking out from behind … and some machine zig zag stitching complete this fun little card!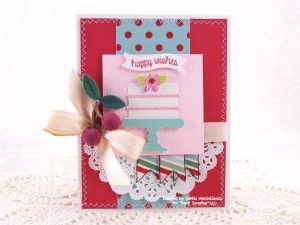 I used these stamp sets from Paper Sweeties:  Banner Wishes and Happy Wishes!
Inspired by these fun challenges: CASE Study #160 – inspo photo;  Simon Says Stamp – dotty; Moxie Fab World – stickers & tape; Moxie Fab World – general craft supplies (hem tape); Ribbon Girl – October/sparkly; Pile it On #40 – favorite color (red/pink); Fusion #19 – sketch & pink!