Hello crafty friends!  We have a momentous occasion coming up next weekend in my family — my oldest son will be graduating from NCSU for Materials Science Engineering!  I am such a proud mama … my how these past four years have flown by!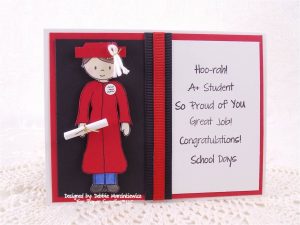 Since Brandon was instrumental in teaching me how to use Adobe Illustrator and my electronic drawing table in order to illustrate the Paper Sweeties images, I thought it fitting to make him a card using Paper Sweeties stamps to celebrate his big day!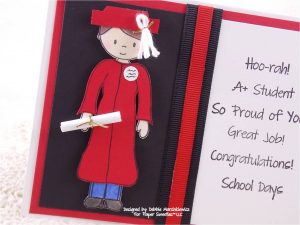 Here I dressed Jake in a cap and gown – complete with tiny diploma and tassle too!  For Jake's pants, I used the You're My Hero set, for the gown I used the Christmas Blessings set …
and all the sentiments were stamped using the You're My Hero and So Proud of You stamp sets — perfect for any graduation … pre-school, kindergarten, middle school, high school or college — my son is 22 years old!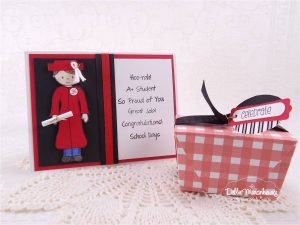 And here is his complete gift — the box was made using the Tiny Tucker Tab cut file and Round Off set from My Time Made easy and I stamped the 'Celebrate' using the Beautiful stamp set.
His 'real' cap and gown are ironed and hanging in the dining room awaiting the official ceremony next weekend — what a special day!  Thanks for letting me share a little bit of this proud mama moment with you all!
Challenges I found inspiration from:  CASE Study #139 – inspired by red/white/black; Simon Says Stamp – happy mail