Hello friends!  Well, I bet most of you have heard the buzz by now, but if you haven't, I finally get to spill the beans!  My sweet friend, Lesley Croghan, is starting a new challenge beginning in January 2014 and guess what …
… I have been invited to create for the inaugural the card Concept design team in the 'Shabby Chic' category … LOVE!!!  For those of you unfamiliar with the guidelines surrounding the Shabby Chic esthetic, here you go:
Shabby Chic and Vintage
Definition: 
the use of used, worn or inexpensive 

components

 to make stylish goods

distressed or sponged edges

old feel-antiqued

lots of embellishments

ribbons or lace

lots of layers
Those that know me well, already know that I adore anything shabby, old, worn and antique!  YUM!  I enjoy going to antique shows and finding old treasures to add to my cards and paper crafted projects!  I love piling my creations high with lots of bits and bobs of sweet little treasures — creating keepsakes suitable for framing in some instances!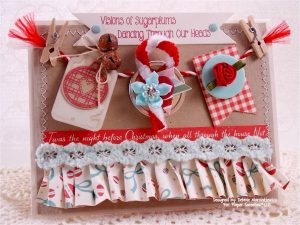 Let's go through the shabby checklist, shall we?  Used, worn, inexpensive components – check!  Distressed or sponges layers – I inked mine with vanilla paint – check!  Old/antique feeling with lots of embellishments – check!  Ribbons or lace – check!   Lots of layers – check!
This shabby little sweetie was chosen as the winning favorite at Festive Friday for last week's aqua, red & cream challenge!  Materials list: Homespun Holidays, Ho Ho Ho, Homespun Holidays Sweet Cuts, Rusty Jingle Bells, Red & White Chenille Candy Cane, October Afternoon – Make It Merry patterned paper, blue chenille trim – Webster's Pages.
A huge thank you to Miss Lesley for inviting me to join the line-up of talented designers who will be creating for The Card Concept challenges!  We are all in for a treat to be inspired by these lovely ladies!  Stay tuned for this new and exciting challenge to launch after the holidays in January … and until then, happy stamping my friends!