Hello sweeties!  Gosh … what an amazing and exciting couple of days I have had this past week!  I attended the CKC-Charlotte paper crafting convention this past Thursday through Saturday with the Paper Sweeties and met SO MANY fabulous crafters!  What a thrill … one of the highlights of my life!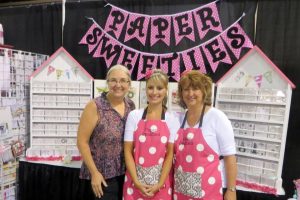 Pictured in our booth with fan, Susie Bentz, me and my very good friend, Suzi Wolfe, who traveled to Charlotte with me to help with the show!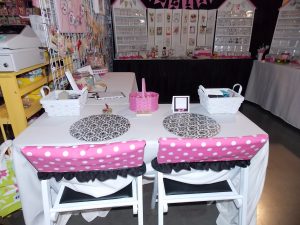 Our make and take table where attendees enjoyed making a holiday tag and birthday card using Paper Sweeties' stamps!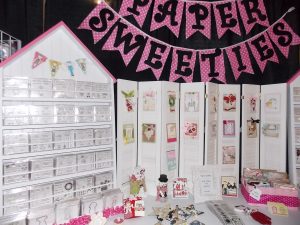 Our amazing dollhouse displays built by my good friend, Nicole's, hubby — aren't they adorable?!?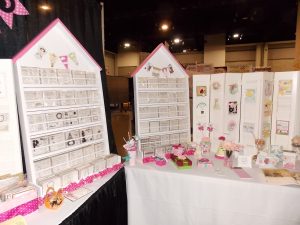 White plantation shutters to display Paper Sweeties project ideas and little white flower boxes in front of the dollhouse displays to hold more Sweeties stamps and dies!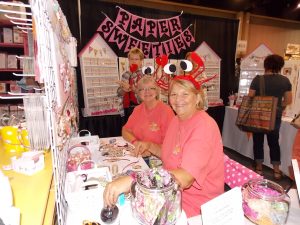 Fun … fun … fun!!!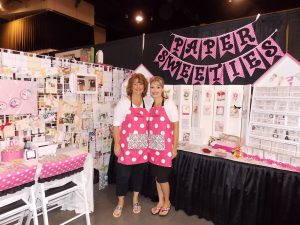 Suzi and I had a blast!  I couldn't have done this without her!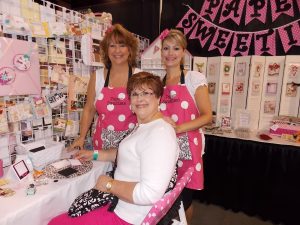 This lovely attendee looked like she could have been working in our booth with her white top, hot pink pants and black and white damask purse!  LOVE!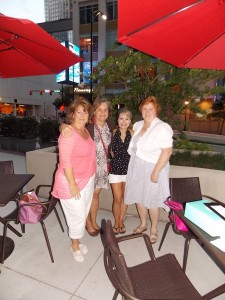 Enjoying dinner out with my friends from Raleigh – Suzi, Cindy, me and Martha!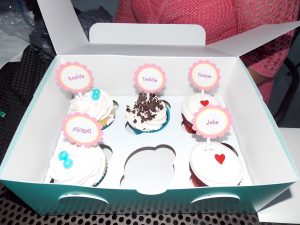 Suzi treated us to delicious handmade cupcakes from Sugarland Bakery in Chapel Hill — adorned with personalized cupcake toppers to celebrate the Sweeties' and my birthday this weekend!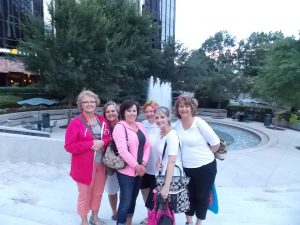 And more fun time out on the town in Charlotte with Joanie, Cindy, Megan, Martha, me and Suzi — some of my local crafty friends who attended the show!
It was an amazing, awe inspiring, exciting, heart warming and fun weekend filled with wonderful friendship and crafty goodness!  I met so many new people and was thrilled to introduce them to my little Paper Sweeties stamps!  The reactions and comments we received when people stopped by the booth simply touched my heart … everyone was so complimentary of our stamps and the booth.  I attempted to make the atmosphere one that was inviting and welcoming … making people want to come on in and stay a while!  It was fun to see people coming by one day and coming back again the next day!  All in all … a huge success for us and I can't wait to attend the NEXT show!
Click –> HERE to view my entire Paper Sweeties CKC-Charlotte Show photo album 🙂
LIKE us on our Facebook Fan Page and SHARE our page with your friends!
Don't forget to enter our current Featured Business Sponsors CONTEST for a chance to win … winner announced September 1st 🙂
And now, without further ado here are the winners of a couple of the recent contests we hosted here at Paper Sweeties:
WINNER OF THE 1ST BIRTHDAY DESIGNER'S BLOG HOP – winning the ENTIRE August new stamp release (5 stamps valued at $50!):

I've been SO inspired on this Blog Hop. I "Liked" your Facebook Page, shared the Blog Hop badge on my Facebook wall, and I've hopped all around each day this weekend, leaving comments and falling more and more in love with Paper Sweeties at each stop. SO much inspiration.
Sierra
~~~~~~~~~~~~~~~
WINNERS OF THE 'TAG YOU'RE IT' FACEBOOK CONTEST – each winning the new 'A Friend Is' stamp set (each stamp valued at $10!):

~~~~~~~~~~~~~~~~
**Winners,
contact
me to claim your prizes!**
~~~~~~~~~~~~~~~~
And … we have ONE MORE giveaway for you to participate in today!
Babette Switzer, the owner of
The Kraft Outlet Shop
, has graciously donated a $15 gift certificate to help celebrate the Paper Sweeties' 1st Birthday!  We will announce the lucky winner on September 1st!  To be eligible to win: 
LIKE
us on our
Facebook Fan Page
,
SHARE
us with your Facebook and Blog friends
AND
leave us a
COMMENT
on this post letting us know what your favorite stamp OR die is from the
August *new* product release
—   good luck!!