Well, it was exactly one week ago today that we were in Hampton, VA at the Stamp Scrap Art Tour show introducing  the Paper Sweeties stamps, dies and goodies to the wonderful people who attended this awesome show!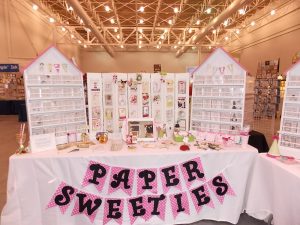 We met so many wonderful paper crafters at the show!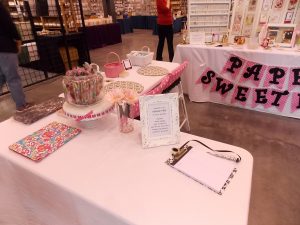 We enjoyed introducing all the attendees to the Paper Sweeties products!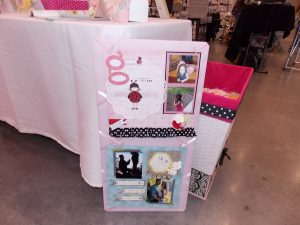 We brought loads of inspiration to the show with us: layouts …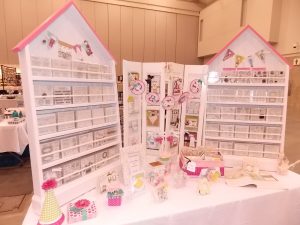 … gifts …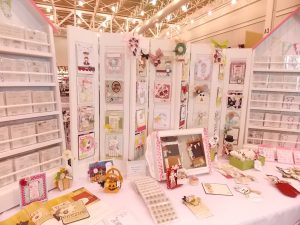 … tags and cards … oh my!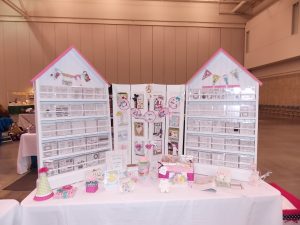 Our sweet 'dollhouse' shaped displays with coordinating shutters were a hit with the show attendees … we got so many sweet and thoughtful comments that just made my heart smile!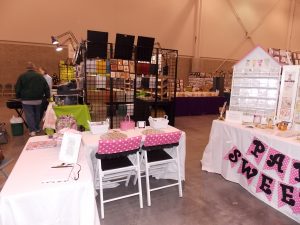 We offered two free make and take projects within our booth that were a hit!  Saturday we had a line six ladies deep from 10 am – 3 pm waiting to create the projects and check out with their new goodies from Paper Sweeties!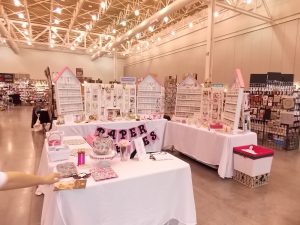 We had a fantastic booth spot in the first row directly across from the doors where you enter the convention hall!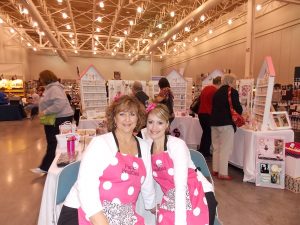 A HUGE thank you to my friend, Suzi, for attending the show with me to lend a hand.  I couldn't have done it without all of her help and support!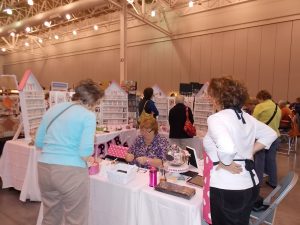 Suzi oversaw the make and take projects and facilitated the check out process by running all the credit cards and packing up all the sales in our bags with curling ribbon!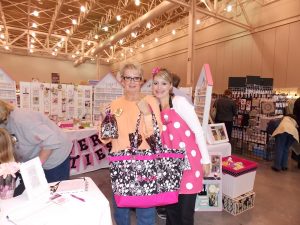 Look at this sweet customer … can you see the THREE bags of goodies she purchased at the Paper Sweeties booth?!?  I had to snap a picture with her when I saw that her bag coordinated with our booth color palette!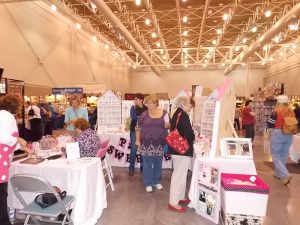 A fun time was had by all!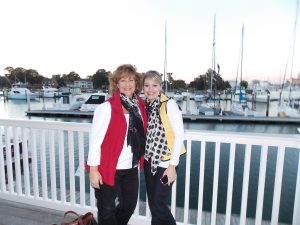 Suzi and I capped Saturday evening off by enjoying a delicious seafood dinner down by the water!  The perfect ending to a perfect day!
Mark your calendars … we'll be traveling to these show locations in 2014 and we hope to meet YOU at one of the shows:
Columbia, SC – February 14th – 16th
Winston-Salem, NC – July 18th – 20th
Hampton, VA – October 24th – 26th
Be sure to sign up for the Friday evening Make & Take Party to make a yummy Paper Sweeties project!
Charlotte, NC – August 8th – 9th
Follow us with bloglovin' to keep up to date with all the latest news and inspiration!  (Link on sidebar —->).  Find more inspiration on our social media and on-line gallery sites too:
~~~~~~~~~~~~~~~~~~~~~~~~~~~~~~~~~~~~~~~~~~~~~~~~~~~~~~~~~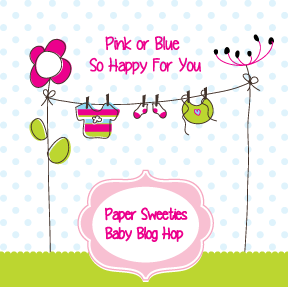 And, now I'm happy to announce the winners from our recent Paper Sweeties Baby Blog Hop:
Winner of the CREATE something contest:  Beth Fiscus
Winner of the HOP contest (secret word: precious): Heidi Gonzales
Winner of the COMMENT contest: