Hello crafty friends — welcome to day #1 of the July 2022 *NEW* product release here at Paper Sweeties!  I AM COMPLETELY SMITTEN WITH THIS MONTHS NEW STAMP SET AND OUR 3rd QUARTER 2022 SWEET KIT – whoo hooo!!!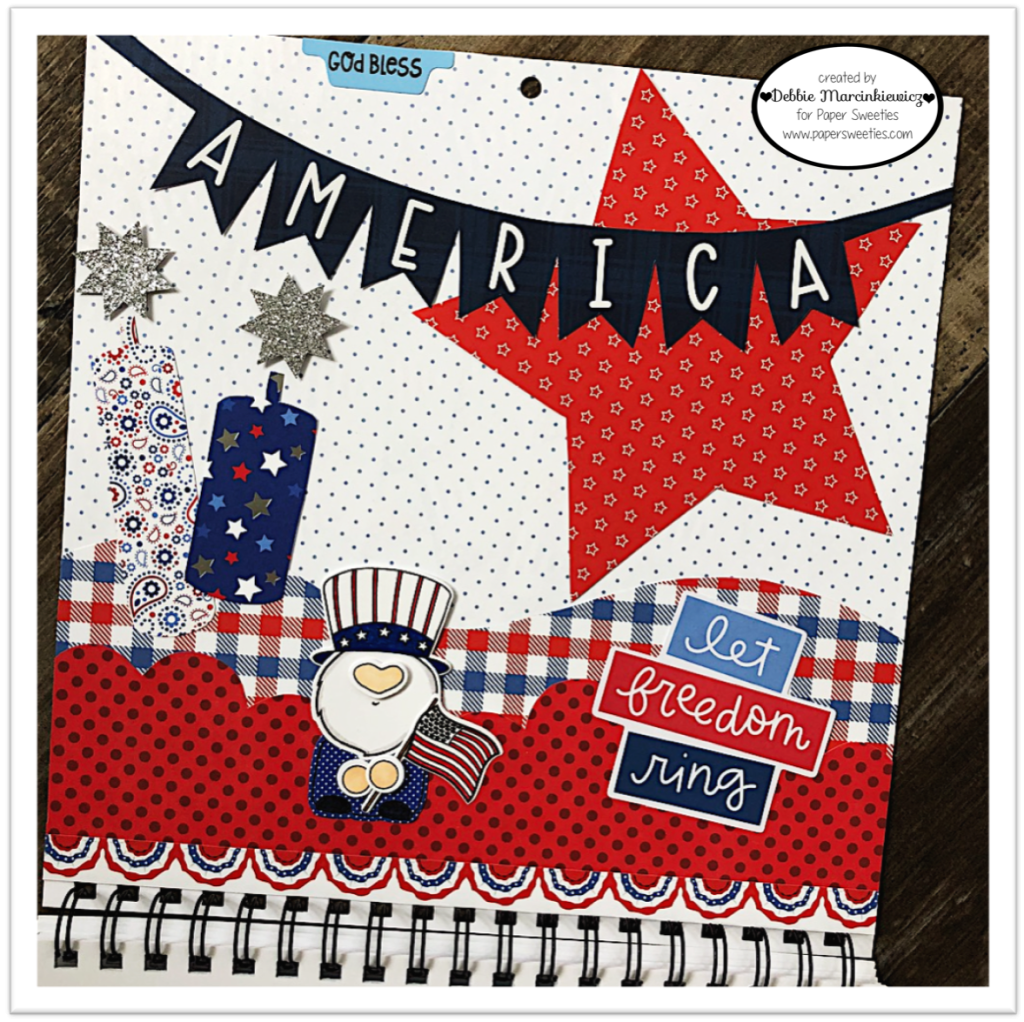 For today's sneak peek project, I am sharing a patriotic July calendar month-at-a-glance layout I created using some of the *NEW* products released this month and AVAILABLE TOMORROW (links in gallery below)!!!  This month's new sentiment stamp set is called:  Summer Vibes!
This is also the release of our 3rd Quarter 2022 Sweet Kit (which is only available while supplies last)!  This quarter's Sweet Kit FEATURES some adorable goodies from Doodlebug Design as well as a load of additional goodies I know you are going to enjoy creating with!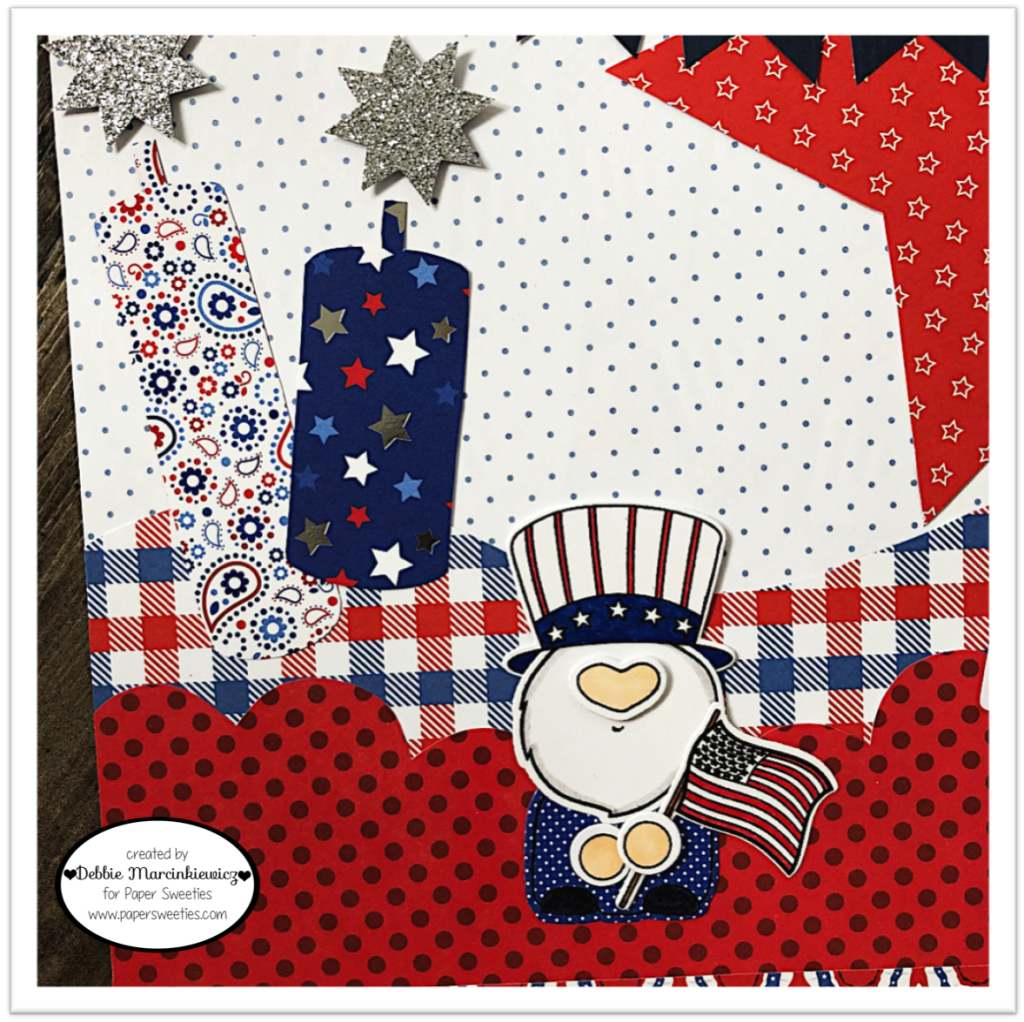 I combined our *new* sentiment stamp set along with our Gnome Add-on: Summer stamp and die sets with some *new* goodies from our 3rd Quarter Sweet Kit to create this adorable layout …  CUTE!!  I am in love with this adorable 'Uncle Sam' gnomie!!!  I used an Exact-o knife to make a slit in the brim of the hat so that I could add it to his head and have it look like he is wearing it in 3-D 😉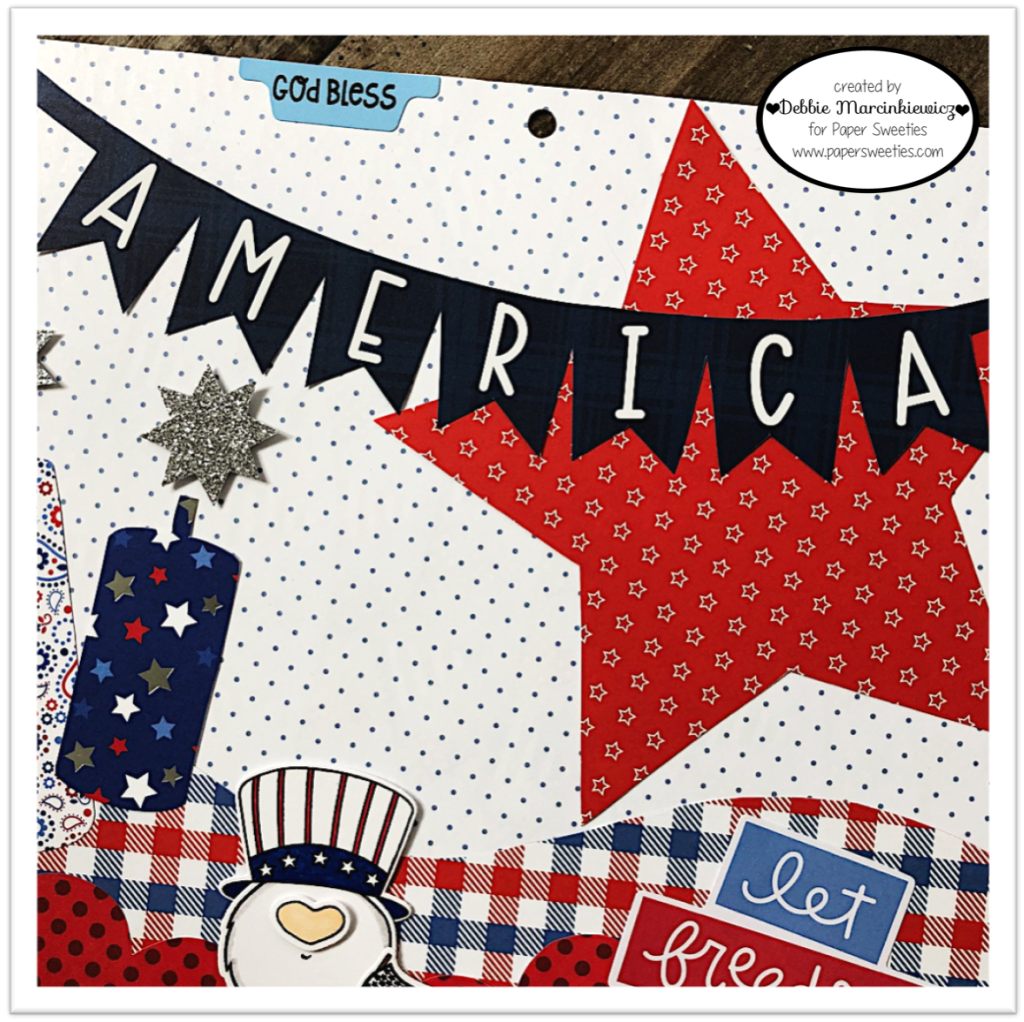 3rd Quarter 2022 Sweet Kit contents:
(1) NEW Paper Sweeties sentiment stamp set: Summer Vibes
(1) 6×6 Doodlebug Design Swiss Dot Rainbow Petite Prints paper pack
(1) Doodlebug Design Land That I Love Odds & Ends – 94 piece pack
(3) White A-2 scalloped edge envelopes
(1) 5.5″x8.5″ red glitter cardstock
(1) 5.5″x8.5″ silver glitter cardstock
(1) 5.5″x8.5″ blue glitter cardstock
(1) Doodlebug Design Love You More Shape Sprinkles – 23 count
(1) Doodlebug Design Star Struck Washi Tape
(1) Kiwi Lane Firecrackers templates – 2 count
(1) Red Crinkle Ribbon – 4 yards
(1) White Crinkle Ribbon – 4 yards
(1) Blue Crinkle Ribbon – 4 yards
(1) Red Pom-Pom Trim – 12″
(1) Blue Sequin Pack
(1) Star Spangled Banner Sprinkle Pack
(1) Red/White Baker's Twine – 4 yards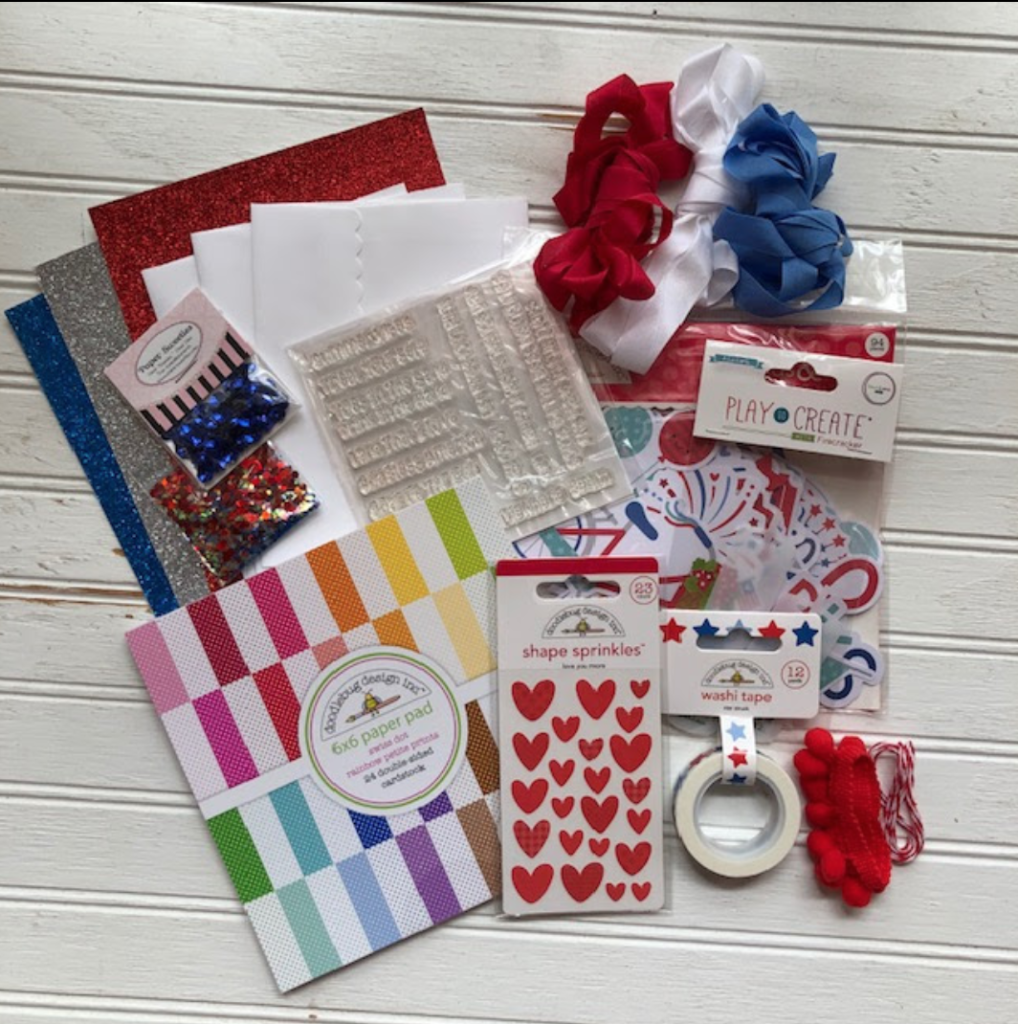 Each QUARTERLY KIT contains $60 of retail product.  Purchase kits (while supplies last) for regular retail at $55 OR enroll in our quarterly kit club and receive four kits per year at $50 each.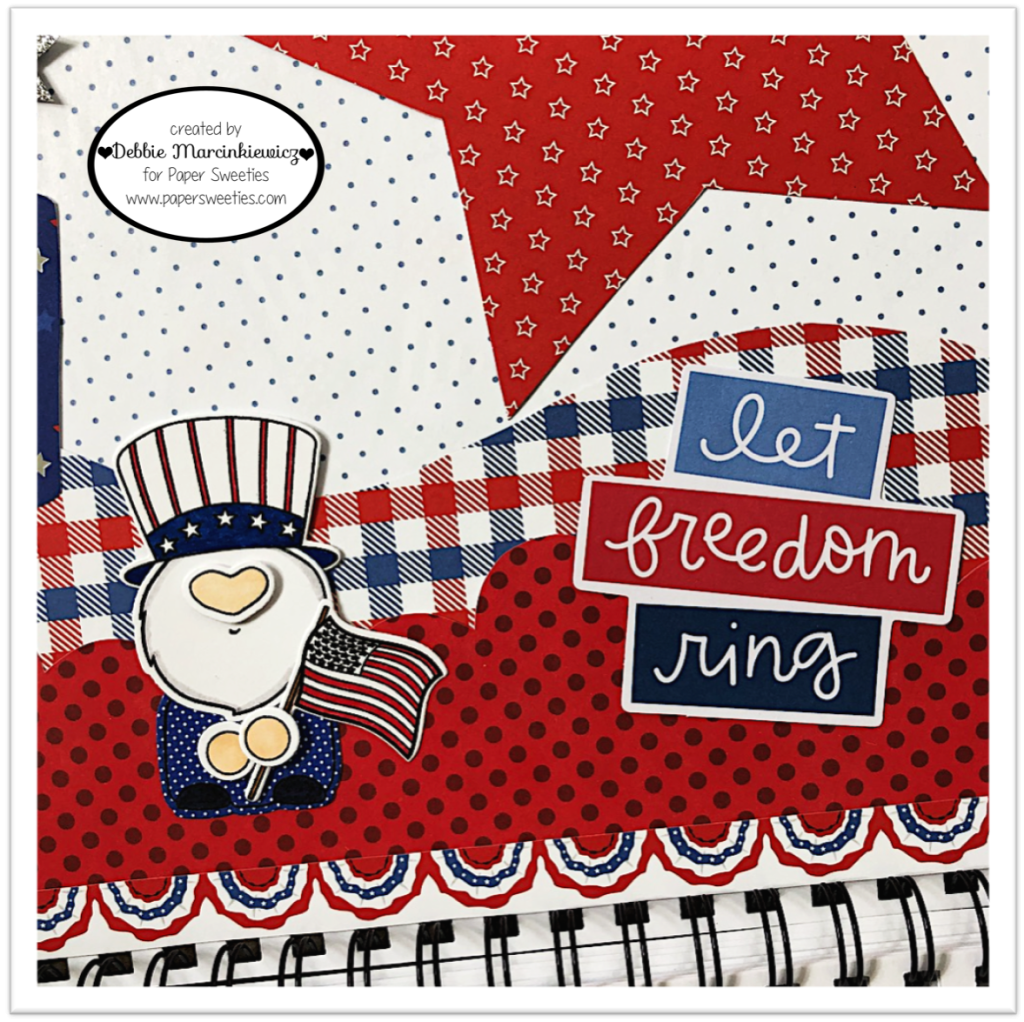 I used some of my favorite template sets from Kiwi Lane in this layout.  The firecrackers are included in this quarter's kit and I've linked the additional sets I used below.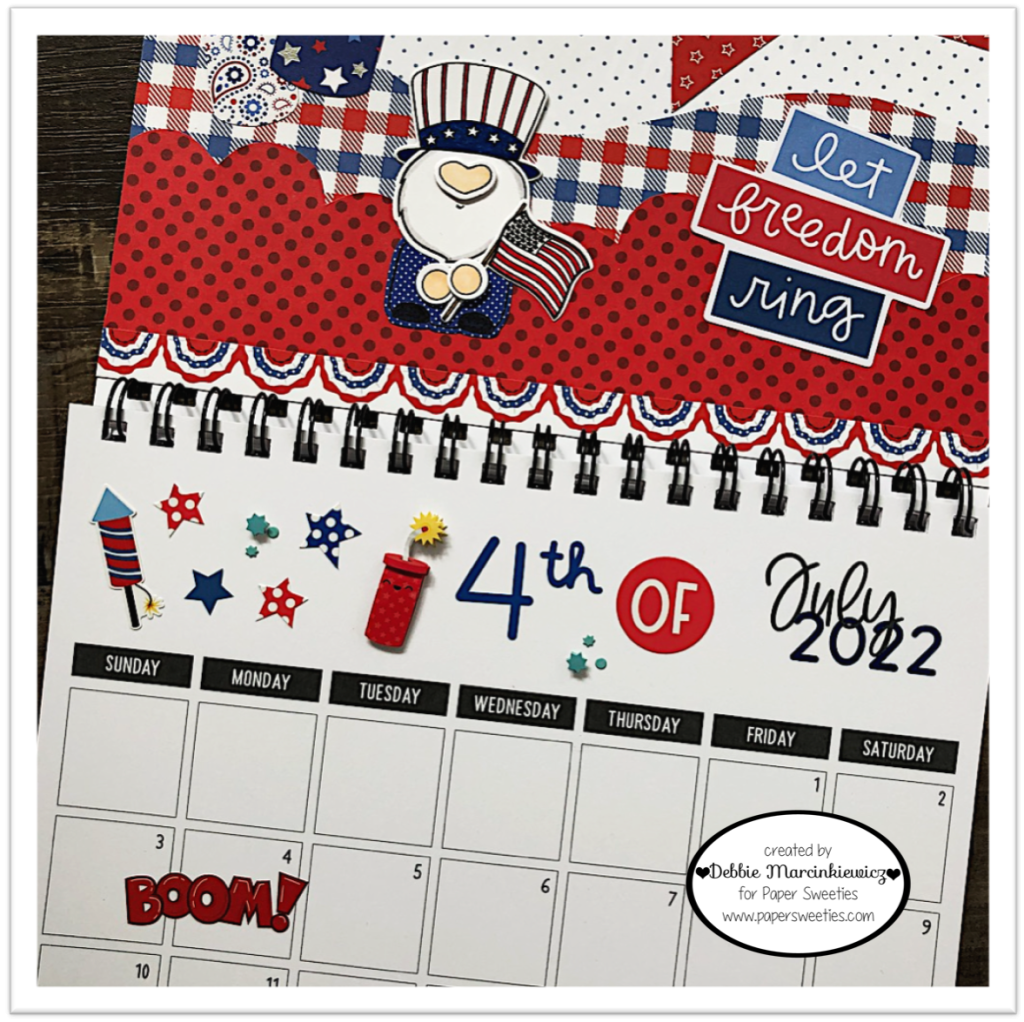 Some of the papers and stickers were included in the items from the Paper Sweeties 1st Quarter Sweet Kit and some of the papers were from the Doodlebug Petite Prints Swiss Dot paper pad (linked below).
Recreate using these products from the Paper Sweeties shop and Kiwi Lane:
(Also used: Citrus and All-American templates from Kiwi Lane Monthly Club and no longer available).
**********
 Please continue to hop along and visit our talented Design Team Contributors' blogs to be inspired by their AMAZING projects:
Debbie Marcinkiewicz – Paper Sweeties <- you are here!
**********
Subscribe to our newsletter -> sign up on sidebar!
Are you SOCIAL???  CLICK on the links on the sidebar of this blog —> to follow us!
Follow -> this blog <- to stay up to date with everything new and exciting from Paper Sweeties!
*****NEWS FLASH*****
GOING, GOING … GONE!  We've added A WHOLE BUNCH OF newly discontinued products to our RETIRING SOON category to clear our shelves and make room for new inventory … check it out and get your favorites at up to 50% OFF before they are gone forever!  (Limited quantities … available while supplies last).
**********
Thank you for allowing the Design Team Contributors and I to help spark your creativity this month — see you again tomorrow for more inspiration projects shared by our creative design team!  Hugs – xoxo