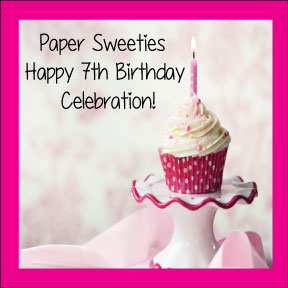 Hello Paper Sweeties fans and welcome to our BIG 7th BIRTHDAY Celebration!  It is so hard for me to believe that it's been 7 years since I launched my stamp line … and oh, how it has evolved and grown over the past 7 years.  It's like watching my baby grow up! Here's a fun time line to show you the evolution of how everything started and how far we have come:
I launched this line in August of 2012 with Abigail, Emma and Sophie along with about 20 outfits.  Soon after, Mr. Jake made an appearance with several masculine-theme outfits.
In 2013 I began illustrating sets beyond just the paper dolls to reach a broader audience – flowers, frames, sentiment sets, accessories.
In 2013 we also began to exhibit at a few stamp shows, and after participating in the first show, I was hooked!  Shows are FUN and a GREAT WAY to meet a lot of people who share my passion for all things paper and glue!
In 2013 we made the decision to begin to manufacture dies to coordinate with our stamp sets, and so the Sweet Cuts were born!  2013 was a BIG year for this small, one-woman run business!
Throughout 2014 – 2017 I continued to participate in trade shows … exhibiting at as many as 24 shows and trunks shows per year … it was a very busy couple of years for this little company, but helped it grow and expand!
In 2017 sweet Miss Madison was introduced to our little stamp family, and she has been welcomed by her friends Abigail, Emma, Sophie and Jake!
As many of you know, my husband and I made an offer on a 150 year old, historic home in May of 2016 and waited 2 LONG years for our other home to sell before we could move forward with the purchase of the new one.  We finally made the BIG move in January of 2018 and spent the better part of the next 10 months renovating our new nest to bring her back to all the glory of her early years, but with a modern farmhouse spin so she would be comfortable and functional for us to live in and operate as a business.  We were elated to finally open the doors to the public in August of 2018 launching our new business, which we renamed The Carriage House Bed and Breakfast!
Running and managing Paper Sweeties, the B&B and Kiwi Lane 80% of the time as a one-woman show, with help at the B&B on weekends from my husband, has turned into a FULL-TIME and beyond job for me!  Most days I hit the ground running at 9 am and don't stop working until 9 or 10 pm, but I do love what I do … and feel truly blessed to be involved in 3 businesses that I have such a passion for!  Being able to partner functions, classes and crops at our B&B with my Paper Sweeties and Kiwi Lane businesses is a marriage made in heaven for me!  #grateful #thankful #blessed
Okay, so now onto some exciting news, announcements, surprises and prizes!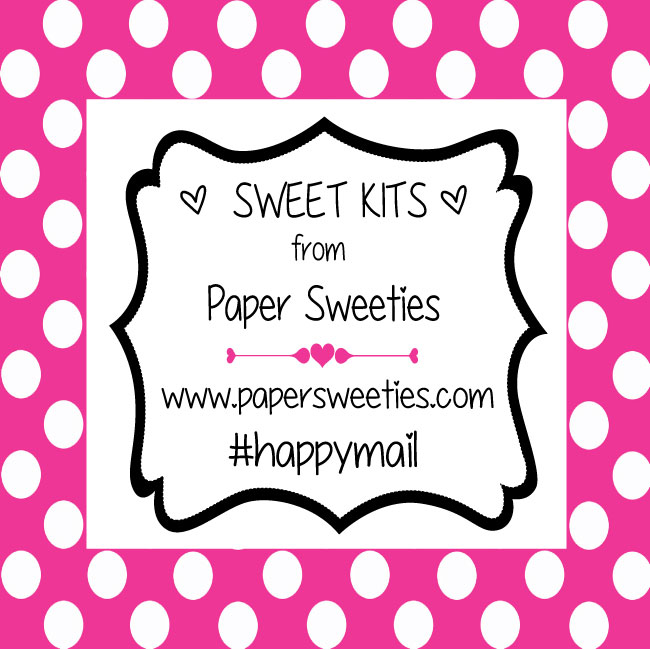 Back by customer request!!  Now that life has settled into a more normal pace for me, I am once again going to be offering our fun Sweet Kits and Sweet Kits Club … BUT, it will be all new and improved!  There will be 4 kits per year (once per quarter) and will now contain kit exclusive stamps & dies along with full-size products!!  There will be a sample sheet included in each kit showing projects that you can make using the goodies in each kit to help spark your creativity!  We are accepting PRE-ORDERS for KIT SUBSCRIPTIONS beginning today, and the re-launch of our Sweet Kits will begin shipping around October 1, 2109!  To enroll in the Club, simply click on the 'subscription' link above, add one kit to your cart and complete the check out process!  Moving forward, you will be invoiced around the 1st of each new quarter for the next kit.
Benefits to being a Kit Club Member: Club Members will get their kits first, and if any are left over, then we will make them available to the general public!  Club Members receive a FUN welcome gift in your first subscription kit valued at approximately $10!  Club Members receive $5 off your quarterly kit subscription! Club Members receive a 10% discount coupon to use on anything you purchase through our website, at a stamp show (truck shows excluded) and/or She Shed, and other special perks that only Club Members will have access to!  Yes, you will earn regular Frequent Shopper Reward stickers for your Kit purchases too!!   Contact me for more information – we will only have a limited number of kits available each quarter, and once they are sold out, they will no longer be available!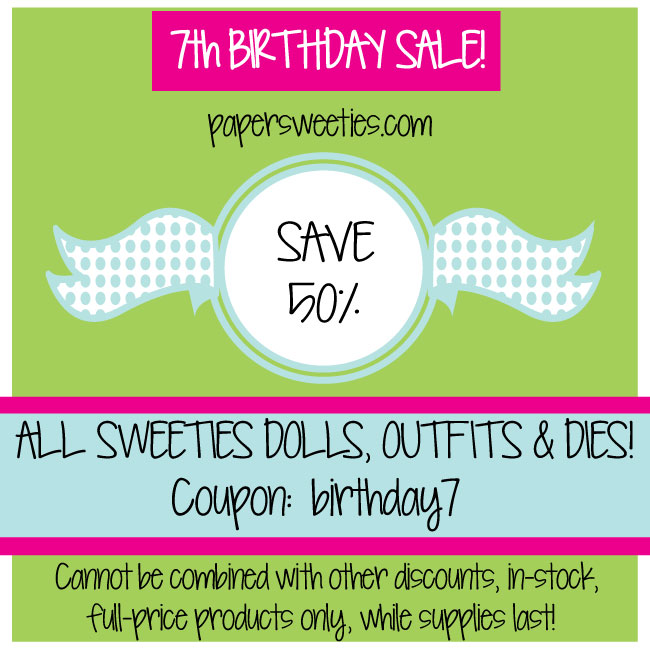 ALL MONTH LONG: our Sweeties girls, boy, doll dies and outfits are 50% off using coupon: birthday7.  This DEEP DISCOUNT applies to full-price, in-stock products and cannot be used on sale items or combined with other discounts or coupons.
Scrapbook and Cards Today magazine is offering a giveaway of a magazine to one of our valuable customers!   You MUST follow us on Facebook, Instagram, YouTube, Pinterest and/or blog for a chance to win – one chance for each platform you follow.  An extra chance if you follow SCT too!!  In order to be eligible, you MUST leave us a comment on one or more of our social media platforms and/or blog (TAG US on Instagram – otherwise we won't see your comment: @papersweeties) AND leave a comment on the SCT blog as well!  Tell us where you follow in your comments.  Winner announced September 1st!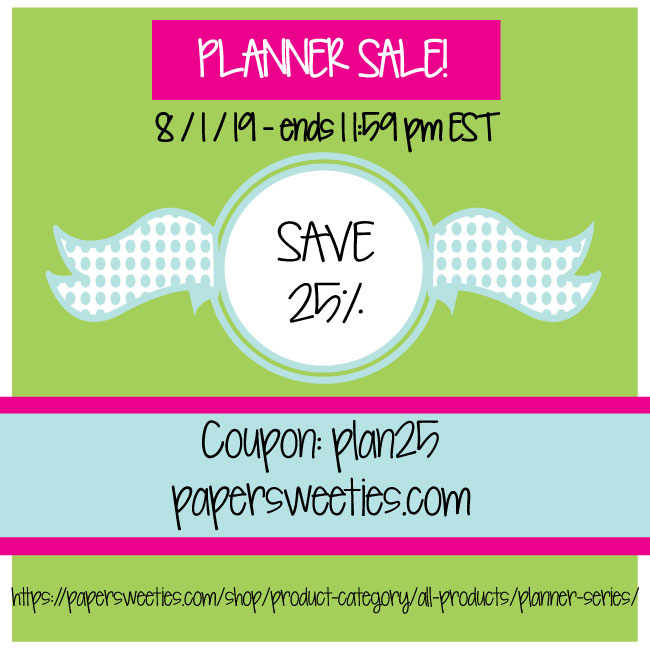 August 1st – ALL planner stamps and embellishments 25% off using coupon: plan25!  One lucky follower leaving us a comment on our August Plan Your Life in Style post will win a FREE planner set!  Edited – here is our lucky winner: